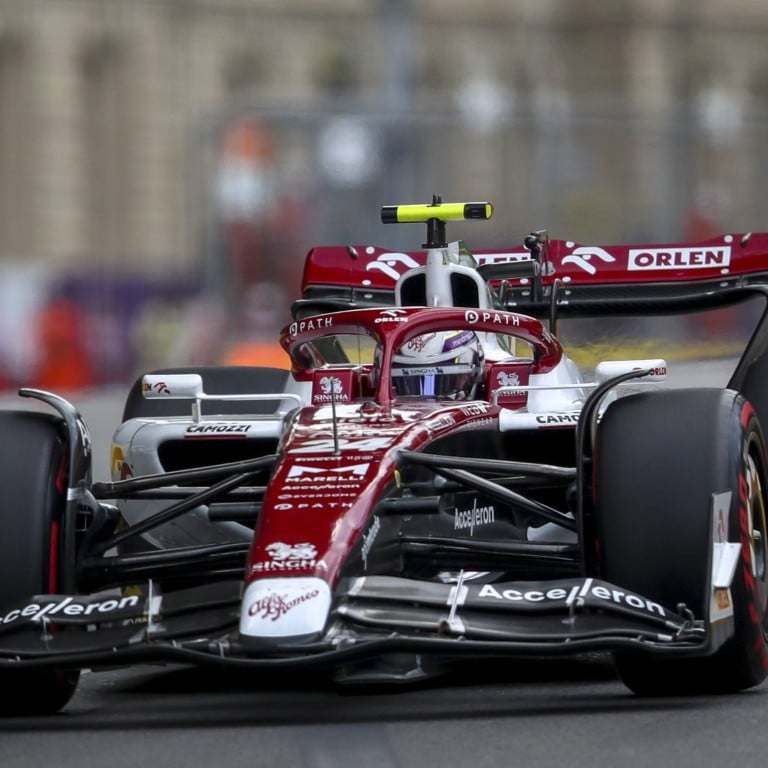 Formula 1: Zhou Guanyu out-qualifies Valtteri Bottas for the first time, but top 10 start eludes Alfa Romeo in Azerbaijan
Qualifying in Baku delivered some breathtakingly fast laps, as the drivers wove their way around this unusual street track, with a fair few clipping the walls for good measure
'I am happy with the progress we have made' says Zhou, who outpaced veteran teammate Bottas and will start the race at P14
A solid showing from Zhou Guanyu has put team Alfa Romeo in a solid spot ahead of Sunday's Azerbaijan GP, but the Baku City Circuit lived up to its reputation for chaos.
Zhou was flawless in Q1, finishing 9th, but an ill-timed yellow flag in Q2 meant that, for the second race in succession, his qualifying attempts were stymied.
Charles Leclerc once again took pole, but will have the tricky task of converting it into a win. Leclerc ran a lap at 1 minute, 41.359 seconds with his last run of the session to beat Sergio Pérez of Red Bull by .282 seconds. Formula One championship leader Max Verstappen qualified third in the other Red Bull, .347 off Leclerc's pace.
"Tomorrow is when it counts," Zhou said. "We did a massive step forward throughout the weekend and I believe we had a lot more potential, although the field is so tight so you can't really say."
The Baku street circuit is a place where overtaking is possible and races are known to be chaotic, but the aim for the team will be to move forward quickly and return to the fight within the top 10 on Sunday.
"We had prepped our tyres for a good second push lap, as we saw that was the moment in which they performed at their best, but the yellow flag with Tsunoda badly affected both our cars and prevented us from improving," Zhou said.
"I am happy with the progress we have made and I think we have good pace for the race, hopefully we can put everything together and bring home some points."
George Russell of Mercedes qualified in fifth place, while his teammate Lewis Hamilton, the seven-time champion, finished seventh. In a strange turn of events Hamilton was flagged for "driving unnecessarily slowly" during the second of the three qualifying sessions.
Hamilton said he'd acted within the rules and was trying to let other cars past to get a slipstream and make up for Mercedes' lack of pace on the straights.