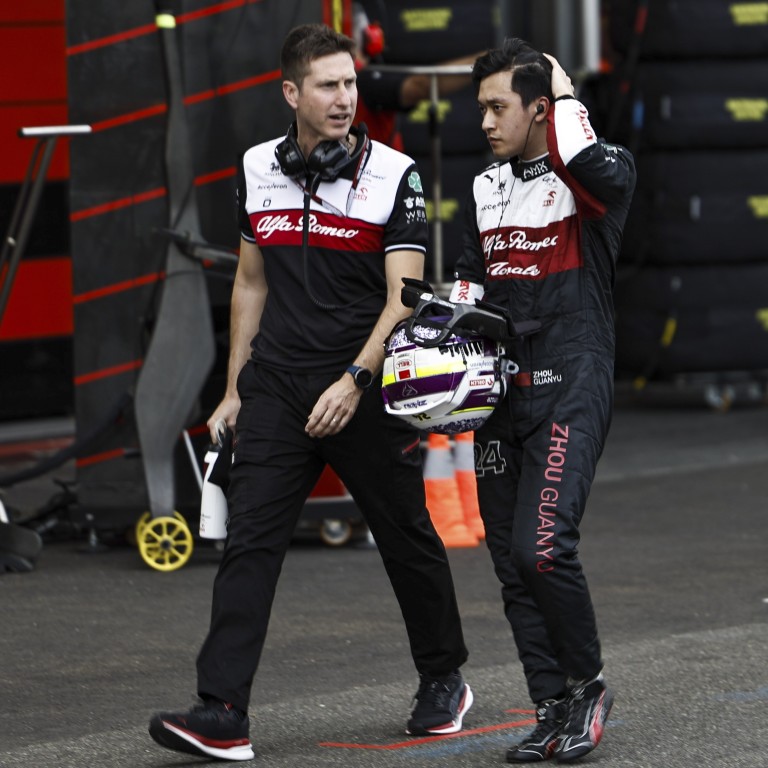 Formula 1: 'heartbroken' Zhou Guanyu demands answers after Azerbaijan Grand Prix ends early, car fails again
Chinese driver forced to retire from race in Baku after completing just 23 laps, the third time in 4 races car trouble has struck
Zhou was delivering 'excellent performance' Alfa bosses said and seemed likely to finish in the points
A "heartbroken" Zhou Guanyu has demanded his Alfa Romeo team find some answers following
his forced retirement
less than half way through the Azerbaijan Grand Prix.
The Chinese driver's day ended on the 24th lap in Baku on Sunday, and it was the third time in four races that a technical problem with the
Formula 1
car has cut Zhou short when in a position to challenge for points.
Having pitted twice and sitting comfortably behind Sebastian Vettel at that stage with enough fuel to see him to the end, Zhou's reaction to being told his day was over spoke volumes.
"Yeah, it is heartbreaking to be standing here, I can't believe it happened again," he said track side. "It's pretty frustrating not to finish three out of four races in a row.
"From my side I haven't put a foot wrong in that race, we were very competitive. We have to get it sorted for the future because we are missing way too many opportunities.
"I feel like it's another chance to get points, we need to investigate what the issue is and get it fixed, because a third DNF in four races is not ideal."
It was a bad day at the office overall for Alfa Romeo, with Valterri Bottas also missing out on the points, coming 11th in a race in which the Finnish driver said he "lacked pace" and believed there was "something fundamentally wrong with the car, something we need to investigate".
"Other than the outright pace, we did well as a team in terms of strategy and race execution, but that wasn't enough to bring home the points," Bottas said. "I feel quite sorry for Zhou as he was doing a really good race prior to his retirement."
Frédéric Vasseur, the team principal, said Zhou's retirement had been a big blow, with the rookie putting in an "excellent performance" before his retirement and was "destined for the points".
The teams now head to Montreal for the Canadian Grand Prix, and both drivers and Vasseur said any technical issues with the cars had to be fixed before then.
"As a team we have to solve the problem, that has to be the first priority because to get to the finish line is key and I feel I'll always have a chance to be in the points," Zhou said.