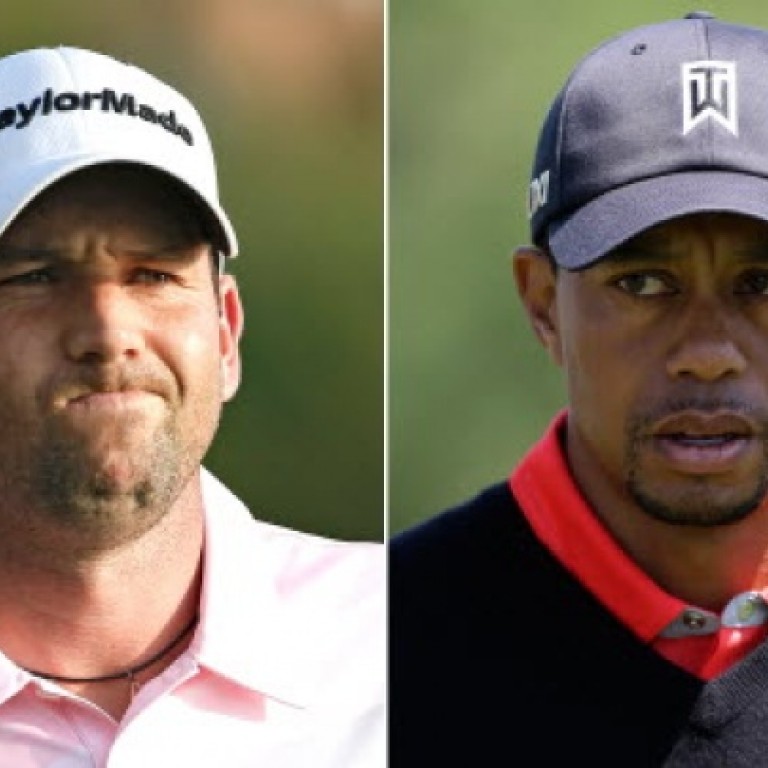 Garcia hopes to talk to Woods at US Open
Sergio Garcia is yet to speak to Tiger Woods after making an inappropriate remark about the world No. 1-ranked golfer, though he would certainly take an opportunity to open some direct dialogue at the US Open if he gets a chance next month.
 Garcia sparked controversy this week by saying he would serve fried chicken if they were to have dinner together at the US Open. That kind of stereotype has been used for at least a century to denigrate African-Americans.
 Along with making a public apology for the remark, Garcia on Thursday said he had made contact with Mark Steinberg, who handles Woods' business affairs.
 Asked at the BMW PGA Championship if he had spoken to Woods, Garcia said: "Unfortunately not, though I have spoken to Mark Steinberg and he said that they are moving forward. And if I manage to talk to Tiger then I will do that definitely when I see him at the US Open."
 The Spanish golfer said he didn't sense any animosity from the crowd during his opening round.
 "It was okay out there today and it's been a tough week, but for the most part it's been okay," he said. "And I felt the warmth of the people and they were very supportive of myself and my playing colleagues.
 "That really helped a lot and, like I have always said, I am very, very fortunate because I feel like the people support me everywhere I go, and not just in Europe. So I am very thankful for that and to get a welcome like I did."
 Woods and Garcia have exchanged barbs over the past two weeks, dating to the third round of The Players Championship when Garcia implied that Woods purposely stirred up the gallery as the Spaniard was playing a shot.
 Woods responded on Wednesday to Garcia's remark with a series of tweets that said: "The comment that was made wasn't silly. It was wrong, hurtful and clearly inappropriate. I'm confident that there is real regret the remark was made. The Players (Championship) ended nearly two weeks ago and it's long past time to move on and talk about golf."
 However, the controversy took a further twist on Thursday when the head of the European Tour had to apologise for using the term "coloured" during a live television interview in which he was commenting on the spat between Garcia and Woods.
 In the interview, European Tour CEO George O'Grady said that "most of Sergio's friends are coloured athletes in the United States."
 The word "coloured" is considered an antiquated and offensive term in some countries when referring to black people.
 "I deeply regret using an inappropriate word in a live interview for Sky Sports for which I unreservedly apologise," O'Grady said in a statement.
 It was a sentiment shared by Garcia.
 "I didn't hear about the comments as I was playing today but I have since been told about it ... I think it unfortunate," Garcia said.
 The US Open will be played June 13-16 at Merion Golf Club in Ardmore, Pennsylvania.