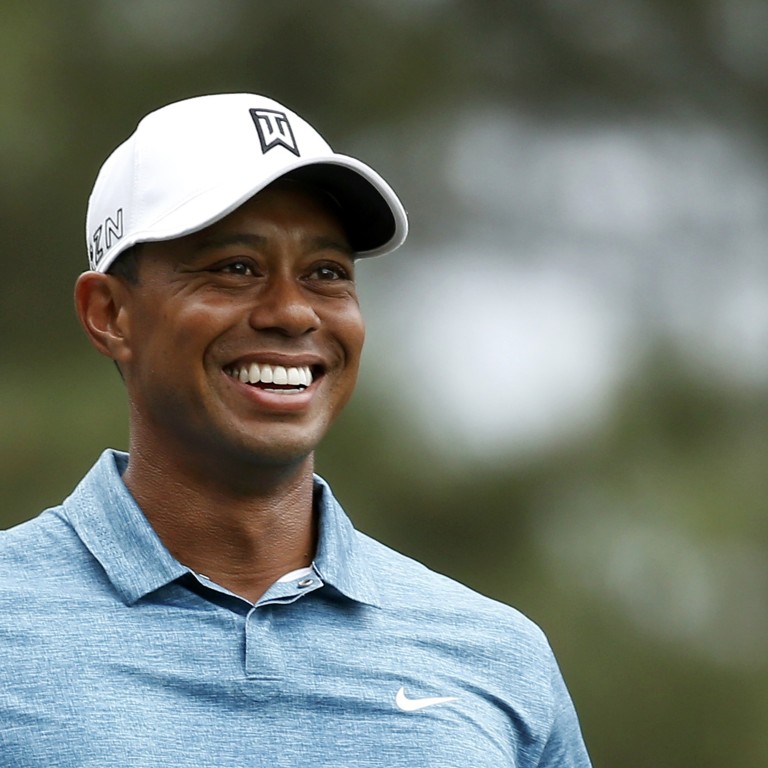 Out of the Woods? Tiger delights fans as he looks back to his best for Masters
Former champ all smiles during practice round - but will his form hold up for the real thing?
Tiger Woods thrilled Masters fans with a strong practice round Monday at Augusta National, solid chips and approach shots signaling a return to form by the 14-time major champion.
Woods, who missed last year's Masters due to back surgery, excited spectators with a late-afternoon practice round alongside long-time pal Mark O'Meara.
"I felt good and it was nice to get out here," Woods said. "But the course was a little bit faster than when we played last week."
Woods, who has sunk to 111th in the world rankings, made his first public shotmaking display since withdrawing from Torrey Pines after only 11 holes in February with back issues and a woeful short game.
"The last two months has been a process for me but I'm in a good place now," Woods said. "It's progression. I felt like I had to get my game into a spot where I could compete to win a golf tournament and it is finally there."
Woods arrived by plane Monday afternoon from Florida and went directly to Augusta National's practice chipping area, where he hit about 70 shots with no sign of the prior horrid form, and driving range, where he spent slightly under an hour.
During the workout, comfortable-looking Woods appeared to be listening to music, dancing at times, and was smiling and relaxed, sharing hugs with former swing coach Sean Foley, past British Open winner Darren Clarke and O'Meara.
"It was good to catch up with Mark again," Woods said. "We text each other all the time, so it felt like old times out there. I miss him."
Woods' casual manner and successful shotmaking harkened back to the form that made Woods a four-time Masters winner, his most recent green jacket victory coming 10 years ago.
He has not won a major title since the 2008 US Open as he chases the record 18 majors won by Jack Nicklaus.
His manner was a sharp contrast to recent struggles in a 13-month span where he has managed only three 72-hole finishes.
After sending his first tee shot well left into pine trees near the adjacent ninth fairway, Woods blasted over the trees to five feet from the cup for a birdie and practiced his chipping on the hole as well.
"My chipping is fine and today was good as I wanted to test out some wedges," Woods said. "That was why I was chipping a little bit more."
Woods put his approach at the par-5 second 30 feet from the cup but missed an eagle putt. At the third he chipped within inches of the cup. At the par-3 fourth his stopped his tee shot 10 feet from the cup.
"Don't ever underestimate Tiger Woods," O'Meara said. "I saw some good signs out there."
World number one Rory McIlroy, who would complete a career grand slam and win his third major in a row by capturing his first green jacket on Sunday, practiced Monday alongside two amateur debutants, reigning British Amateur champion Bradley Neil of Scotland and American Byron Meth, the US Public Links champion.
But as excited as people are about McIlroy's run at history, curiosity over Woods stole the show Monday.
"There's always a buzz when he's in the field," Sweden's second-ranked Henrik Stenson said. "It's good to see him back in action and see where his game is at."
"We want him back. We need him back," said American Brandt Snedeker. "He brings a lot of drama. I would love to see him in it on Sunday."
Australia's fifth-ranked Jason Day hopes to stay under the radar with the most attention on McIlroy, US star Jordan Spieth and especially Woods.
"Everyone's excited and interested to see how he performs this week, what the state of the game is for him, because he's such a huge part of golf," Day said.
Reigning US Open champion Martin Kaymer of Germany, who has endured a comeback of his own, said Woods must have a mental fight as well as a physical one with all the attention on his game.
"Mentally, it must be quite exhausting and we know how important the mental part is in golf," Kaymer said.
"Hopefully he's strong enough, he has people to talk to, and he finds a way to compete as good as he can. Because we all know when he's around, somehow it does make us play better, as well.
"I never experienced someone who played better than him in my era... for me, what I have seen and what I have experienced, he's the man."