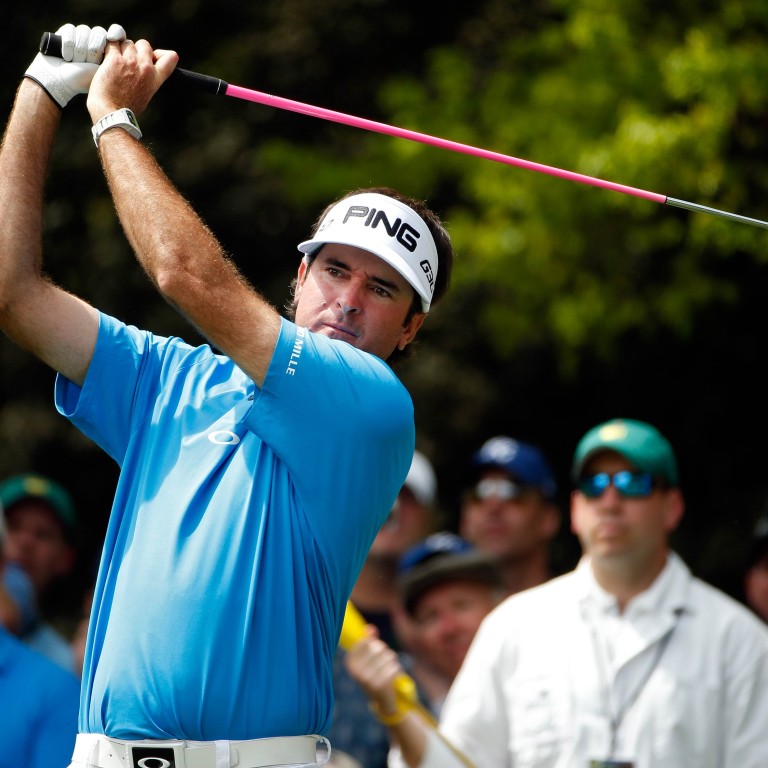 Bubba Watson shrugs off distractions to focus on the Masters
The 36-year-old may not be the most popular player on tour, but he refuses to let outside elements affect his countdown to golf major at Augusta
Bubba Watson knows the score. At 36 years of age and with two Masters titles to his credit, Watson realises that everybody will be looking for an angle when it comes to this week, in Augusta, each year.
So Watson was quick to brush off with humour Tuesday's announcement of an ESPN poll which asked 103 pro golfers (anonymously) which of their fellow players would be the least likely to get their help if spotted in a fight in a car park.
About one in four said Watson - the highest rate recorded - the inference being that the Bagdad, Florida-born world number three was not exactly the most popular player on tour.
"Well obviously people know that I'm a big hitter so I can hold my own in a fight," was how Watson handled the matter when told for the first time about the poll.
And Watson was quick to play politic when another distraction was raised as talk turned to the player ranked 111 in the world. Watson said he knows Tiger Woods is still a story - always will be a story - but said this year Woods was just another story in a week full of them as the build-up to the first round of the Masters on Thursday starts to come to the boil.
"Every week that we play a golf tournament there are always storylines. It doesn't affect me," said Watson, when asked about the focus on Woods, and the myriad angles being explored this week.
"Bad shots affect me more than a storyline does. It doesn't matter what the storylines are each week that we play. It just matters about your own game and your own dedication that week so I'm just going to go in there and try to play well."
Playing well across Augusta National has become part of Watson's annual routine. He won the Masters in 2012, with that insane gap wedge on the first-play-off hole setting up par and victory over South Africa's Louis Oosthuizen. Last year he never blinked on the final day back nine as he won by three strokes from American Jordan Spieth and Sweden's Jonas Blixt.
He said the predominantly right-to-left layout of the course suits his eye, and his famed long-hitting game. "The design of the golf course sets up well for me and obviously if I'm driving well that golf course really plays into my hands," he said.
The reason Watson was on the line to Asia from Augusta was that immediately after play ends this weekend, he'll be on a flight out our way as he's set to headline the European Tour's inaugural US$2.5 million Shenzhen International at the Genzon Golf Club next week. He said increasing his overseas schedule had helped him grow as a golfer, and as a person.
"The aspect of learning as an individual - learning new cultures, seeing new cultures, learning to travel, to pack my own bags and go across to a different continent and obviously seeing different golf courses, from different designers, different set-ups, different grasses - yeah, that's going to develop you," said Watson.
He won the WGC-HSBC Champions title in Shanghai last November, this time riding a brilliant bunker shot which forced a play-off with Tim Clark. A birdie on the first play-off hole sealed the deal for Watson and he said he wanted more of the same.
"I think that for me, winning in China last year gives you that much more drive to do it again," said Watson. "The greatest players in the game have all won many times outside the US so when you get a taste for one, why not win another one. That's what I'm trying to do. I'm trying to travel and grow the game but at the same time for selfish reasons I'm trying to get a trophy outside the US."
But first will come the 79th edition of the Masters, and the chance for another green jacket.
"When you get here to Augusta, you become a kid again," said Watson. "You remember shots like Jack Nicklaus making the putt in '86. Tiger fist pumping in '97. Tiger's chip-in in 2005. So you remember all these shots and when you get here you just get that buzz and it makes you feel younger. I'm full of energy and full of excitement and ready for the challenge."
This article appeared in the South China Morning Post print edition as: Watson keeping focus on Masters