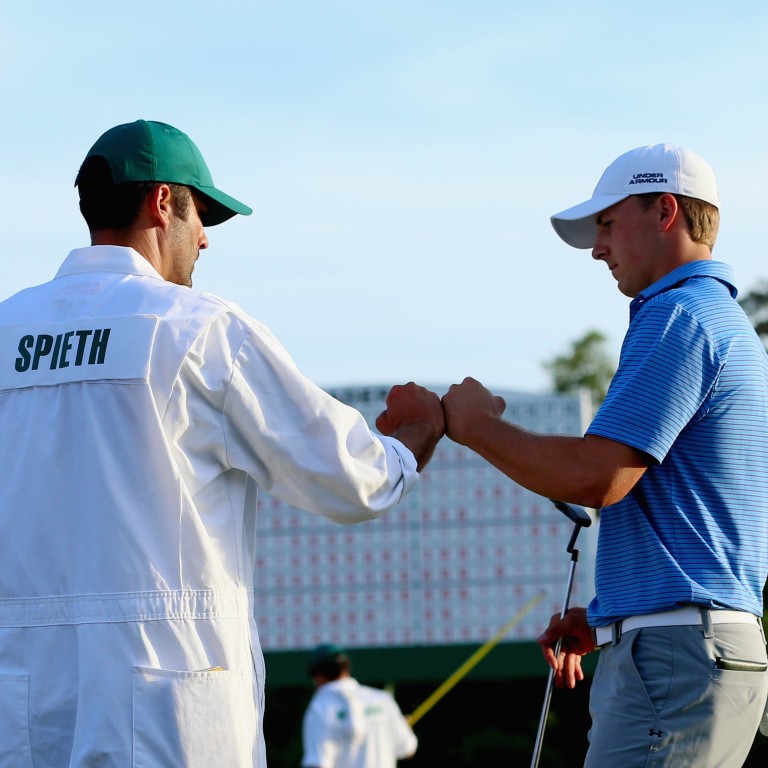 Jordan Spieth holds his nerve heading into Masters final round
Clutch putt on 18 maintains four-stroke lead after double bogey threatened to derail challenge; Rose and Mickelson in pursuit
Jordan Spieth stumbled under the weight of leading the Masters, but salvaged par with a clutch closing 10-foot putt to set a 54-hole record and maintain a four-stroke lead.
The 21-year-old Texan's dramatic finish to a two-under par 70 third round Saturday at Augusta National gave him a 54-hole Masters record of 16-under 200 and partly eased the sting of a double bogey at 17.
"It was really big. It was huge. It was one of the bigger putts I've ever hit," Spieth said. "I was very frustrated."
Speith, who settled for second last year in his Masters debut after leading on the front nine on Sunday, made four birdies in five holes to reach 18-under and led by six with two holes to play.
But a poor tee shot led to his setback at 17 and an approach well right of the green at 18 forced an aggressive chip that Spieth admitted would likely fail four times out of five.
"It was huge just to see one go in after the disappointment there on 17, where I probably should have just hit 3-wood off the tee," Spieth said.
Spieth, who set a 36-hole Masters record of 14-under 130, lost only one stroke off his halfway lead, but finds 2013 US Open winner Justin Rose alongside him in the final pairing after a closing run of five birdies in six holes and five-time major winner Phil Mickelson only five shots back after matching Rose with a 67 Saturday.
"They are going to bring their game and I've got to have a relatively stress-free round going, I mean give myself some tap-in pars and not have to make so many putts," Spieth said.
"I had to make a lot of putts. I can't rely on the putter that much to save me with two major champions right behind."
Spieth made seven birdies Saturday and has made a Masters record 22 birdies in 54 holes, one more than the old mark of Tiger Woods from his 2005 victory. Spieth also eclipsed the old 54-hole low score of 201 shared by Woods in 1997 and Ray Floyd in 1976.
Woods, a 14-time major champion, and world number one Rory McIlroy, seeking his third major win in a row to complete a career Grand Slam, lurk 10 shots back, but they would need to eclipse the greatest last-day comeback in Masters history, Jack Burke's 1956 rally of eight strokes, to win.
"It's about setting a goal and being patient with the opportunities that are going to come my way," Spieth said.
After his 2014 near miss, Spieth is hungry to don a green jacket.
"Last year definitely left a bad taste in my mouth," Spieth said. "I've been looking to get back, looking at trying to get some revenge. I've got a long way to go still."
Spieth said the 24-hour wait between the second and third rounds added to his tensions.
"A little anxious, but I actually felt more comfortable than I thought I would. It's just so hard," Spieth said. "That's a long time to sit on a lead like that. Out on the course it felt a little bit different. And maybe got a little anxious at times. But all-in-all kept it together with the putter.
"Would have liked to have finished the round a little bit better, but also could have been worse."
Spieth could become only the fifth wire-to-wire winner in Masters history, joining Craig Wood in 1941, Arnold Palmer in 1960, Jack Nicklaus in 1972 and Floyd in 1976.