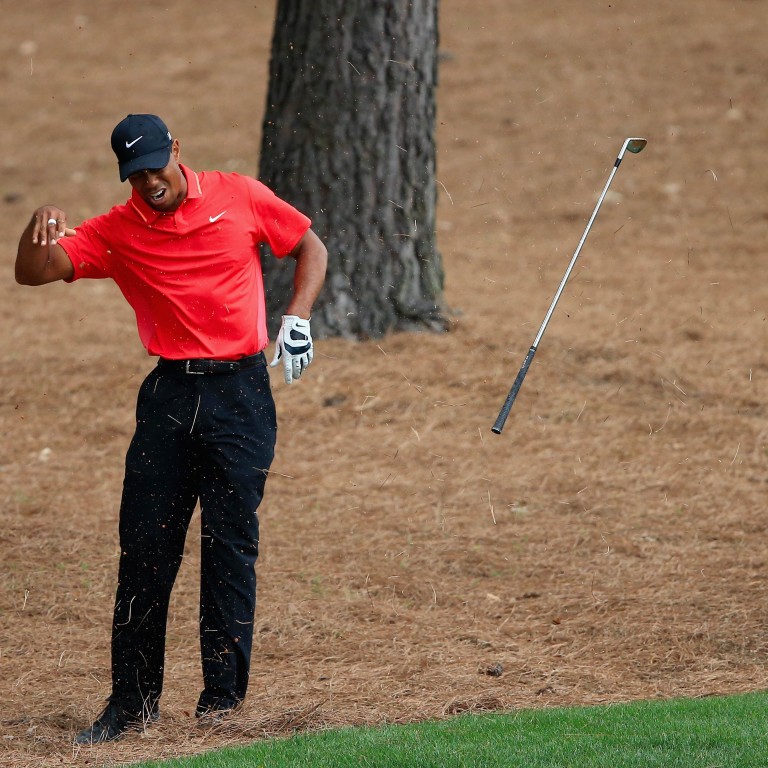 'I've got my pop back,' says Tiger Woods, but it's back to drawing board
American toughs it out after hurting right wrist on a tree root to shot a 73 to tie for 17th place
Tiger Woods was proud of his share of 17th at the Masters in his comeback from a two-month layoff, but the 14-time major champion needs more time to work on his game.
Woods displayed a solid short game at Augusta National, where he has lifted four green jackets, but stumbled off the tee, managing to find only two of 14 fairways in Sunday's final round.
"Not going to be for a while," Woods said of his next start. "I have a little time off and go back to the drawing board, work on it again, and refine what I'm doing. I really like what I'm doing. I got my distance back and everything is good."
Asked if he would play next month's Players Championship, Woods said: "I'm going to practice. Practice some more."
That could mean Woods might not return until the Memorial, his usual tune-up for the US Open, which in June will be staged at Chambers Bay.
"It's going to take some time," Woods said. "I was pleased with the way I was able to hit the ball this week. I've got my pop back. And then on top that have I got my short game back, which was nice."
Woods produced consecutive rounds at Augusta National in the 60s on Friday and Saturday for the first time since his most recent Masters victory in 2005.
It was a major improvement from his career-worst 82 at the Phoenix Open and his withdrawing after 11 holes in February at Torrey Pines, his game imploding with iron and chipping woes and swing issues.
"Considering where I was at Torrey and Phoenix, to make that complete swing change, I'm pretty proud of what I've done," Woods said.
"To make my short game my strength again was pretty sweet. That's something that I have worked my butt off to get to that point.
"No one knows how hard we had to work to get to this point, but I'm very pleased. This is my first tournament back, being a major championship, and to give myself a chance, it felt good."
Woods was 10 back of eventual Masters winner Jordan Spieth entering the last round and lamented not making a harder charge even though he would have needed the greatest comeback in Masters history to win.
"I needed to shoot probably 31 on that front nine, and make a little bit of a run," he said. "I missed three shorties in a row on two, three and four and didn't gather any momentum after that. And basically I struggled from there."
Part of Woods' problems came at the ninth when he injured his right wrist hitting a tree root on his second shot.
"A bone kind of popped out and the joint kind of went out of place, but I put it back in," Woods said.
"I tried to get some height and drove it straight into it. I was in a hole. There was a big depression there and I didn't really suspect there would be anything in front of it. Evidently there was."