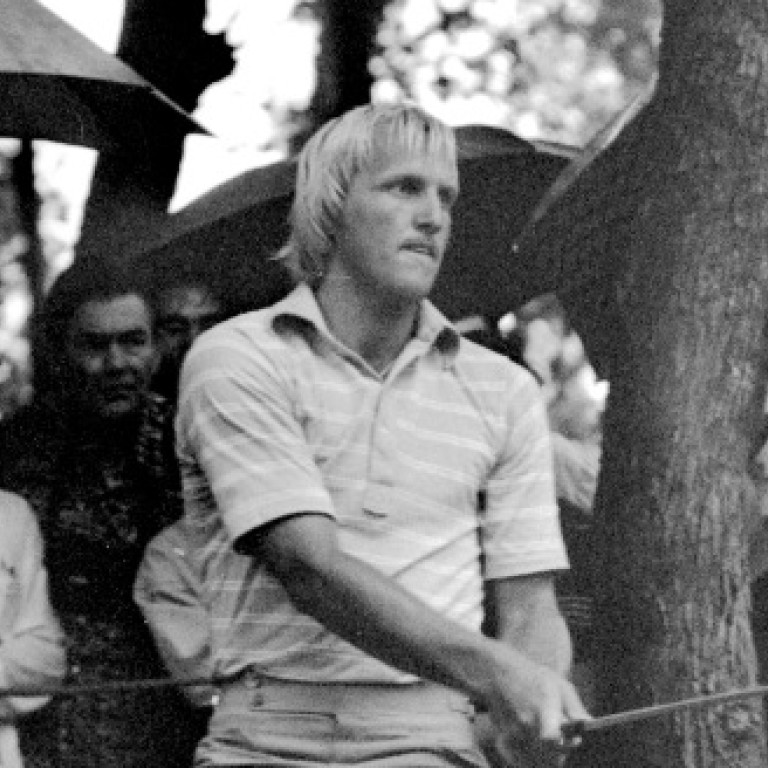 I teed off in my street shoes: Greg Norman recalls 1979 Fanling victory
Australia's Great White Shark earned what was then his biggest payday at the Hong Kong Open
Greg Norman had it all before him on his first trip to the Hong Kong Open back in 1979. As a 24-year-old who had already won four events on the Australian Tour,  Norman had set his sights on going global and Fanling was to provide the first step.
The record now shows that, not for the only time in his illustrious career, Norman achieved what he set out to do, driving his way through the wind and rain for a three-shot win as he collected what was up until then the largest payday of his career at US$100,000.
Asked today what he remembers most about the occasion, the now 60-year-old turns his mind to what went on before the final round had even begun.
"My memory was that I nearly missed my tee time," Norman laughs. "I had to tee off in my street shoes. They had a police escort because the traffic was so bad on the Sunday morning. I ran to the tee, didn't loosen up at all and just hit my first tee. Then I changed into my golf shoes."
Norman would return for another victory in 1983 – again there was the wind and rain not uncommon when the Open was held in the early months of the year – with the tournament being decided over two days' play.
But he says it was that breakthrough in '79 that helped show the world he could compete on the big stage.
"I had a lot of fun," says Norman. "It was part of my stepping stone to get into Europe and play as much as could everywhere around the world, to learn different cultures and courses, and to play on different grasses."
Norman's role as Omega's global ambassador recently brought him to town and he sat down to reflect on his experiences at Fanling, and his thoughts on the state of the game that has served him so well over the decades.
"I can remember I could drive the short holes," he says of The Hong Kong Golf Club layout. "Or at least I was trying to drive all the short holes. To be honest I think I just played well when I was here."
Norman's role with Omega allows him to continue a life-long quest to spread the game – and his various businesses – to the world.
He thinks golf today is in rude health, thanks to its spread through Asia, and that the opportunity must be seized in Rio next year when it returns to the Olympic stable after a break of 112 years.
"Number one I am so glad golf is back in. It should be in there. It's a global sport played by 50-plus million golfers around the world. It needs to be in there," he says.
"It's incumbent now on all of us – the players and the institutions – to make it work. If we fail on this, one we may not get to keep golf in the Olympics. It's very expensive for the IOC. So shame on us if we fail. If we fail with this one, it might be another 100-pus years before we get back in again."
During a playing career that features those two majors at the Open Championships of 1986 and 1993, highlights of a record that shows 90 titles in total, Norman was always pushing the idea of a Tour that might spread its reach as far and wide as possible.
So recent news of the link-up between the Asian and European Tours – details of which are still being fine-tuned – has been welcomed by Norman.
Watch Greg Norman discuss his role with China golfers
"It's no secret that I always wanted to have a world tour," he says. "Quite honestly the European Tour have done a much better job than the US PGA Tour because they have gone to Australasia, they have gone to Asia, they have gone to South Africa, they have gone all through Europe. So at the end of the day, there's not a world tour, but there almost is. Kudos to them."
Norman is also an adviser to the Chinese Olympic golf programme and he has worked in particular with the country's rising female stars. He has been impressed by what he has seen, both in China and beyond.
"If you look to the future, maybe it's not the men but the women that have a huge future here in Asia," says Norman. "Look at the number of players from Korea, China, Japan. If they keep firing and keep sparking and create that forest fire of enthusiasm, maybe the LPGA even has a chance of creating an opportunity through Asia before any of the other men's tours do."