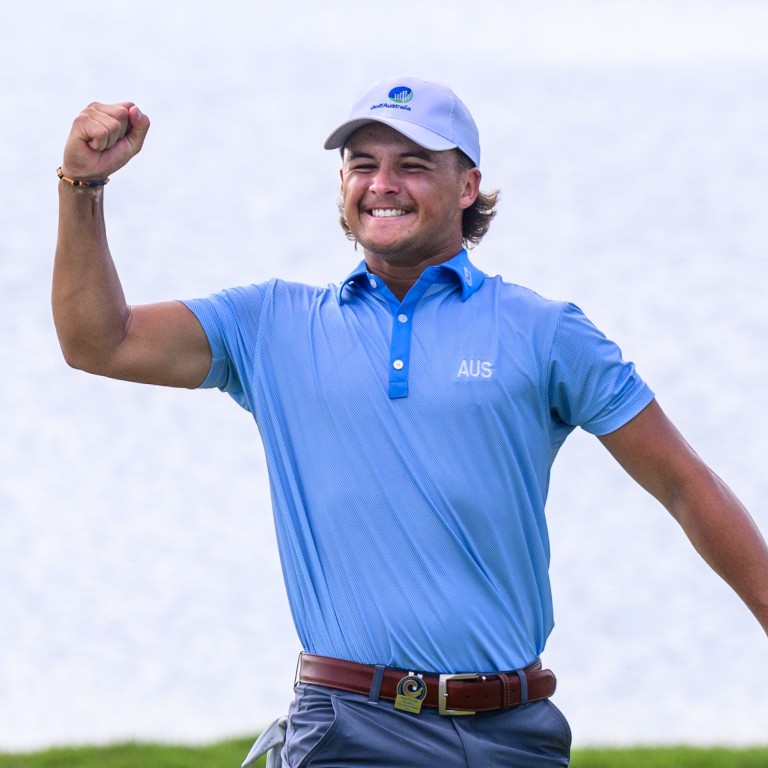 Asia-Pacific Amateur Championship: Australia's Harrison Crowe, 21, drains dramatic putt on 18th to win title in Thailand
Crowe shows nerves of steel to beat China's Bo Jin by one shot at Amata Spring Country Club on Sunday
'I really had to dig deep – I just needed one [putt] to drop. I hadn't had a birdie all day,' he says
If nerves of steel are a prerequisite for success in professional golf, then Harrison Crowe can at least check that off the list.
The Australian drained a four-foot putt that was anything but a gimme to card a final round of level-par 72 to win the Asia-Pacific Amateur Championship in Thailand on Sunday, beating China's Bo Jin by one shot.
Crowe had the advantage coming down the last at Amata Spring Country Club after Jin found water off the tee on the par-3 17th and made double bogey, going from 14-under to 12-under and handing back the momentum he gained when his opponent bogeyed 16.
Even with a slim lead on 18, Crowe still made things difficult for himself by missing the green with his approach, and flirting with the spring that gives the course its name.
"I did think it was going in the water," Crowe said. "I pulled it, but I flushed it, and I was just hoping it caught a bit of grass."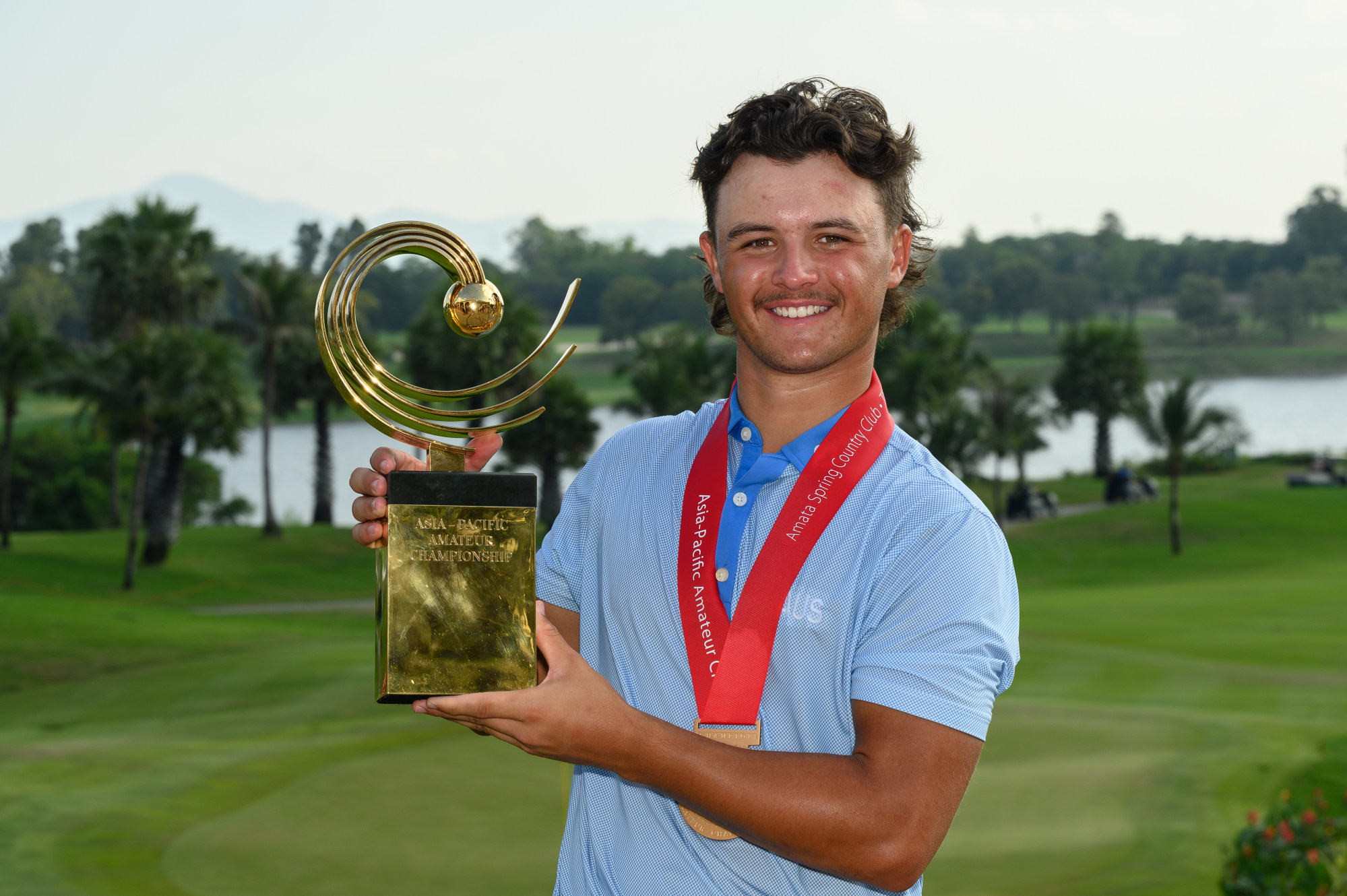 The 21-year-old's chip back from the rough behind the green ran long, leaving him an uphill par putt that on the best of days would require some concentration.
That Jin had putted out for par moments earlier only added to the pressure.
"No," Crowe said, when asked if he had ever been as nervous as at that moment. "No I haven't. I don't think the putter kept still at all."
For Jin, meanwhile, he is at least getting closer to winning. Last year he had the lead after 36 holes, only to finish third.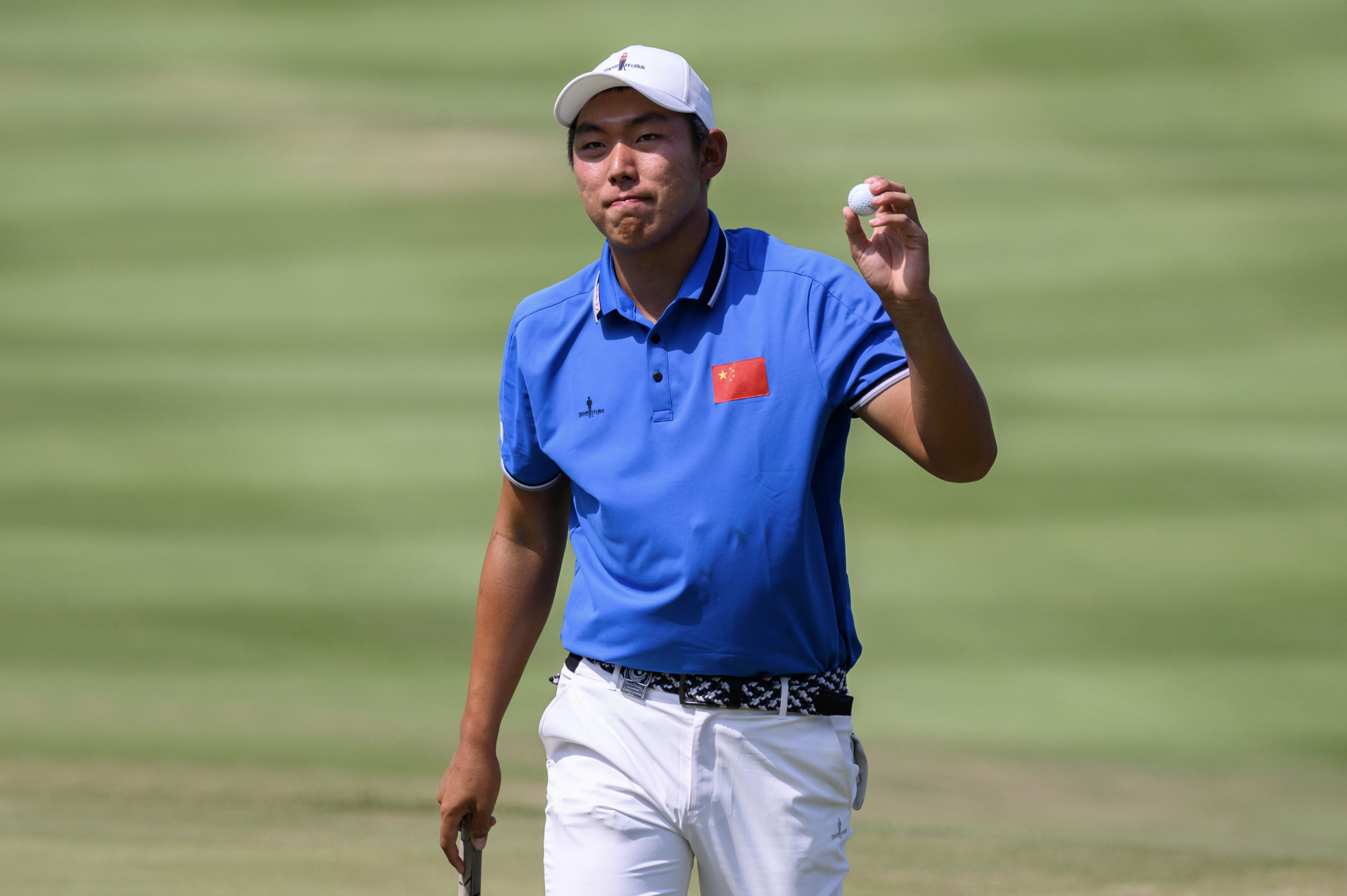 This time around Jin was within touching distance of victory until the very end, and the tee shot at 17 is likely to haunt him for some time to come, especially as for much of the round he had his nose in front.
"Obviously the nerves start to come up and the shot on 17 was pretty critical," Jin said. "But bad shots happen, and Harrison played better than me to finish up and he deserved to win."
Crowe began the day with a two-shot lead over Jin, but that disappeared rapidly on a front nine that began with a bogey, and included two more on the fourth and ninth.
In comparison, a birdie at the first for Jin erased his two-shot deficit, and by the time they reached the turn the Chinese golfer was three shots up.
"I really had to dig deep," Crowe said. "I said to my dad and his mate Dipper that I just needed one [putt] just one to drop. I hadn't had a birdie all day, and then the one on 11 I made it tough for myself, but that got my momentum going."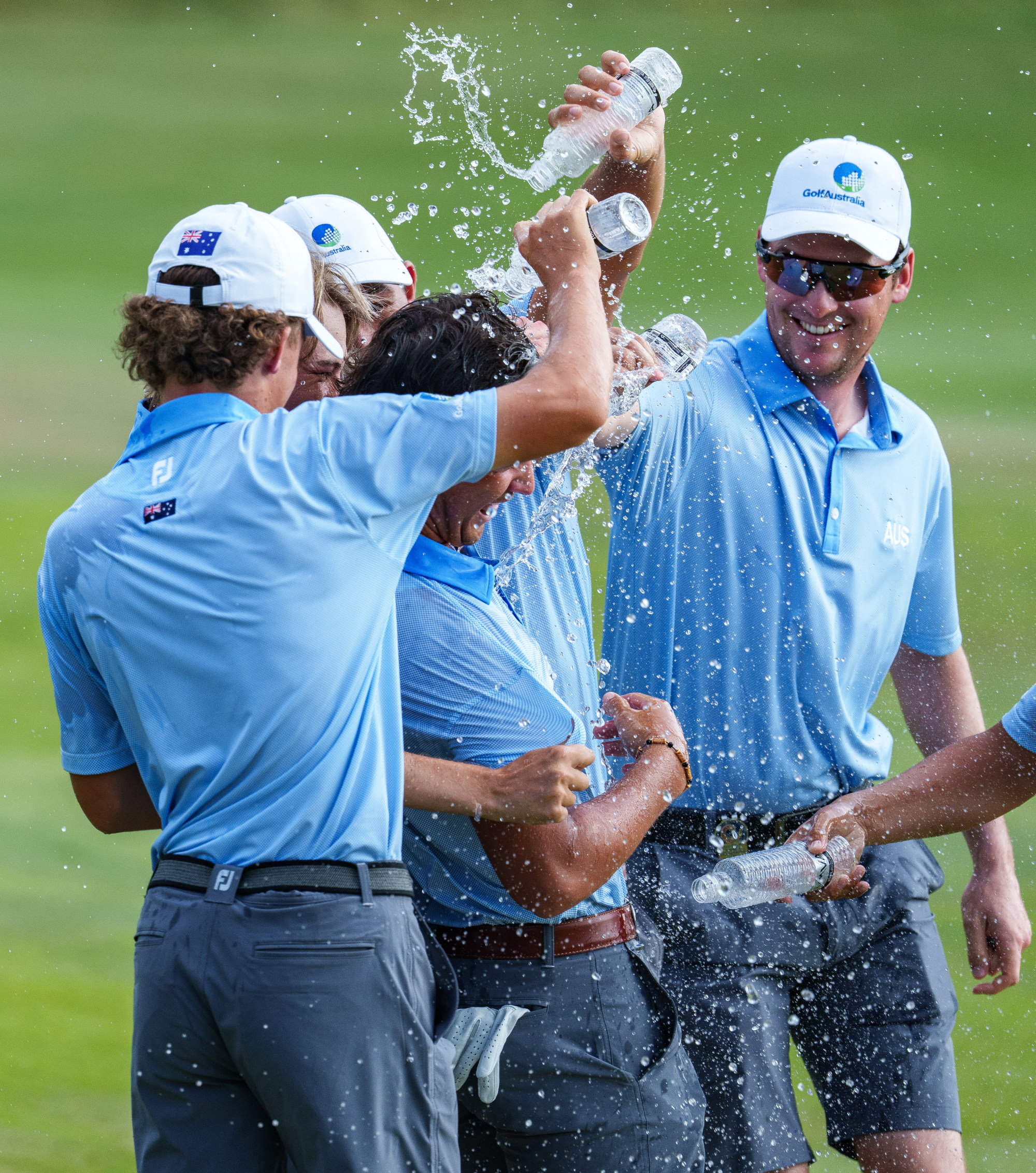 The birdie at 11 was the start of a three consecutive birdies that dragged Crowe back into contention, and from there he and Jin traded blows until the pivotal moment on 17.
From considering turning professional almost immediately if he hadn't won, the Australian now has the Masters and the Open Championship to look forward to next year.
"It means so much to secure those exemptions," Crowe said. "This is how I wanted to delay things, for sure, it's an awesome feeling and an extremely good reason not to turn [pro] right this minute."
Further down the field, Hong Kong pair Taichi Kho and Leon D'Souza never really threatened the top of the leader board after disappointing opening rounds, and finished on one-under and two-over, leaving them in a tie for 34th and 40th respectively.
Kho will fly back to Chicago on Monday to resume his Masters year at Notre Dame and has already withdrawn from the International Series Morocco event next week.
D'Souza returns to Hong Kong, where he is now living, and will be part of the side that represents the city in the Nomura Cup in the Philippines in a fortnight.