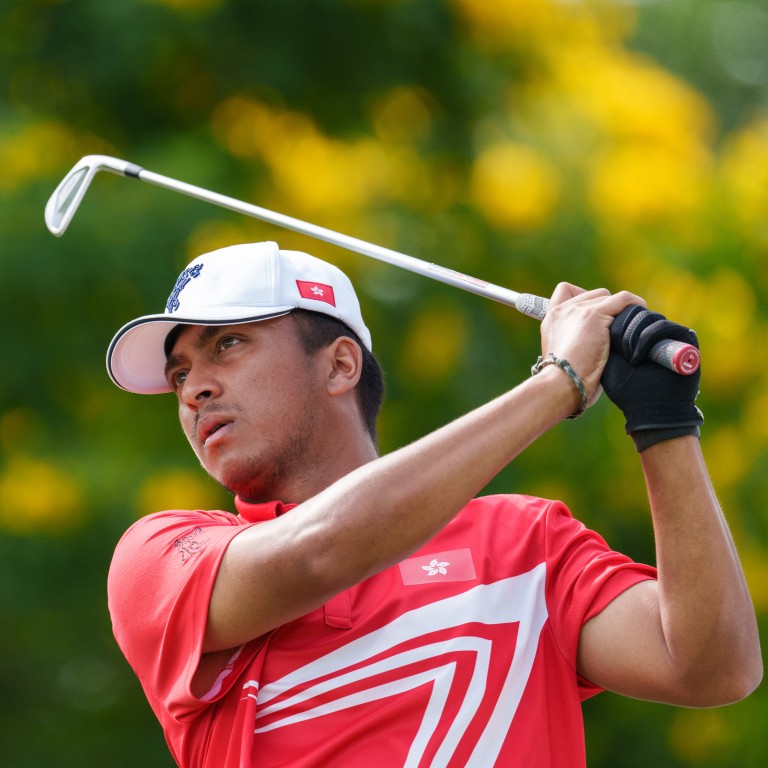 Asian Tour: Hong Kong quartet chasing dreams as final qualifying looms in Thailand
Matthew Cheung, Leon D'Souza, Taichi Kho and Terence Ng among field of 234 golfers chasing tour cards this week
There are 35 spots up for grabs at Lake View Resort and Golf Club in Hua Hin
Final qualifying for the Asian Tour begins in Thailand on Wednesday, with four of Hong Kong's best chasing one of the 35 spots up for grabs this week.
Matthew Cheung, Leon D'Souza, Taichi Kho and Terrence Ng will be in a field of 234 amateurs and professionals at Lake View Resort and Golf Club in Hua Hin.
The quartet have all taken slightly different journeys to this point. Kho and Ng remain in the amateur ranks, at least for now, while Cheung and D'Souza will be playing as professionals.
And while Cheung has been plying his trade for a while in North America, D'Souza made the switch last week, albeit to little fanfare.
"It was going to happen eventually, it was just a matter of when. Nothing's changed but the day," D'Souza said.
"I'm looking forward to pro golf life, getting out here with these guys and seeing what I can do, you know."
That life D'Souza is anticipating can be a solitary one, which makes having four Hong Kong teammates at the same event "quite nice".
"I've been to similar tournaments before on my own, and it can be very solitary," D'Souza said. "So it's nice to have four guys. It's more relaxed when we leave the course. You're not thinking about golf all the time."
Despite everything riding on the week, which for the top 35 is playing rights on what a tour spokesman said "promises to be the biggest and best year in the history of the Asian Tour", D'Souza said that was not his focus.
And while D'Souza acknowledged its importance, he said it wasn't something he would dwell on, adding that as a player, "you can't think about that".
"It's five rounds of golf, everyone's played five rounds of golf. You just go out there, add them up at the end and hopefully you're in the top 35," he said.
D'Souza will begin his bid to gain a tour card alongside Taiwan's Fang Yin-jen and Jeremy Gandon of France on the C-D course in Hua Hin.
This week's tournament will take place over two different layouts at Lake View, with cuts coming after the second round when the field will be whittled down to 140 and ties, and then to the top 70 and ties for Sunday's final round.
Ng will also play his opening round on the C-D course, alongside Jaehun Jeong and David Gleeson at 7.10am local time.
Kho and Cheung, meanwhile, are on the A-B course, with Kho going off at 12.30pm alongside Matthew Negri and Meenwhee Kim. Cheung is in a group with Kho Deng Shan and Australian Hayden Hopewell, who booked his spot after topping the qualifier in Phuket earlier this month.
While Kho is the only amateur in his group, he is far from being a stranger to the Asian Tour, having been invited to compete in several events last season, including International Series stops in Saudi Arabia, England and Singapore.
His relative success in those events, plus his win to qualify for the DP World Tour's Singapore Classic in a couple of weeks, have fuelled a sense of belonging.
"There are a lot of things I can pull confidence from this week, I think there are a lot of reasons to feel confident," he said.
"I think [there is] comfort, a sense of belonging. I do feel like I belong, not to just be at the final stage of qualifying, but to compete and contend to win on the actual tour.
"There's a difference between expectation and confidence. I don't expect anything from this week, anything can happen and I embrace that, but I'm also confident that it might be in a couple of weeks where I contend for an Asian Tour title or it might be a couple of years, but I definitely feel like I belong out here."