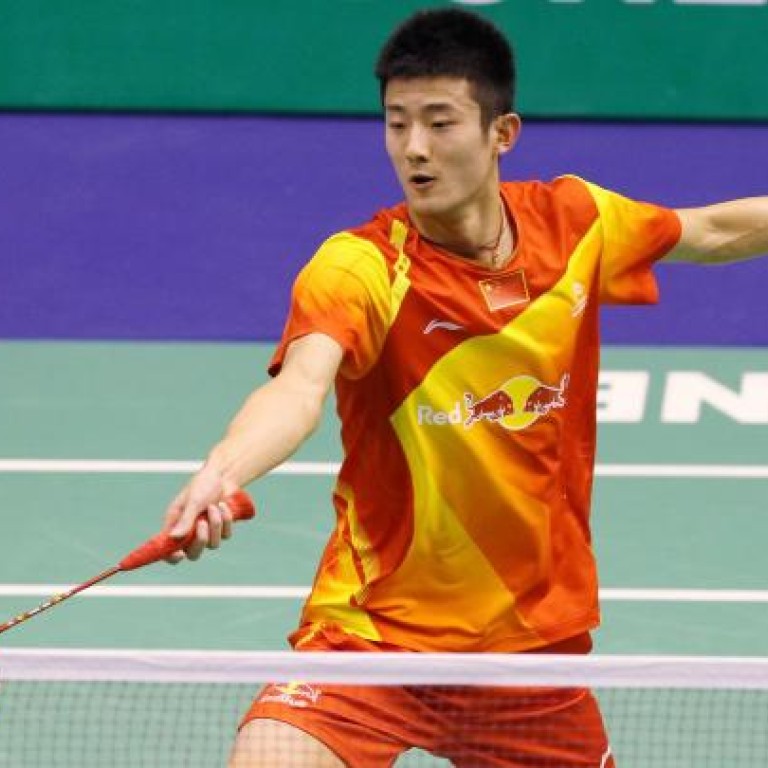 Wang Lin hopes Yonex-Sunrise Hong Kong Open is sign she is on her way up
Former world number one admits she's starting from scratch after injuries; meanwhile women's final will be a repeat of the Olympics
Former world number one Wang Lin hopes her performance at the Yonex-Sunrise Hong Kong Open can help her fight back to the world's elite ranks.
The injury-hit mainlander couldn't stop her compatriot Li Xuerui, the newly crowned Olympic champion in London, in the women's singles semi-finals at the Coliseum in Hung Hom yesterday, losing in straight games 21-12, 21-13.
But a semi-final berth in a Super Series after starting in the qualifiers is the 2010 world champion's best achievement after two severe injuries over the past 24 months dumped her to as low as 107 in the world rankings in June. Wang reached the world number one spot in October 2009.
"I am quite happy with my performance in Hong Kong, although it could not be compared with those days," said the 23-year-old. "But I won't think too much about the past as I have to start all over again in my career since there have been a lot of changes since I won the world championship."
Wang Lin paid tribute to Li, whose speed made her invulnerable throughout the 30-minute game. "She is the Olympic champion and of course she is a very good player. This is the first time I have met her in a competition and she impressed me a lot," she said.
Li's victory means there will be a repeat of the London Olympic Games women's singles final in Hong Kong when the 21-year-old from Chongqing takes on another Chinese player Wang Yihan today.
World number one Wang Yihan was made to sweat in overcoming Juliane Schenk of Germany after three tough games, winning 21-8, 19-21, 21-15 in her semi. She lost to the German in the quarter-finals of last week's China Open.
A confident Li said she had become a more mature player after her Olympic baptism in London this summer.
"This will be the first time we meet since the Olympic Games and I look forward to another great match for the fans," she said.
In the men's singles final, world number one Lee Chong Wei of Malaysia will meet mainlander Chen Long, the second seed. Playing in his first tournament since his wedding two weeks ago, Lee apparently needed some time to get back his top form as he overcame Kenichi Tago of Japan 21-19, 21-15 after 45 minutes.
Chen had an easy passage over Tommy Sugiarto of Indonesia 21-18, 21-10.
"I came here to enjoy the game and it is nice to reach the final," said Lee, who lost to Lin Dan in the semi-finals last year. "Chen may be not as experienced as Lin, but he is coming up quickly and no one can ignore him."
The two last met in the semi-finals at the Olympics where Lee came through easily in two games 21-13, 21-14.
In the women's doubles, defending champions Yu Yang and Wang Xiaoli of China reached the final after routing Shizuka Matsuo and Mami Naito of Japan 21-15, 21-6.
They will meet London champions Zhao Yunlei and Tian Qing in the final. They needed more than an hour to finish off their Chinese compatriots Bao Yixin and Tang Jinhua 21-18, 11-21, 21-18.
This article appeared in the South China Morning Post print edition as: Wang hopes HK is sign she's on the up