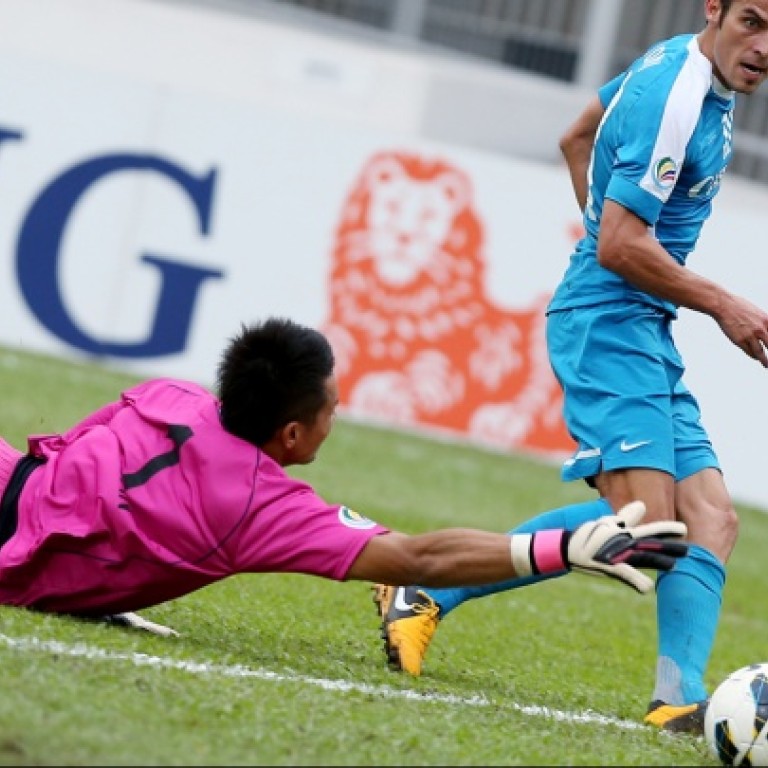 Kitchee boss hails coach Gombau after 5-0 win over Warriors
Kitchee boss praises the outgoing Spanish coach as his team thrash Warriors in AFC Cup clash
Kitchee boss Ken Ng Kin paid a glowing tribute to outgoing coach Josep Gombau after watching his side thrash Warriors of Singapore 5-0 in their final AFC Cup group match.
The result had no bearing on Kitchee's second place in group E, but the manner of victory underlined the influence Gombau has had. The Spaniard will leave for Adelaide United in the A-League at the end of the season.
Jorge Tarres scored a hat-trick, taking his tally to 10 in the competition, while Cheng Siu-wai and Tsang Kam-to were also on target in front of crowd of 1,000 at Mong Kok Stadium yesterday.
"He has introduced a new playing system since his arrival in 2009 which has made Kitchee a very successful team," said Ng.
"Our soccer knowledge has been enriched and because Kitchee have improved so much, the standard of club soccer throughout Hong Kong has also been lifted.
"It's not only success in the first team, Gombau has also instilled a similar playing style in all our feeder teams which has also proved to be highly successful.
"I would say Hong Kong soccer owes him a lot for what he has done over the past four seasons and we want to wish him another successful stint with his new club."
Ng said they had approached a number of candidates to replace Gombau and hopefully could sort out the succession before their last scheduled match of the season in the Super Cup - a new tournament that will determine who joins champions South China in next year's AFC Cup.
"The new coach will probably come from the same system as we want to continue our style," said Ng.
Gombau instilled a Barcelona-style passing game and took Kitchee to their first league championship in 47 years two seasons ago. Last season they successfully defended the league title and also won the FA Cup.
Gombau said the 5-0 win was a nice going-away present from his players but insisted his work was not done yet.
"This was a very impressive result, I expected we could win the match but not by such a big margin. A good job from the players," said the coach.
"But I still expect more from them as I want to see Kitchee win the FA Cup, reach the quarter-finals of the AFC Cup and qualify for the 2014 AFC competition before I leave."
Kitchee face Sun Pegasus in the FA Cup final on May 11 and travel to Kelantan of Malaysia for the AFC round of 16 three days later. As the runners-up in the league, they are also eligible for the Super Cup.
This article appeared in the South China Morning Post print edition as: Ng hails Gombau's impact in HK