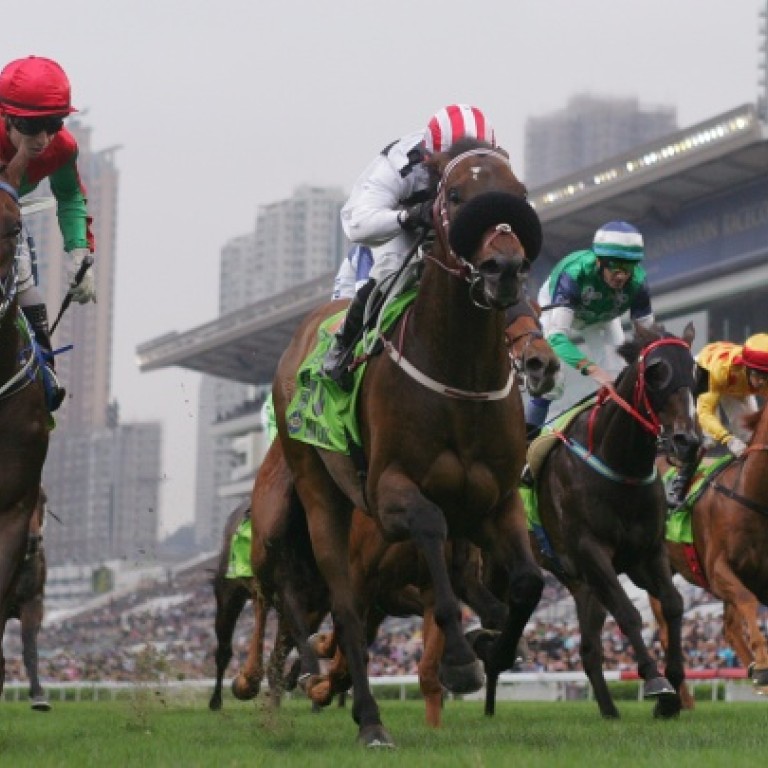 Opinion
On The Rails
by Alan Aitken
On The Rails
by Alan Aitken
Awesome 'foursome', including cup and mile, looks winning combination
But Club unlikely to stage QE II Cup and Champions Mile on same day again
Once again, a talking point of the QE II Cup-Champions Mile double for visitors was why the four Group races aren't staged on the same day to beef up one of the meetings into a second international fixture like the one in December.
Add upgraded versions of the Sprint Cup and a tweaked Queen Mother Memorial Cup and the day could offer the same recipe as December - quality races at 1,200m, 1,600m, 2,000m and 2,400m - and more than one visiting journalist posed the question, why not?
One reason the Champions Mile and QE II Cup were separated in 2012 was to accommodate a new sponsor (BMW) which wanted the branding on the Champions Mile programme to itself. This year there was no sponsor - though we are sure the carmaker would have been delighted to see the race still carried its name in a few places overseas - so the races could have been paired up again.
But the club has its reasons for not doing so, and for not rolling the four features into a "Turf World Championships Part II".
For one, it expects to find a new sponsor for the Champions Mile soon enough and then the branding wheel would go around again. For another, the situation of the Champions Mile a month before the Yasuda Kinen makes it ideal timing for horses going on to Japan.
Yes, the Sprint Cup could be upgraded from Group Two with a lick of paint and some dollars thrown at it and could, as Black Caviar's trainer Peter Moody mused last year, be turned into some kind of halfway assignment for Australian sprinters heading for Royal Ascot.
The upcoming KrisFlyer in Singapore has that potential, but is possibly a little too close to the Ascot meeting.
The Queen Mum Cup? It is the wrong time of year to attract the Europeans who bolster the Vase each December, unless it has prize money to compete with the US$5 million Dubai Sheema Classic or the US$2.8 million for the 3,200m Tenno-Sho and even that might not help.
And would Hong Kong really want the totally weird scenario of only three 2,400m races a season and all Group Ones? It's weird enough as it stands.
All in all, it seems a given that the spring international features will remain in backburner mode for some time to come. They have their niche and, now and again, they attract the kinds of foreign runners that give the concept of another super feature day some credence, but the chemistry is different at this time of the year.
While on the weekend's features, the wins by Dan Excel and Dominant were another reminder that Hong Kong will miss John Moore's input when he hits compulsory retirement in a couple of years.
Nobody else gets even close to Moore's ability to bring in Private Purchase horses which can make it in the big leagues.
Dozens of four-year-olds come in each year as intended Derby horses, most don't make it to that race and many don't win a race at all until they drop into Class Three, in some cases Class Four. We don't need to run through the honour roll for the past seven years or so whenMoore actively made it his agenda to find these types of horses, but he has frequently brought in Class Three and Class Two horses which ultimately made it as solid Group One sprinters, milers, middle-distance horses and even stayers, as much as real stayers can make it here.
Clearly there has been some unrest within Moore's owners this season, with some swings and misses at the top level for the first half of the term resulting in the departure of some of his five-year-olds to other yards.
But, with hindsight, Moore's buying for the 2012 Derby has turned out to be impressive again.
The PPs he ran in the Derby were Same World, Zaidan, Dan Excel, Military Attack and Dominant, while Packing Whiz wasn't quite ready to make the Derby field but has proved his quality since, albeit without winning a Group One yet. Of that group, only Same World has proved a disappointment.
Coming off a low base, granted, Richard Gibson is looking the most likely heir to Moore as a buyer of tried horses which have a future rather than just a past, but Moore will be sorely missed.
This article appeared in the South China Morning Post print edition as: Awesome 'foursome' looks winning combination