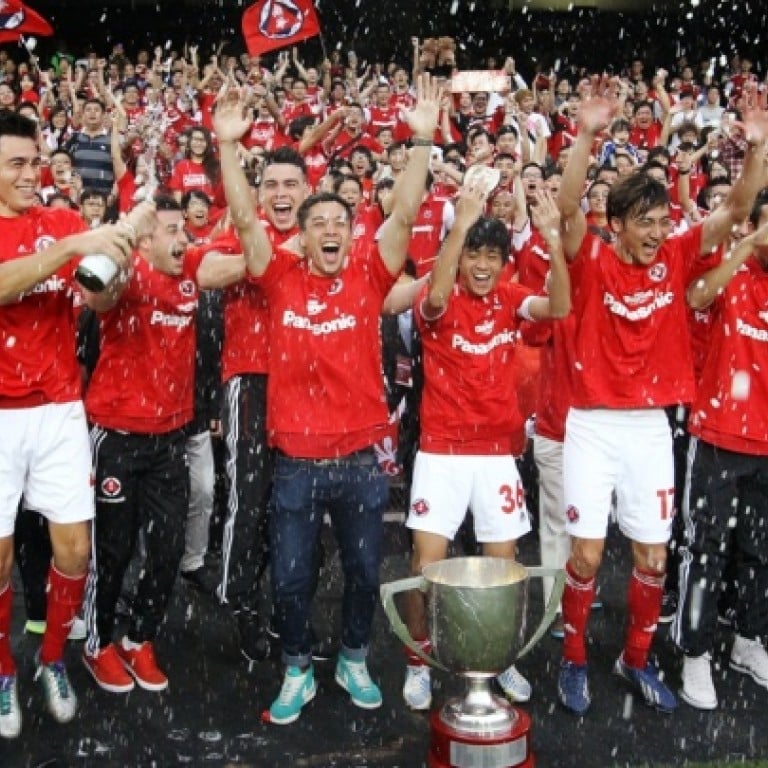 Opinion
The Rational Ref
by William Lai
The Rational Ref
by William Lai
Final day scores in Hong Kong league entertaining yet draw suspicion
The last round of games in the local division saw plenty of thrills and spills, but with them was more than a hint of foul play
The thrills and spills during last weekend's final round of matches in Hong Kong's top two tiers were spectacular, stunning and surprising, with a smidgen of suspicion slung in for good measure.
The Hong Kong Football Association's First Division saw five relegation-threatened teams, separated by a mere three points from one another, battle it out across four matches played simultaneously.
Spectacular and stunning was the total haul of 22 goals - 10 of which were scored in the final 10 minutes - with 16 cautions and four sendings-off. Surprising scorelines with a smidgen of suspicion, however, were the two defeats of professional powerhouses South China and Kitchee.
On paper, it had looked as though Sunray Cave JC Sun Hei and Citizen were the two clubs most at risk of going down because they were up against South China and Kitchee, respectively. But defying the odds, Sun Hei scored in the 80th and 89th minutes to win 4-3 against the new champions and Citizen nabbed the only goal in the 81st minute against Kitchee.
BC Rangers, already safe from relegation, appeared unbothered with their match against Sun Pegasus. Consequently, Sun Pegasus scored five goals without reply within 80 minutes to secure their safety. Perhaps for entertainment, the last 10 minutes saw another five goals, with the final score being 8-2. Relegation fears, therefore, swung to the Yokohama FC (HK) and Wofoo Tai Po match. At 1-1, Tai Po scored in the 90th minute to seemingly stake their claim to safety. But in unpredictable fashion Yokohama scored the equaliser in stoppage time that relegated Senior Shield champions Tai Po.
In the Second Division, Happy Valley, Eastern Salon and Tai Chung fought for the two remaining promotion spots. If all three won their final matches, Eastern would lose out. However of the three, Tai Chung had the toughest match and subsequently lost.
On the face of it, Hong Kong soccer is entertaining and can be interesting to the casual observer. But the perspective is perhaps a little different to those who like to delve deeper below the surface.
The battle between South China and Kitchee can appear to be contrived.
In February, Kitchee coach Josep Gombau somewhat prematurely threw in the towel after his team trailed South China by six points with seven matches still to play. This was apparently based on the predictability of the strongest team not losing to weaker opponents. But during the next five rounds, South China drew once and lost twice against supposedly weaker opposition.
Meanwhile, Kitchee twice had chances to pull level with their rivals, but both times only managed to draw against seemingly inferior opponents. Even so, the gap between the two teams narrowed to two points as they met in what would prove to be the title decider. Anyone with a cynical view would think this powder keg match was manufactured to keep fans interested.
Down in the Second Division, Yuen Long were by far the runaway leaders, having been undefeated before meeting Happy Valley in the penultimate round. Happy Valley needed a win to keep alive their promotion prospects and, against form, won. Yet in the final round last weekend, Yuen Long faced Tai Chung who also needed a win to grab promotion. Yuen Long, true to form, won easily. A cynic would say Yuen Long did Valley and Eastern a favour.
Looking at the other end of Division Two, Wan Chai were in dire straits, having lost 13 and drawn twice in their first 15 league matches. However, beginning in April they picked up 13 points from their remaining five matches to stave off relegation. Apparently, Wan Chai brought in one or three former South China players to help steady their sinking ship. A critic would ask why transfer windows do not apply in the lower divisions.
These peculiar incidents, and many more, contribute to the quirky antics that allegedly abound in the local game. Impressions count.
Similarly, match officials face scrutiny when they give the wrong impressions. During Arsenal's 3-1 win against Norwich in the English Premiership last month, the Gunners scored three goals in the final five minutes with linesman Richard West giving dubious decisions.
With Norwich seemingly on the verge of a win, West first incorrectly flagged for an Arsenal corner when it was a goal kick to the Canaries. Second, during the corner West flagged for a penalty from over 35 yards away, when referee Mike Jones was 10 yards from the incident. Arsenal equalised from the spot kick and to cap off West's poor performance he missed an offside that led to Arsenal's second goal. A cynic would think West's three incorrect calls, within minutes of each other, were biased for the home side.
Since impressions count, what safeguards can Fifa and competition organisers put in place so credibility is present, and seen to be present, in the beautiful game?
This article appeared in the South China Morning Post print edition as: Final day tinged with suspicion