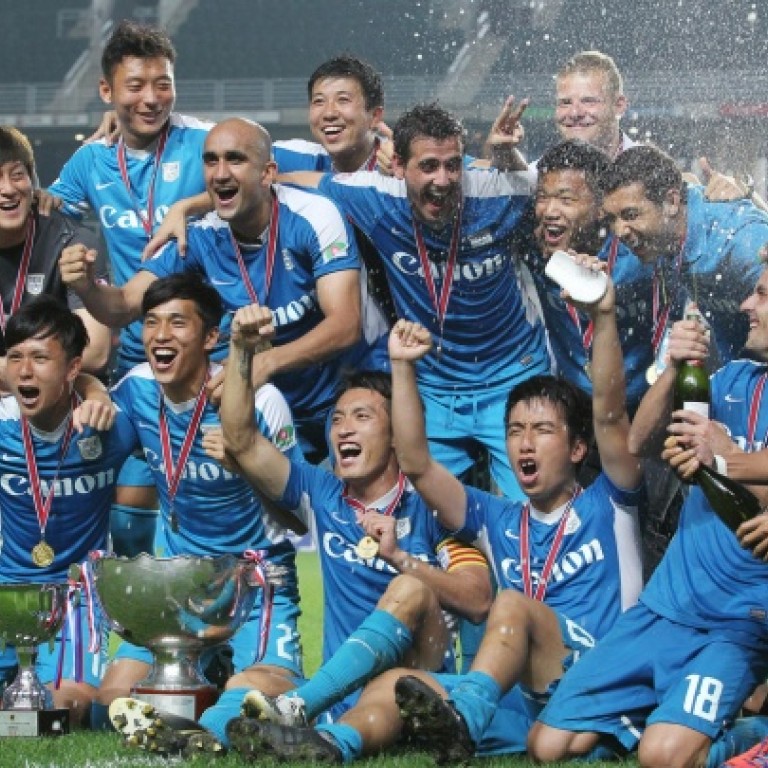 Gonzalez missile lands FA Cup for Kitchee
Spaniard finds target against Pegasus to hand his team their only silverware for the season
Kitchee saved their best for last to beat Sun Pegasus in the FA Cup final through a lone strike from Pablo Gonzalez at Hong Kong Stadium last night.
The former Spain Under-21 international powered home from 25 metres out early in the second half, handing Kitchee a 1-0 win as well as their only silverware of the season, having surrendered the league championship to South China and defeat in the Senior Shield quarter-finals.
"This is a nice present to our coach, capturing the last trophy of the season," said Kitchee boss Ken Ng Kin. "But our job does not stop here. We have to travel to Malaysia for the AFC Cup round of 16 in midweek and then come back to Hong Kong for the Super Cup play-off.
"If we can get through both, then we can call it a perfect ending." Led by outgoing coach Josep Gombau, who will join Australian League side Adelaide United in July, Kitchee will leave today for Kelantan before returning to meet Southern on Sunday in the Super Cup play-off.
The play-off features four teams - the others are Shield champions Wofoo Tai Po and Tuen Mun - who will play each other on Saturday.
The winners of the two matches will meet on May 26 to decide who will represent Hong Kong in the 2014 AFC Cup, along with league champions South China.
Gonzalez, who joined Kitchee last October, was delighted to score yesterday's winning goal, which also earned him the MVP award and a bonus of HK$10,000.
"It's a great feeling," said the 33-year-old forward after picking up his 10th goal of the season "It's not only for me, but for the fans and the club."
Gonzalez said his contract with Kitchee would end at the end of the month, and he was still not sure of his future.
Pegasus, who also lost to Kitchee in the FA Cup final last year, had only themselves to blame for the defeat as they appeared in control before Gonzalez's goal.
Striker Jaimes McKee, Igor Miovic and Deng Jinghuang all came close to scoring. "We had many chances but failed to convert. Gonzalez might not have been impressive throughout the match but he took his one chance and killed us. That was the difference," said Pegasus coach Chan Chi-hong.
"It was a bit disappointing losing in such a way, but we learned lessons. The sponsors are happy with our performance and we will strengthen the squad next season."
Kitchee captain Chu Siu-kei also paid tribute to Pegasus. "We were struggling in the early parts, but we hung in there, and thanks to Gonzalez, we were able to turn the tables," the skipper said.
Kitchee players received a total bonus of HK$150,000 for winning the title.
This article appeared in the South China Morning Post print edition as: Gonzalez missile lands FA Cup for Kitchee