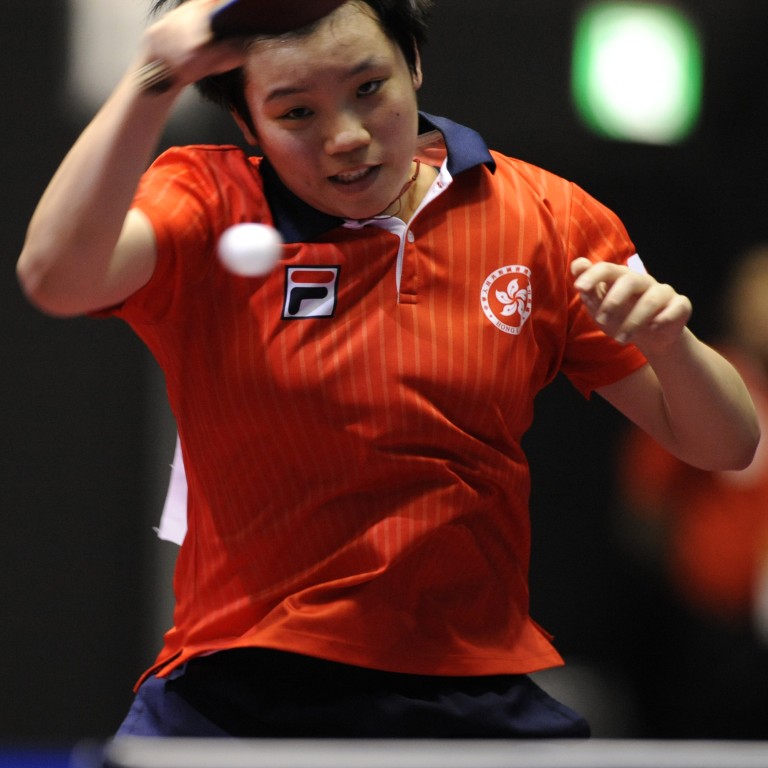 Tie Yana back in action as Hong Kong maintain winning run
Veteran suffers defeat in match-up with Croatia's Tian Yuan but Europeans lose 3-1 overall
Veteran Tie Yana played her first match in 12 months for Hong Kong and although it ended in defeat, the women's team still managed to top group D at the world championships in Tokyo on Thursday.
Tie's loss to Tian Yuan of Croatia was the only negative result at Yoyogi Gymnasium as Hong Kong beat the Europeans 3-1 overall to record a 100 per cent winning record in the group stage before advancing directly to Friday's quarter-finals.
The 35-year-old Tie (pictured), who reached a career high of world No 3 in 2006, was the key player when Hong Kong won a bronze medal at the world event in Dortmund two years ago, winning all her matches in the competition despite the team's 3-1 loss to China in the semi-finals.
But she temporarily set aside her paddle to prepare for motherhood and gave birth to her first baby in December. She only resumed training two months ago.
Having kept a clean slate in the four matches leading up to the Croatia clash, Hong Kong sent Tie and youngster Doo Hoi-kem, along with Ng Wing-nam into the fray for their final group match.
At just 17 years of age, Doo did not let down the team in her world championships debut, winning both her matches, while Ng also scored the needed result for Hong Kong.
"Doo was a bit nervy in her first match, but once she adapted to the pace, she found it comfortable to deliver her best," said coach Li Ching.
"Tie's performance was not too bad considering this was her first competitive match for more than a year, but it seems she still needs some time before regaining top form."
Doo thrashed Ivana Tubikanec 3-0 (11-7, 11-7, 11-9) in the opening tie before Ng made it 2-0 overall for Hong Kong with another straight-game win over Petra Petek.
After Tie lost to Tian Yuan in the third match, it was left to Doo to seal the victory with a 3-1 win over Petek.
In the men's event, Hong Kong defeated Denmark 3-1 in their last match to finish fourth in group B.
The result was not good enough to qualify for the knockout stage and they will play off for the 13th to 24th positions.
This article appeared in the South China Morning Post print edition as: Tie plays part as women maintain winning run