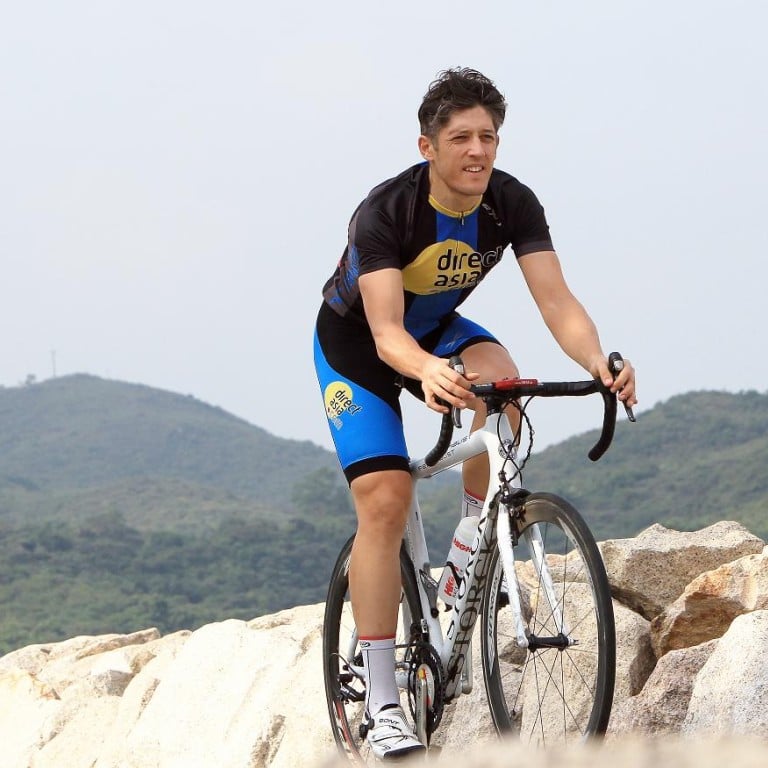 British cyclist dies after colliding with van in Tung Chung
As top amateur is killed in Tung Chung, cyclists say it's time for a new approach to road safety
The dangers of cycling on Hong Kong's roads have again been tragically highlighted with the death of a British man near Tung Chung.
Colin Robertson, a leading amateur cyclist, was riding past the DHL Central Asia Hub along the South Perimeter Road when his bike collided with a Hong Kong-registered cargo van bearing a mainland plate at 8pm last night.
Robertson, 39, was seriously injured, was trapped under the van and had to be pulled out by firemen.
By the time the ambulance arrived, he had fallen into a coma. He was later pronounced dead at St Margaret Hospital.
The 55-year-old cargo van driver was arrested on suspicion of dangerous driving causing death.
Friends and cyclists took to social media today to lament the death of Robertson, a chief financial officer for CLSA, and highlight the dangers of cycling in Hong Kong in general, and Tung Chung in particular.
"Those trucks are ridiculous out there – they're zipping back and forth delivering materials for the bridge to Macau," said James Stewart, a 30-year-old engineer. "One nearly took me out a few weeks ago: And I was stopped and on the side of the road – on the grass. It's like they're trying to hit us."
Another cyclist, Chris Lai, accused drivers of ignoring safety, saying: "I almost got hit from the back by a truck driver, even though I was as close to the curb as possible. Van and truck drivers can sometimes be really aggressive."
Friend Nick Langford said: "This is a terrible and tragic loss. Many of us in Hong Kong had the pleasure of riding with Colin and witnessed his passion for the sport at first hand, thriving off his training tips and encouragement, struggling – and failing – to hold his wheel, sharing a coffee shop moment. He will be remembered fondly by the cycling community and his loss sorely felt."
Another friend, Bo Kratz said: "I am deeply saddened by Colin's tragic accident. I have known him for better part of a decade and ridden with him in both Singapore and Hong Kong. He was not only a great sportsman and an inspiration to cyclists in Asia and beyond, but more importantly, a great guy with a big heart, one who will be sadly missed."
Robertson rode for Team DirectAsia.com and chief executive Nicolas Faquet said he was a role model.
"Colin was an outstanding character both on and off the bike. Talented, dedicated and experienced he was respected and feared on the Asian cycling circuit.
"Approachable, easy going, eager to share his experience and teach new riders without ever being condescending, he was a role model and a natural leader for the team. This is a terribly sad day for everyone who had the chance to know him.
"Our thoughts are with his wife and son," he said.
Ironically, Robertson moved to Tung Chung with his wife, Krystina, and son Bean, 3, because the area was flat and better for cycling.
In an interview with the South China Morning Post in 2012 he said: "Hong Kong is very mountainous; there is nothing flat and traffic is not good on the island. We just moved to Tung Chung, partly because the cycling is better. However, you've just got to make the best of what you've got. There are great places to cycle in Hong Kong; you just have to make the effort."
Robertson said he loved cycling for its social aspects and required teamwork.
"I'm just one of these really insane people who love suffering, and cycling is the ultimate sport for suffering. I've done marathons, I've done rowing, but cycling beats them all."
And asked if he had the choice of anyone in the world to take on a ride, he said: "I want to ride with Bean, my two-year-old son. Ever since he was born, I've been looking forward to riding with him. We've started going out – me on my bike, him on his balance bike.
"He looks so proud to be out with his dad; there's a huge grin permanently on his face. It won't be too long, and he'll be on a proper bike. Then I am the one who will be proud to ride with him."
This article appeared in the South China Morning Post print edition as: Government blamed for cyclist's death