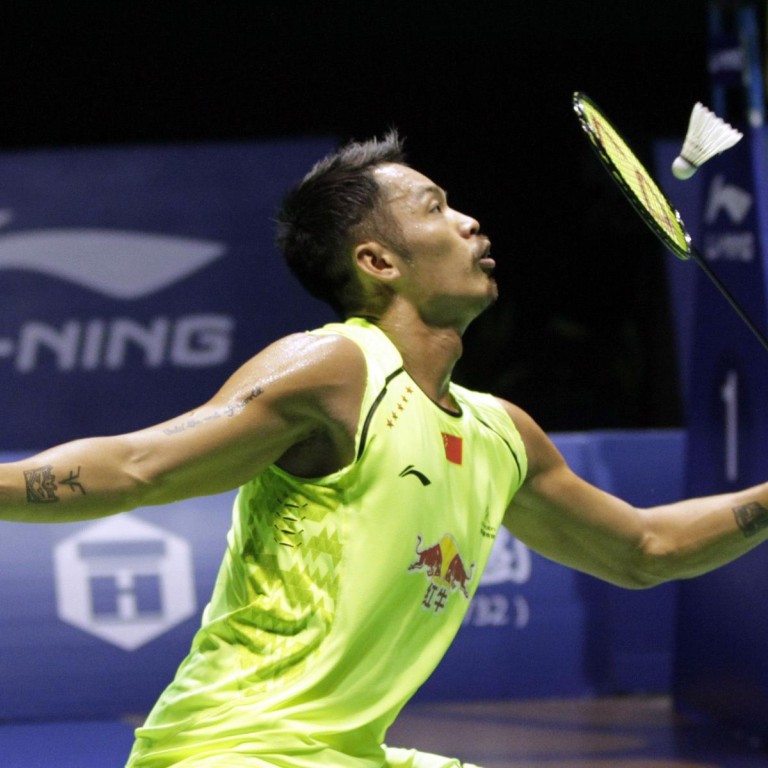 Lin Dan pulls out of Hong Kong Open
Chinese badminton star says he has yet to fully recover from an operation three weeks ago on his knee
Injured Lin Dan pulled out of the Yonex-Sunrise Hong Kong Open on Tuesday, dealing another blow to the US$350,000 badminton tournament following the absence of world number one Lee Chong Wei.
The two world stars were expected to continue their rivalry in Hong Kong after their semi-final clash at the Asian Games in Incheon in September when the first entry list was announced.
But Malaysian Lee is still fighting a doping case, while China star Lin cited injury after an operation three weeks ago to remove excess water from his knee. He played in last week's China Open Super Series, where he suffered a shock loss to Indian Kidambi Srikanth in the final.
"We are also very disappointed to learn Lin has withdrawn," said Hong Kong Badminton Association honorary secretary Chow Yat-kwong. "We learned about it at the team managers' meeting and there is nothing we can do. If the player is injured, the best thing for him is to rest."
Lin was in Hong Kong on Monday for a commercial engagement and said he would try his best to start as the Hong Kong event was one of his favourites.
It was reported on the mainland that Lin had signed a sponsorship deal with Yonex, title sponsor of the tournament, and expectations were high Lin would appear at Hong Kong Coliseum.
Lin has missed the past two Hong Kong Opens since his victory in the 2012 London Olympic Games. He was the champion in 2011 when he defeated compatriot Chen Jin but the year before he withdrew before his quarter-final, citing injury.
Organisers, however, still remain confident that attendances will not be affected.
"The highest-priced tickets for the semi-finals and finals are almost sold out and we still have a number of other top stars that attract the fans," said Chow.
"We don't worry too much about the gate receipts as the Hong Kong Open is already an established tournament and is popular among the fans."
Chow also said an "instant review system", similar to "Hawk Eye" in tennis, would be introduced for the first time for the players to challenge line calls.
"We have been using this system since the first Super Series of the year and hopefully it can be extended to other events in future," said BWF events manager Venu Mahalingam.
Only the television court will have the system installed and a player can challenge a decision twice during one set. If a challenge is successful, a player can keep using it until the two chances are used.
The men's singles will now be spearheaded by Chen Long, crowned world champion in August, followed by Jan O Jorgensen of Denmark, the second seed.
Hu Yun, of Hong Kong, will meet Son Wan-ho, of South Korea, in the first round.
"Hu still has a chance to reach the Super series finals in Qatar if he can do well in Hong Kong," said coach Liu Zhihang.
Wei Nan, a bronze medal winner at the Asian Games, will take on third seed Tommy Sugiarto, of Indonesia, in the first round, but his chances have been hampered by a hip joint injury.
In the women's singles, top seed Wang Shixian of China, the 2014 All England champion, and second-seeded mainlander Wang Yihan, the defending champion and Asian Games champion, lead the field.
Fifth seed Carolina Marin of Spain, the reigning world champion, will be a threat along with third seed Saina Nehwal of India and up-and-coming Akane Yamaguchi, of Japan, the two finalists in last week's China Open.
This article appeared in the South China Morning Post print edition as: Lin Dan pulls out of Hong Kong Open