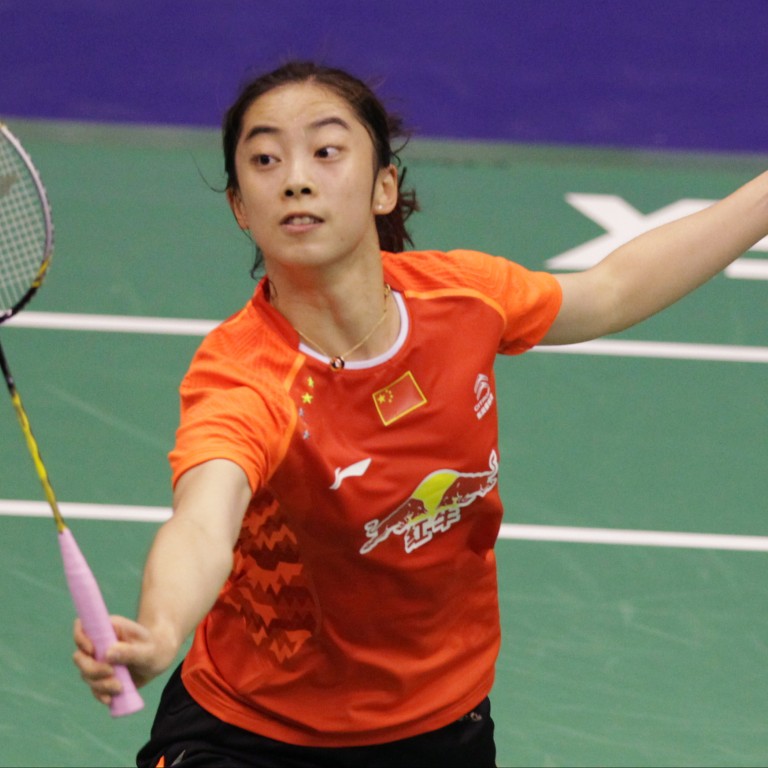 China's badminton stars determined to prove home flop was just a blip
Mainland women shuttlers competing at the Hong Kong Open shrug off failure at home event, saying they are still the world's best
Forget the failure at the China Open, it was just a blip … Chinese women shuttlers are still the dominant force in the world, says their coach Chen Jin.
No mainlander reached the women's singles badminton final on Sunday in the US$700,000 event in Fuzhou, won by India's Saina Nehwal over Akane Yamaguchi of Japan.
"It was just an accident in the China Open," said Chen after watching his charge, top seed Wang Shixian, easily beat Eriko Hirose of Japan 21-9, 21-13 in the first round of the Yonex-Sunrise Hong Kong Open women's singles at the Coliseum in Hung Hom on Wednesday.
"It was the first time in 11 Superseries that we did not make the final. But in general, Chinese women still stand firmly at the world's highest level, although we are facing more challenges from other countries now."
Chinese women have recorded an impressive gold medal haul in the Superseries so far this year, winning nine out 11, with the Hong Kong leg to be decided before the finals in Qatar.
World No 1 Li Xuerui, who pulled out of the China Open due to injury, has four titles, followed by Wang with three, while Wang Yihan has won twice. Nehwal has won two events.
Chen, who won the men's singles title at the Hong Kong Open in 2008, admitted there was now more pressure on the Chinese women. "We are always the team to beat while the opponents have nothing to lose when playing against us," said Chen, who took over the coaching job from twice former Olympic champion Zhang Ning in January.
With many top women from other nations adopting the playing style of leading male competitors, Chen said the Chinese women also needed to make changes. "I was assigned the job because the head coach wants to instil a different approach for the women's team, so that we can maintain our winning edge by adding more elements of the men's game."
Wang, who was ousted by Yamaguchi in the second round of the China Open, said the defeat was nothing to worry about.
"We are approaching the end of the season and the legs are sore," said Wang, who won the All England, India and French Open titles. "Other players always play 110 per cent against Chinese players, making life difficult for us. But I don't feel the pressure too much because if we can perform to our best, we are still the much better side."
In the men's singles on Wednesday, Kidambi Srikanth of India, who defeated China's Lin Dan in the China Open final, continued his winning run by overcoming Chou Tien-chen of Taiwan, the French Open champion. The Indian won the first-round tie 18-21, 22-20, 21-16 while top seed Chen Long of China beat India's Ajay Jayaram 21-13, 21-7.
This article appeared in the South China Morning Post print edition as: China stars determined to make amends for flop