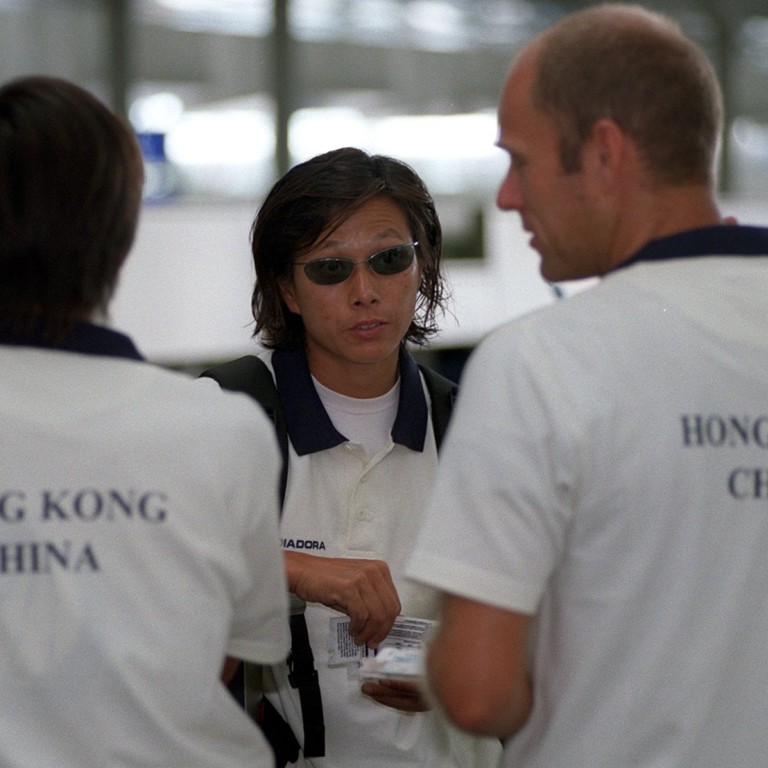 Left Field: Chance to enhance the already rich legacy of departing windsurfing coach Rene Appel
An overhaul of the Sports Institute's assessment criteria for current and would-be members would be a fitting tribute to departing Dutch manager
After more than two decades of running the show, windsurfing coach Rene Appel had become a fixture at the Hong Kong Sports Institute, where he kept churning out champions.
But all good things come to an end, and last week Appel revealed he would not be renewing his contract at the elite academy when it expires in March.
Appel will always have a special place in local sports as he was the man behind Hong Kong's only gold medal success at the Olympics, guiding Lee Lai-shan, fondly known as San San, to history at the 1996 Atlanta Games.
That it remains Hong Kong's only Olympic gold medal speaks volumes for the magnitude of the achievement. When the next Games come around, 2016 in Rio, we will mark the 20th anniversary of that milestone and hopefully another athlete, perhaps cyclist Sarah Lee Wai-sze, will be able to match San San.
In San San, Appel discovered an uncut diamond which he polished and turned into a world champion. At this year's Asian Games, windsurfing returned home with its best ever results - two golds and two silver medals - proving we are still among the best in the region.
Whether this latest crop of stars is good enough to go on and win on the Olympic stage remains to be seen, but, sadly, Appel will not be around to continue the mission, having decided he needed more time to devote to his family.
It was no surprise the windsurfing community's first reaction to his public announcement was gratitude tinged with regret. Cowen Chiu But-kau, president of the Hong Kong Windsurfing Association, said Appel's departure would be a huge loss.
The soft-spoken Dutchman preferred to work away from the limelight and was probably most comfortable out on the water with his athletes. But on a rare occasion, last October, Appel chose to publicly question the system at the Hong Kong Sports Institute, his home for many years.
Appel was critical of the elite vote-scoring system used not only to judge new sports trying to enter the Sports Institute, but also to decide if a sport should continue to receive support once in.
While the rest of the sporting community was celebrating the opening of the newly renovated Sports Institute, at a cost of HK$1.8 billion, Appel felt it was his duty to call for the government's Sports Commission to rethink its entry requirements and support system for sports.
He said then: "We need to have another look to see if it is fair to everyone. When it was first put in place it was a good development but we have moved on and I believe we should consider whether the scoring system is fair and productive."
A sport needs to score a certain number of points at both senior and junior level to qualify for elite status. On top of this its athletes must now also medal at the Asian Games, or qualify for the Olympics.
Take football for instance. Is it right that Hong Kong be judged by medal success in the world's most popular sport? We are ranked in the 160s in the world and in Asia well behind the rest. We are struggling to find our feet so how can you expect a podium success in regional competition?
As Mark Sutcliffe, Hong Kong Football Association chief executive, pointed out, it is unfair to judge soccer with other sports. In Olympic swimming there are 34 different events which translate into 102 medals on offer. In football there are just six medals in men's and women's competitions.
Appel is right when he speaks out against the system. He speaks from experience and, having been part of the system, he must be taken seriously. If he is to leave behind a legacy - apart from guiding San San to history - it must be a total revamp of the entry requirements as well as the criteria for continued support.
This does not mean a sport should be given a free ride. Each sport must continue to show results, the minimum requirement being that of matching its previous best. Improvement must be the gold standard. As long as a sport can show it is progressing, commonsense should prevail.
The Sports Commission must usher in change. The yardstick must be one forged with a coherent policy instead of the present one where everyone is branded equal. After all, winning medals in some sports is easier than it is in others.
Appel will soon leave one of the best academies for sporting excellence. He will want to leave it better than he found it. Let's give him his wish as a token of our gratitude.
This article appeared in the South China Morning Post print edition as: Enhance Appel's rich legacy