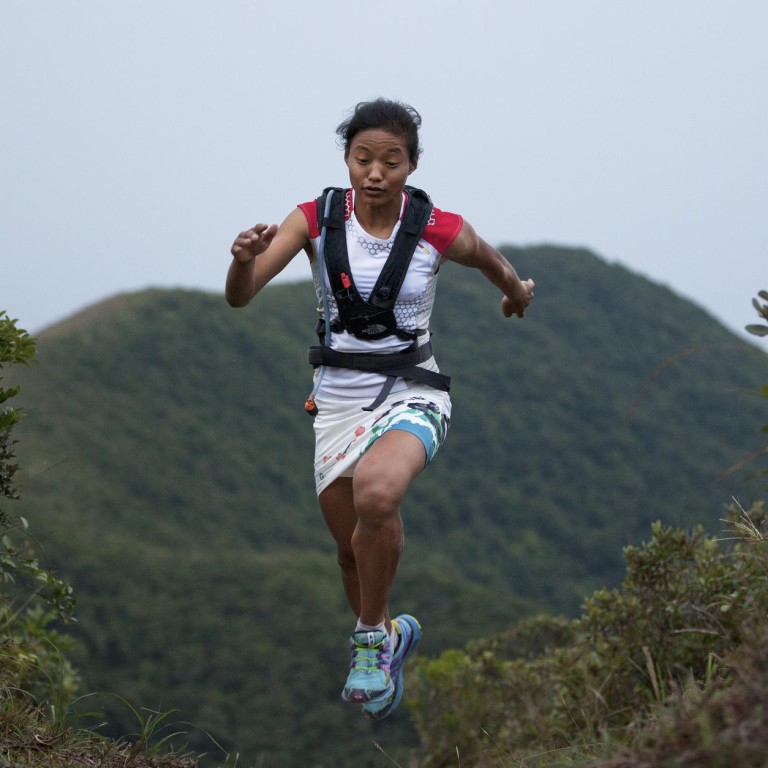 Mira Rai loves having a mountain to climb
Improving by leaps and bounds, Nepali ace tackles Lantau ultra event
Growing up in a remote village in the eastern hills of Nepal, Mira Rai had no idea people ran in the mountains for sport. Legs were for carrying heavy loads of rice to support her parents and four siblings.
These days, her legs are supporting her in her pursuit of becoming Nepal's first female professional ultrarunner.
Rai, 23, is in Hong Kong to defend her MSIG Lantau 50 ultra-marathon title on Sunday after finishing as the first female - and fifth overall - in the first race of the series in October.
It was her fourth straight win in an international race: in September, on her first-ever trip outside Nepal, she got off a plane in Italy and won two races in a row.
She warmed up for today's event with victory in the Vertical Kilometre up Lantau Peak, charging to the top in 48 minutes and 32 seconds. Remarkably, she only ran her first ultra in March.
Inspired to break down gender inequality in Nepal and told she would make a better runner than karate champ (she has a brown belt), Rai moved to Kathmandu two years ago to pursue the life of a professional road runner. She had no luck.
Broke and about to make the dejected journey home, friends persuaded her to take part in her first ultramarathon last March. She won the race, collected US$100 and a pair of shoes, and found a new path in life.
She has been training and competing hard ever since, and is pushing to be at the top in the sport enjoying explosive international growth. It is a way to change her own life, and the lives of women in Nepal. "Women in Nepal are told from a young age their role is domestic, that the big things are for men. Changing mentality is difficult," said Rai.
That has not stopped her. She plans to take her new skills back to remote and rural villages to help other women be runners.
"She has this open, fearless personality, and I think really just enjoys the excitement of running in competition," said Richard Bull, co-founder of Trail Running Nepal that supports a small number of Nepali athletes and holds trail-running events. TRN supplies Rai with a small stipend and organises sponsorship from the likes of Dragonair that enables her to travel to races.
"She believes to her core that hard work makes success and is always prepared to try hard," he said. "She's acutely aware that in her part of the world chances rarely come, and when they do, she says, 'they're like a leaf on a river, and you take them or they're gone for good'."
Although Rai loves running in the mountains, she jokes she has no time to look at the scenery. "When I run, I only look in front. I wish I could stop, but that is a no-no. I try not to think about anything other than to keep moving," she said.
The drive to be at the top runs deep. "Prizes are not important. Success is important. To do well."
This article appeared in the South China Morning Post print edition as: Mira Rai loves having a mountain to climb