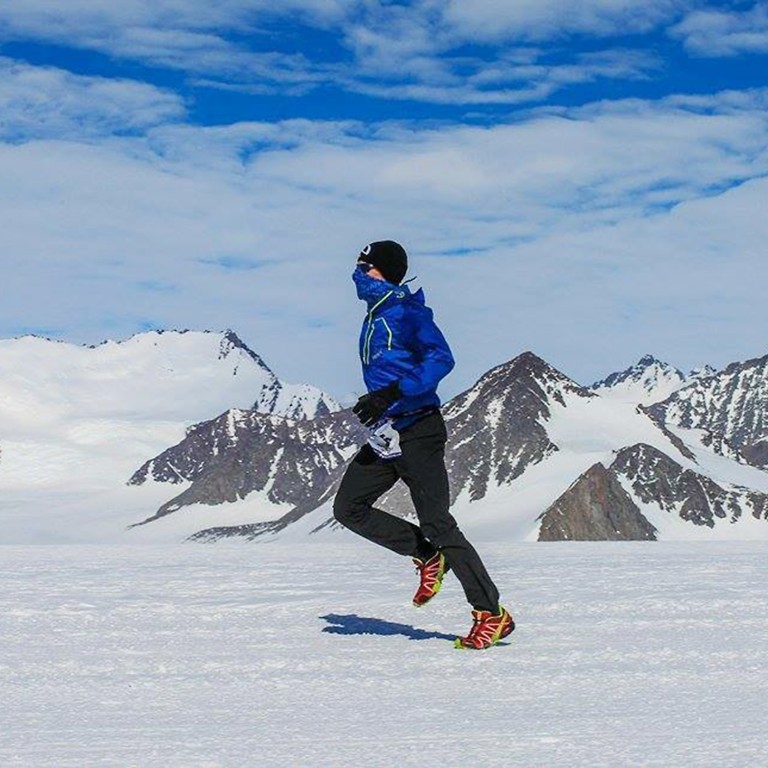 New world champion: Hong Kong runner conquers seven marathons on seven continents in seven days
Triathlete David Gething completes his last race in Australia to win World Marathon Challenge
Fighting fatigue, jet lag and sleep deprivation, Hong Kong resident and amateur triathlete David Gething yesterday won the World Marathon Challenge, conquering seven marathons on seven continents in seven days.
Gething, 39, completed the feat in Sydney, crossing the finishing line under the harbour bridge in a respectable time of 3:29:31.
"To be honest, the fact I've won hasn't sunk in yet. The experience has been a real roller coaster - very high highs, extremely low lows, and totally draining," he said.
"Part of my toes are lost to frost bite, all the tendons in my feet are gone. My kneecaps are aching and it will take a few days' rest before I can start to feel normal again," said 39-year-old Gething, a veterinary doctor who hails from Melbourne and moved to Hong Kong in 2000.
After 59 hours spent in the air, travelling over 38,000kms, and a further 295.4kms completed under his own steam, Gething finished with a combined time of 25 hours, 36 minutes and 3 seconds.
Gething beat 11 other competitors chosen to run standard 42.2km marathon distances at Union Glacier (Antarctica), Punta Arenas (Chile), Miami (US), Madrid (Spain), Marrakech (Morocco), Dubai (United Arab Emirates) and Sydney (Australia).
Despite coming in second in Sydney yesterday, 12 minutes behind the race winner and over 30 minutes slower than his personal best of 2 hours 54 minutes, which he set in last year's Boston Marathon, Gething was ecstatically happy and relieved.
Fighting off snow blindness but succumbing to frostbite, Gething led the field home in the first race on January 17 in bitterly harsh conditions deep within the Antarctic Circle. Gething finished in a course record time of 3:21:35, just over 30 minutes ahead Australian endurance runner Douglas Wilson.
"I took it easy for the first couple of kilometres to get my legs ready, and a feel for the snow," Gething said. "Then I wound it up a bit, but it was probably too fast. It was my first, and likely my last time to race in Antarctica. The scenery was inspiring."
Only 14 hours later and he had already begun the second race along the rugged windswept coastline of Puntas Arenas in Chile.
"I think at that time nobody felt like a second marathon within 24 hours", said Gething, "but it had to be done."
Once again he took pole position in a time of 3:23:01, amassing an overall lead of over 40 minutes.
In Miami, it was Wilson who grabbed his first win, as Gething struggled with sleep fatigue and exhaustion.
The two Australians then swapped wins, Gething taking first place on the hilly course in Madrid by 15 seconds, and Wilson the victor in Marrakech, Morocco, the following day, 12 circuits of a 3.75km loop which began at the unsightly hour of 1am in the freezing rain.
"Doug and I worked together to keep each other going. I'm not sure either of us would have finished if we hadn't," said Gething after finishing just 19 seconds behind Wilson's winning time of 4:20:55.
Ethiopia's Olympic champion and long-distance running legend Haile Gebrselassie greeted the athletes at the beginning of the sixth leg in Dubai as Wilson and Gething once again used team spirit to pull each other along the course, this time crossing the line side by side in 3:43:06.
"We started the week sizing each other up, however it quickly became irrelevant. We all fell into some deep holes physically and emotionally, and as a team we all helped each other out to make sure we could all make it through," Gething said.
This article appeared in the South China Morning Post print edition as: HK runner conquers seven continents in one week