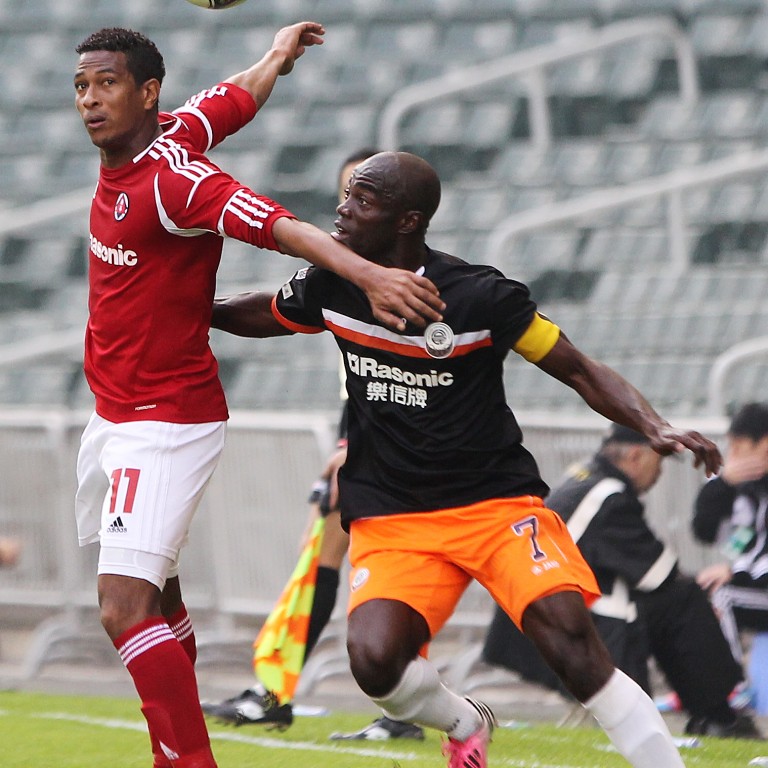 Festus Baise's well-aimed stoppage time goal delivers three points to Sun Pegasus
Yuen Long put up plenty of resistance, as coaches of both teams criticised the refereeing decisions
Festus Baise scored in stoppage time as Sun Pegasus struggled to beat I-Sky Yuen Long 3-2 in the BOCG Life Premier League at Mong Kok Stadium yesterday.
Four goals were recorded in the first half, including an own goal and three penalties.
And as the match was heading for a draw, Baise headed home the all-important winner following a pass from Landon Ling to give Sun Pegasus three points.
"The feeling is good when you score the winning goal at the important moment," said the centre-half. "It's a big difference between one point and three points as the result keeps our title hopes alive."
Big spenders Pegasus move to second on the table with the three points, tied with leaders Eastern on 22 points.
Pegasus coach Chan Chi-hong blamed the referee for awarding three penalties in the first half, of which two were against them.
"The players' performance had been affected by the referee's decision and they could not play a normal game because any contact in the box may have resulted in losing a penalty," said Chan, who was in charge of the team for the first time after the sudden sacking of their former coach Ricardo Rambo.
"Our defence still had problems, but we showed great team spirit as we kept trying until the last minute and our hard work paid off. The result means we still have a chance in the championship."
Yuen Long coach Chan Ho-yin said the referee's decision cost them dearly in stoppage time. "Our centre half was injured, but no foul was given and he had to leave the pitch. His absence allowed the opponents to head home from the middle," he said.
An own goal from Reinaldo Peres gave Sun Pegasus the lead on the six minutes, but Tsuyoshi Yoshitake levelled for Yuen Long through a penalty on 26 minutes. Another penalty from Admir Rascic then put Pegasus into the lead again, but soon Yoshitake scored his second penalty kick to level the scores again.