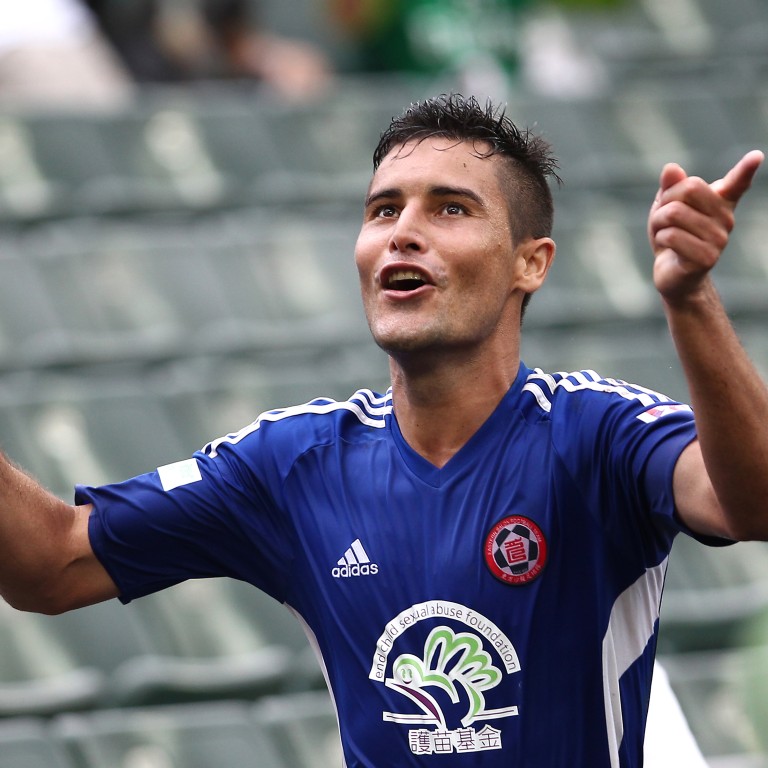 Giovane da Silva hits four for Eastern in 4-1 victory over YFCMD
Brazilian achieves the feat for the first time in Hong Kong as his team steamroll past YFCMD
Marksman Giovane da Silva scored four goals in a match for the first time in his six seasons in Hong Kong, but Eastern are still unlikely to catch rivals Kitchee for the Hong Kong league title.
Thanks to the Brazilian's goalscoring spree with two goals in each half, including a late strike before the final whistle, Eastern were able to brush aside YFCMD 4-1 in a BOCG Life Premier League at Sham Shui Po Sports Ground yesterday.
Da Silva scored his first goal when YFCMD defenders failed to clear an Eastern corner and da Silva easily nodded in the ball home at the back-post. The skillful Brazilian doubled Eastern's lead in the 31st minute, scoring with another diving header.
Da Silva's skills were evident again in the 75th minute when he scored from a tight angle after dribbling past two defenders.
Kenji Fukuda scored for YFCMD through a penalty kick in stoppage time but Eastern were already well in control with Da Silva getting his fourth and his team's fourth just before the final whistle.
With Kitchee also winning, beating I-Sky Yuen Long 3-0 away in the later match, the five-point gap between the two sides remains unchanged with the leaders on 35 points. YFCMD remain in fifth spot on 23 points.
"I have done it [scoring four goals in a match] twice in Brazil but never in Hong Kong," said the delighted Brazilian striker. "But unfortunately the league championship is almost impossible despite the victory.
"Kitchee have built up a big advantage and it will be very difficult to catch them, although we will still do the best we can.
"But today's win did consolidate our second place and it's not a bad season as we still have chances in the FA Cup and the play-off for the 2016 AFC Cup."
With only two matches left, Kitchee will lift the inaugural Premier League trophy if they can beat cellar-dwellers Wofoo Tai Po in the next match in two weeks' time, regardless of Eastern's result against BC Rangers.
Eastern became the first team to qualify for the play-off after snatching the Senior Shield title by beating Kitchee 3-2 in the final in January.
Da Silva, who has scored 17 league goals so far this season, is almost certain to win the Top Scorer Award of the season because his nearest challenger, Admir Rascic, has netted 12 goals with only one league game left for his club Sun Pegasus.
Kitchee striker Juan Belencoso, who netted a brace against Yuen Long yesterday, is currently third with 10 goals.
"I have spent a lot of time on my training to keep myself in top condition and I am also sticking to a healthy diet to keep my body fit even though the season is now drawing to a close.
"There is no soft drink and no junk food," he said.
"I scored 26 goals in all competitions in 2009 and would like to break this record in the remaining matches as I have already had 23 goals."
This article appeared in the South China Morning Post print edition as: Da Silva hits four for chasing Eastern