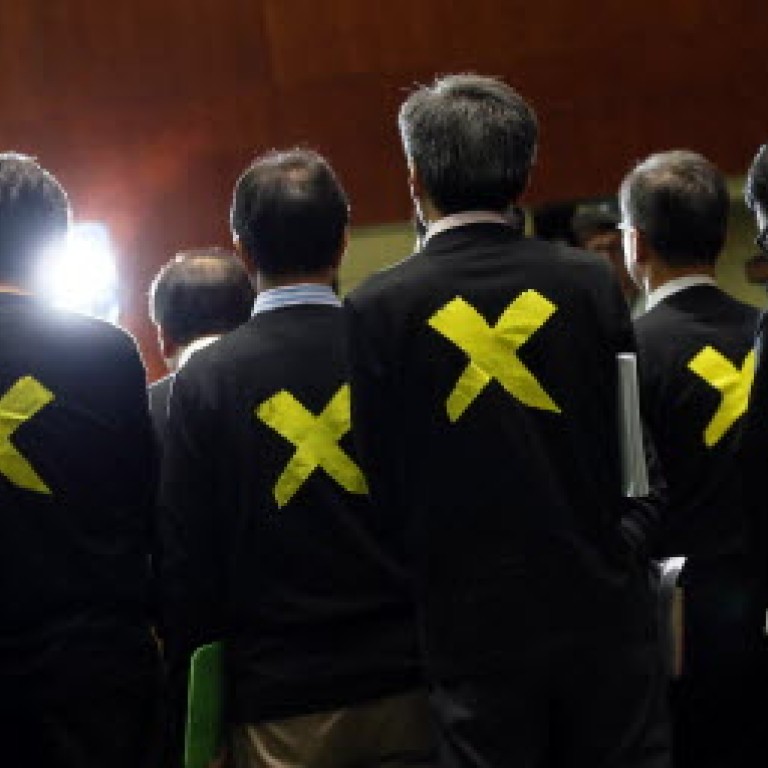 Left Field: How Hong Kong pan-democrats' filibuster threatens to ruin our sporting dream
The group has managed to push back the long-delayed Kai Tak Sports Hub yet again as a side-effect of their protest
Summer is coming and the outlook is gloomy for the Kai Tak Sports Complex following last week's setback in Legco with the government dropping a funding request that was to go before the Finance Committee.
This was because of worries over filibustering by our long-winded pan-democrats who were out to derail a border crossing project between Hong Kong and Shenzhen. Fearing that members would not have time to deliberate on this matter, the government didn't table the funding request for pre-construction work on the sports complex.
Top government official close to the Kai Tak project, Jonathan McKinley, now fears that if this isn't taken up before Legco's summer recess - mid-July - then the overall timetable for the construction of the new stadium facilities could be delayed. We say "further" delayed with the estimated date of completion, once bandied around as being 2018, having been quietly pushed back to 2021.
About three weeks ago, after another lengthy and needless delay, the Legco public works subcommittee grudgingly approved HK$62.7 million in funding for pre-construction work on the HK$25 billion Kai Tak Sports Complex.
That hurdle crossed was greeted with sighs of relief from the government and the sporting community as this was where the minutiae of the proposal went under examination. The final vote at a meeting of the Finance Committee was supposed to be a mere formality and McKinley, the deputy secretary for Home Affairs, was already looking ahead to work getting under way soon.
First an operations consultant was to be hired before the end of this month, and these people would be the lead consultants for the project from the outset to its completion. These were the guys who were supposed to advise the government on everything from tender documents to planning the construction of the new stadium complete with retractable roof as well as the two other smaller stadiums, one of which is indoors.
In September, a technical consultant would come on board. These people would be in charge of everything at the site and hands-on involved in decisions on matters from the roof for the 50,000-seat stadium to pitch technology. The HK$62.7 million was supposed to pay for these consultants.
All these plans have now to be put on hold thanks to our dear pan-democrats. It was only last Thursday that a marathon budget debate came to an end in Legco, after six weeks of filibustering. A relieved Financial Secretary John Tsang Chun-wah said the filibuster to delay a vote on the budget bill "is not only a waste of time but also affects the operation of the government. No one gains anything. It is the citizens who suffer".
In this case, it is not only the sports community, but the community at large as well who suffers. We have written reams on how Hong Kong will lose out with the continued delay to build a new sports hub. We are being left behind by the rest of Asia. Singapore has stolen a march on us with their new hub. By the time Kai Tak is up-and-running - at least six years from now - we will have lost plenty of ground.
To draw major events to town you need a facility that at a minimum can cater for 50,000. Our present venue at So Kon Po is outdated and has no protection from the weather. In summer, organisers run the risk of seeing their events washed out. We have seen the farce that was played out when Manchester United visited two years ago.
A stadium with a roof is a must if we are one day to host the likes of Barcelona, Real Madrid, Chelsea, Bayern and so on, say in the International Champions Cup. We need a stadium where the pitch can be transformed to cater for cricket and where we can host one-day internationals between top teams like Pakistan and Australia.
We are already losing out on major events. Hong Kong rugby had expressed an interest to put their hat in the ring to bring back the Rugby Sevens World Cup in 2018, but didn't bother as they knew it would be a tough sell.
A stadium with a roof can not only be used to host other sporting events but also top music acts. But we are losing out on all this thanks to our pan-democrats. This latest delay could push back the project by another six to 12 months. They are filibustering in the name of democracy. When it comes to election time, let's hope the public remembers what they did in their previous term in office.
This article appeared in the South China Morning Post print edition as: Filibuster ruining stadium plans