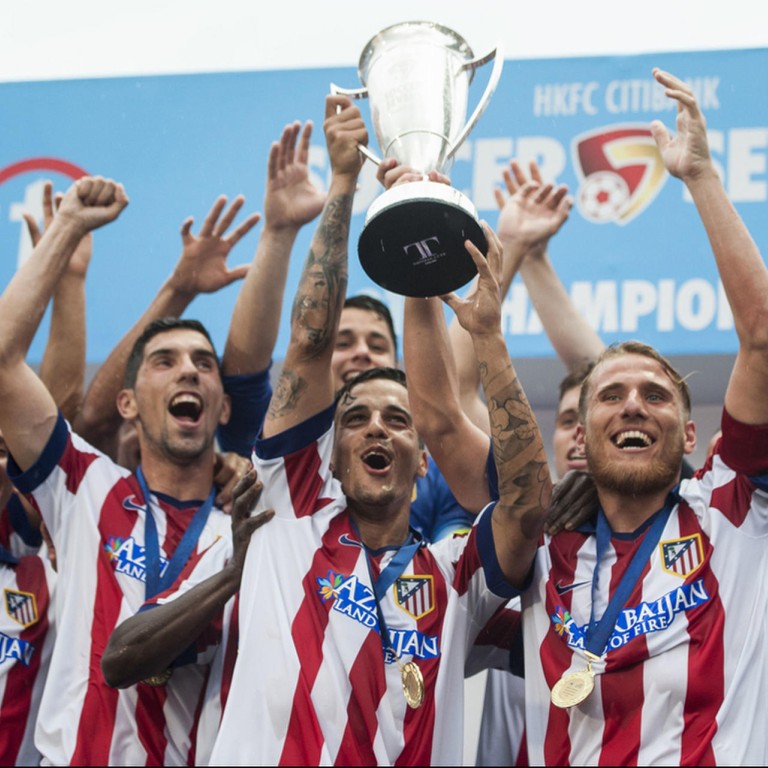 Samuel Saiz scores winner as Atletico Madrid beat West Ham in HKFC Citibank Sevens final
Madrid skipper scores a golden goal for Spaniards in extra time after his side fight back from 2-0 down
A golden goal from skipper Samuel Saiz gave Atletico Madrid an improbable 3-2 Cup victory over West Ham United in the HKFC Citibank Soccer Sevens final.
West Ham had victory in their sight with a brace from Jaanai Gordon either side of half-time lifting hopes of a first-ever Cup title in Hong Kong. But with three minutes left, Atletico pulled off a superb comeback scoring two goals in the space of 80 seconds to push the final into extra-time.
And it was naturally their Captain Marvel who produced the finishing touches to give last year's La Liga champions a Cup victory on their debut appearance at the popular tournament, which drew a full house at Hong Kong Football Club.
"We never give up. That is the philosophy of the club and we showed that today," said Saiz, who had been the architect of the side's progress into the final scoring five goals in three matches in the group stages.
"We knew time was running out but we didn't panic. It feels great to come back like that and win and it feels even better when you score the winning goal. But this was a team effort. Everyone played their part," said Saiz.
At 24, he is the oldest player in this development team brought out by Atletico, Spain's third-best supported club behind Real Madrid and Barcelona. Those two giants have never graced this tournament, launched in 1999, but now that Atletico have made their mark, it could pave the way for a Spanish invasion.
"This is a great tournament for development teams. The young players get the opportunity to play highly competitive football as well as travel overseas. This is a great experience for the boys and we love coming here," was how England legend Peter Beardsley saw it after his Newcastle United charges lost 3-1 in the semi-finals to the Hammers.
Newcastle United can be forgiven if they felt aggrieved when goalkeeper Adam Bartlett was shown the red card midway through the first half for a challenge on West Ham's Oscar Borg just outside the penalty area.
"If you are the referee you only get one chance to see it but if you look at replays you might think it was harsh," Beardsley said. "When you are down to six men and with 16 minutes to play it made it hard. Adam didn't make a mistake in my opinion and was a bit unlucky."
The other semi-final was between Atletico and New Zealand's Wellington Phoenix, also making their debut. They kept their more illustrious opponents goalless at full time and it was left to a golden goal from Carlos Ramos to push the Spaniards into the final.
Tall striker Gordon gave West Ham fans reason to smile when he squeezed a shot between a defender and the keeper to open the scoring in the fourth minute. Gordon, a last-minute replacement, then added a second soon after the break with a breakaway goal to put the English team within touching distance. But they didn't count for the undying spirit of the Spanish with goals from Ghanaian midfielder Benjamin Asamoah and Ivan Perez pushing the match into extra-time.
"It was unfortunate to score two goals and still end up on the losing side. Atletico are a good side and this happens," said 19-year-old Gordon.
In the Shield final, BC Rangers defeated amateur side Yau Yee League Select 3-1. The Plate was won by hosts Hong Kong Football Club who beat Leicester City 1-0. USRC beat Wallsend Boys Club from England 2-1 for the Masters title.
This article appeared in the South China Morning Post print edition as: Saiz serves up Sevens stunner for Atletico