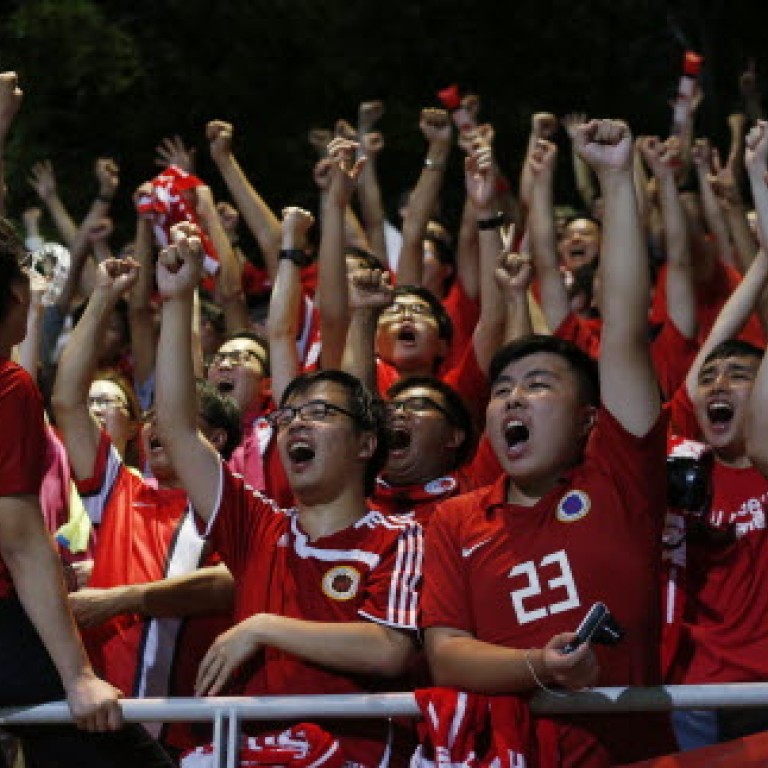 Left Field: China FA's odd posters of World Cup opponents backfire
Highlighting 'black skin, yellow skin and white skin' rivals is not the way to show respect
Let's hope China make it to the 2018 World Cup or else the Chinese Football Association will have a lot of egg on their face. The CFA mandarins put their foot right in their mouths last week when releasing a wacky campaign of posters heralding their qualifying group matches against Hong Kong, Bhutan, Maldives and Qatar. The campaign, apparently meant to be light-hearted, took a dig at each opponent in a not-so-subtle way.
The Hong Kong poster focused on skin colour, with Chinese fans warned not to underestimate "Hong Kong's black skin, yellow skin, white skin".
It gets more bizarre. The Bhutan poster focused on the captain who is a pilot, saying "after the game someone from their team will go back to fly a plane".
The dig at Qatar was on their squad of "naturalised reinforcements", warning fans to be prepared playing against this "wealthy" side.
The Maldives were labelled "proud" and "arrogant" simply because the team's coach said he was confident they would beat China.
But the poster that took the cake was the racist slant on Hong Kong's mixed team. Half of the 22-strong squad are made up of naturalised players such as Christian Annan (born in Ghana), Jaimes McKee (England) and Festus Baise (Nigeria). There are also five players from the mainland.
They have all earned the right to play for Hong Kong after living here for seven or more years, becoming permanent residents and applying for an SAR passport. Their skin colour might be different, but they are all united in playing for Hong Kong.
If anything, China's attempts seemed only to fire up the Hong Kong fans, who packed out Mong Kok Stadium for their match against Bhutan - and booed the China national anthem.
China have qualified for only one World Cup, in 2002, when Japan and South Korea co-hosted the showpiece. As hosts, Japan and Korea were given automatic berths, making it easier for China to grab one of the places given to Asia. It will not be easy this time around as the last few occasions of qualifying have proven. Asia is given 4.5 slots at the World Cup - four teams qualify directly with the fifth team going into a play-off against a team from another confederation.
World Cup qualifying has already begun in Asia. A total of 12 smaller teams took part in the first round with the top six progressing into the second round where the likes of Hong Kong and China are playing. These six, plus another 34 teams, have been drawn into eight groups of five. And as fate would have it, China drew Hong Kong again.
The eight group winners plus the four best runners-up will advance to the third round. These 12 teams will be divided into two groups of six to play home-and-away matches. The top two teams from each of these groups will book their berth at the 2018 World Cup with the two third-placed teams entering a play-off, home-and-away, to decide who will advance to the inter-confederation play-off.
The road is long and hard for China. Despite being the top-ranked side in the group - 79 in the Fifa rankings - they must get past Qatar (97th) in their preliminary group, notwithstanding the fact that Hong Kong (164) could also prove to be a banana skin owing to the weight of history. Mainlanders remember all too well the night of shame at the Workers Stadium in Beijing in 1985 when disgruntled fans rioted after goals from Cheung Chi-tak and Ku Kam-fai gave Hong Kong a 2-1 victory, knocking China out of the World Cup picture.
The real test will come if China progress to the next stage of qualifying. But the poster campaign shows they are nervous and already looking for excuses.
Hong Kong will meet China away in Shenzhen on September 3 before hosting them in the return tie at Hong Kong Stadium on November 17. One thing is certain in the mind of Hong Kong Football Association chief executive Mark Sutcliffe - this campaign will be a catalyst for a full house at So Kon Po.
"This is a bizarre campaign. Still, it seems to be generating a lot of media noise and that's great for promoting the matches," Sutcliffe said. He believed the whole "skin-colour" theme was meant tongue-in-cheek and the CFA was not being racist.
Let's hope that is the case.
This article appeared in the South China Morning Post print edition as: China FA's odd posters backfire