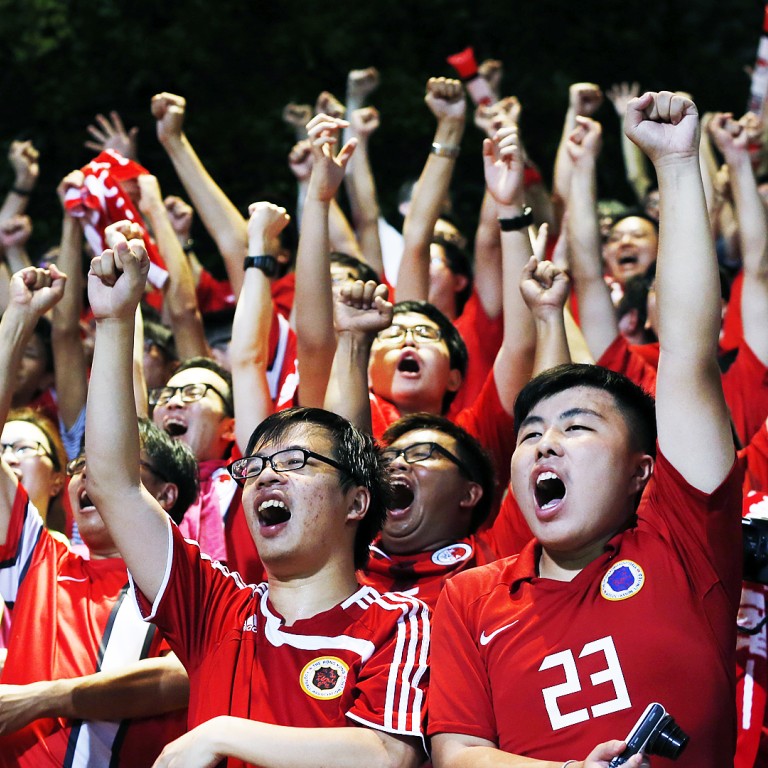 Don't boo China national anthem, Hong Kong FA begs fans ahead of Maldives game
Organisers hope fans will show respect this time as Hong Kong take on Maldives in World Cup Asian zone qualifier at Mong Kok Stadium
Home fans have been urged to remain peaceful as Hong Kong hope to capitalise on last week's success when they face Maldives tonight in their second World Cup Asian zone qualifying match at Mong Kok Stadium.
Brian Leung Hung-tak, chairman of the Hong Kong Football Association, yesterday called for fans to behave and be respectful following last week's incident when the crowd booed China's national anthem, , which has also been Hong Kong's since the handover in 1997.
"They come here to support the Hong Kong team and if they don't respect the national anthem, it also means they don't respect the players," said Leung.
"This behaviour may lead to an investigation by the world governing body as this is a World Cup qualifying match and we don't want to see Hong Kong matches to be played behind closed doors in the future."
With tickets at the 6,300-seat venue sold out, organisers are worried about a repeat of last week's incident that triggered a social media war of words between Hong Kong and China supporters.
Chinese netizens reacted strongly after the incident, with some even suggesting that troops be sent to Hong Kong to crack down on such behaviour.
Following an exceptional 7-0 win over Himalayan minnows Bhutan last week, Hong Kong could reach their pre-tournament target if they can hold off the Indian Ocean islanders for another victory.
Coach Kim Pan-gon has set his sights on victory in the first two home matches to consolidate their standing in the group, with games still to come against heavyweights Qatar and China.
But Maldives, whom they have never met at international level, will be hard to crack following the latter's 1-0 defeat by group favourites Qatar in their opening match last week.
Kim said he may change his starting line-up.
"We believe it would be a much more balanced game against Maldives as they are definitely a better side than Bhutan," said Kim. "We will need players with more speed and power to cope with our opponents."
A minute's silence will be observed before tonight's match in memory of former Hong Kong team captain Wu Kwok-hung, who died early Monday morning and all Hong Kong players will wear black armbands.
This article appeared in the South China Morning Post print edition as: Leung in plea for local fans to respect anthem