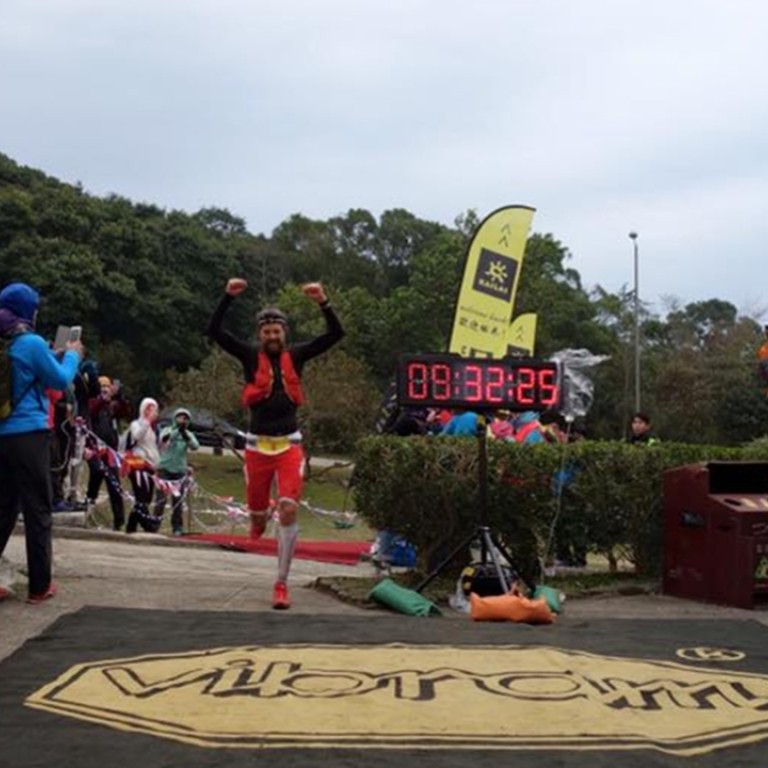 'It's carnage': Freezing conditions force organisers to call early end to Vibram Hong Kong 100
Half the field finish the race as ice turns mountain trails treacherous
Nightmare conditions forced an early finish to the Vibram Hong Kong 100 trail run on Sunday morning as runners were met with ice and snow showers over Tai Mo Shan in the final kilometres of the race.
"Due to ice on the descent from Tai Mo Shan the race is stopped," said the organiser's Facebook page at around 6am. "Runners are urged to get to the nearest [checkpoint], and to return to the city by any available means."
"The freezing conditions are creating carnage of all sorts. Currently trying to get runners off Tai Mo Shan. There's a lot of ice in the roads and it's treacherous from the top. Rescue services are working hard," reported a later update.
Despite the conditions, most of the competitors appeared to be in good spirits during and after completion of the race.
Just over half the field of about 1,400 starters were able to complete the race, with a competitor identified as Kun Fu from China being the last runner to finish at 7.59am. Hundreds of runners were still on the course at the time the race was abandoned.
Conditions were made even more chaotic for organisers due to severe traffic congestion coming up Route Twisk as eager Hongkongers went to "find snow" overnight. It force a late route change for the course, adding extra time and confusion for competitors.
"They were the worst conditions I've ever raced in 15 years of competing in Hong Kong – there was a driving, biting wind all day ," said local runner Peter Lee, who finished his third HK100 in 13 hours, 39 minutes.
"The wind was blowing fiercely at every exposed area and once I even had to kneel down to ensure I wouldn't be blown off my feet," said Kris Van de Velde, who finished in just over 20 hours.
"The last 10km on Tai Mo Shan with the frost created a chain of events that were indeed unfortunate – runners had to zigzag between cars and hordes of tourists and could hardly see any signs. There was black ice, and one after the other slipped and fell down in the descent of Tai Mo Shan. It was all pretty chaotic.
"Despite the extremely windy and therefore cold conditions the organisation did their utmost best, together with all the volunteers to give us a 'warm feeling' at every checkpoint."
It was a race for the record books, and for more than one reason. In the elite field, the course record was demolished by 20 minutes by French runner Francois d'Haene, who finished in 9:32:26. China's Yan Longfei finished second in 9:37:17, beating his own record from last year by 15 minutes, while Lithuania's Gediminas Grinius was in third.
Stone Tsang Siu-Keung was the first local runner in eighth place.
In the women's field, China's Dong Li took line's honours in 12:05:32 followed by Italy's Liza Borzani and Silvia Ainhoa Trigueros from Spain. Marie McNaughton was the first local female runner in seventh place.