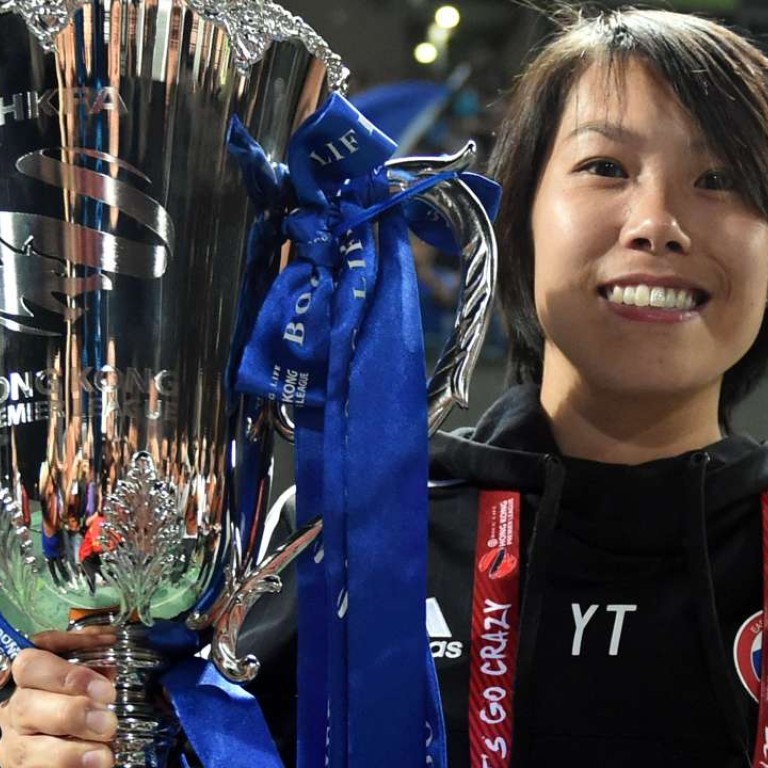 'Chase your dream' says Chan Yuen-ting after becoming first woman to coach a men's pro soccer team to top-flight title
Eastern coach says her success in Hong Kong Premier League shows that anything is possible if you refuse to quit
She made history as the first woman to lead a men's team to a top-flight championship, but Eastern head coach Chan Yuen-ting admits she almost quit football a year ago.
Arriving home around 2am on Saturday morning from a celebratory banquet, Chan had a sleepless night, buzzing from the excitement. And it might never have happened had it not been for a call from the man she eventually replaced as Eastern head coach, Yeung Ching-kwong.
"I was ready to quit at least two times," said Chan, who twice lost jobs at previous team Pegasus as sponsors pulled out.
"I was really depressed and thought 'Should I go on in Hong Kong football because it looks like the future is not stable and there's no long-term development?'
"I wanted to give up and at that moment I was looking at other jobs, like maybe working in government or police or becoming a PE teacher or something like that. I almost quit and then Mr Yeung called and brought me to Eastern [Yeung later moved to a Japanese club and was replaced by Chan].
"There's a lot of ups and downs in Hong Kong football, but a lot of people working very hard. Everyone is doing their best for Hong Kong football, so I ask myself to do my best too, and I hope I can help Hong Kong football."
Chan is one of the few women in the world coaching a men's professional team, with Corinne Diacre, chasing promotion to France's Ligue 1 with Clermont, the best-known example.
"I don't think I'm a very good role model, but what I did is a message for [young women], if they're really interested in football to chase their dream," she said.
"It's an example for them to keep fighting and chase your dream and you can get what you want.
"I lack experience and I'm not really a very good head coach, but I'm very lucky because I have very good assistant coaches and also the players gave me a lot of support."
Chan is younger than many of her players and never played professionally. She paid glowing tribute to their support.
"Whether I'm male or female, young or old, I still have to do my job," she said. "Once I became the head coach I just concentrated on my duties.
"There were quite a lot of difficulties that I had to overcome.
"The viewpoint or thinking between male or female is very different, so I can't really understand what my players think, especially since I've not been a professional player. I needed to ask a lot and have good communication and listen to them when I had some questions or didn't understand.
"Secondly, to manage the atmosphere in the changing room sometimes is very difficult, especially when we are down or losing. I'm still learning, but fortunately my players didn't always challenge me or ask a lot of questions, they just trusted me and followed my plan."
Chan was doubting herself after some recent poor results. Failure to beat South China on Friday would have set up a winner-takes-all final game of the season against second-placed Kitchee, which is now a dead rubber.
"We lost a lot of cup games and were really down in a a very bad period," added Chan. "I was really worried and during training I didn't say anything, I showed that I was really unhappy.
"The players gave me a lot of positive energy, they just came to me and encouraged me and supported me to bring me from the down times and come back to the team; I really appreciate it and want to thank everyone."
Peter Leung Shou-chi, Eastern's executive director, never lost faith.
"From the first day I supported her as a coach," he said. "I handed a one-year contract to her before the match, and showed everybody that we signed the contract. People said she was too young, but I thought in Hong Kong she'd be okay."
Leung says he has already begun signing reinforcements for Chan's tilt at the Asian Champions League next season.
Mark Sutcliffe, chief executive of the Hong Kong Football Association, hailed her success as "a great day for equality in sport".
"Football is changing for the better and becoming much more inclusive," he said. "Only a short time ago it was seriously male-dominated with women's football not taken seriously at all.
"The success of Eastern this season under the direction of a female coach is well-deserved. They have consistently been the best team. She is not only an excellent coach but also a superb role model for all girls and women wishing to get involved in football."
Chan – nicknamed 'Beef Ball' since secondary school because of its similar pronunciation in Cantonese to her name and her hard-working 'ox-like' attitude – will take a rare week off after the final game of the season for a holiday in Japan with family, before turning her attention to next term.
"It's a really big challenge for me – the level between the Asian competition and Hong Kong is quite a big difference so we want to have good planning for next season, find good players, have good preparation," she added.
"I'm planning to take the AFC Pro Licence and hope to learn new things and new experience to help bring to the team."