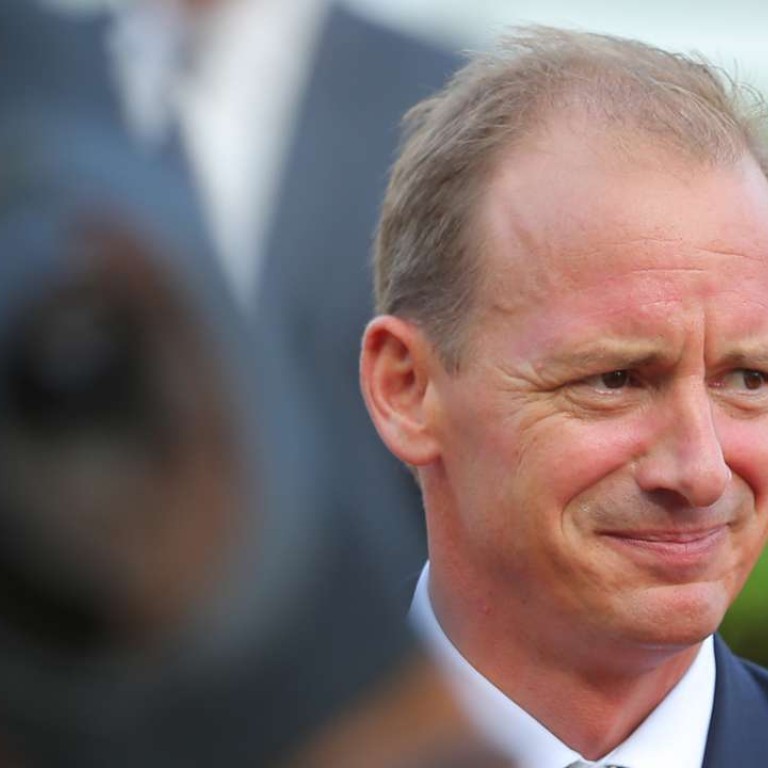 Exclusive

|
Police trace HK$8m Hong Kong trainer lost in horse-buying email scam
Trainer Richard Gibson sent €600,000 to Poland and €400,000 to Slovakia; with more than half of the money now transferred back to Hong Kong
Hong Kong police have joined forces with their counterparts in Poland, Slovakia and Nigeria to retrieve €1 million (HK$8.18 million) that trainer Richard Gibson lost to an international commercial email scam while purchasing a horse.
The sum was recovered in Poland and Slovakia, and €600,000 had already been transferred back to Hong Kong, sources told the Post.
"Related parties including overseas law enforcers and banks are still in the middle of negotiations on the return of the [remaining] €400,000," one source said.
The money was given to Gibson in September by a horse owner in Hong Kong to buy a horse through an agent in Ireland.
It was possible scammers learned of the purchase by hacking into Gibson's or the agent's computer, another source said.
"Fraudsters posing as the agent sent fictitious emails to the victim and requested him to transfer €600,000 to a bank account in Poland and €400,000 to another bank account in Slovakia," the source said.
Gibson realised he had been swindled two or three days later and made a report to police.
Crime-squad officers from Sha Tin police investigated the case, classified as "obtaining property by deception".
Hong Kong police immediately sought help from their counterparts in Poland and Slovakia through Interpol.
"The money involved was held in the bank accounts by local authorities before it was removed by scammers," the source said.
He added that negotiations with the relevant authorities over the return of the €400,000 remaining in Slovakia was still on-going. No arrests have been made.
Another source said it was rare to recover money in such commercial email scams.
"Due to the bank procedures, the money involved in this case was made available to withdraw or remove two days after the transfers and this helped us retrieve the funds," he said.
The emails used to contact and cheat Gibson are believed to have been sent out from Nigeria.
"We are still investigating with Nigerian authorities to check whether it was the original source," the source said.
Police urged people doing business to verify the identities of those they were dealing with.
"In addition to emails, they should also confirm the requests by phone or other means before making transfers," the source said.
Police figures show the number of commercial email fraud cases dropped to 657 in the first nine months of last year, compared with 738 in the same period of 2015. But total losses in that period rose dramatically year on year, from HK$876m to HK$1.494 billion.
On Wednesday, Gibson said he wanted to put the whole matter of the internet scam on the record.
"This fraud has been a grave concern for me personally and has taken up a great deal of time with meetings and legal papers," said Gibson, who has trained only two winners this season and sits in last place in the 24-strong trainers' championship.
"It has not surprised me that my business has suffered as a result. It has also put a great deal of pressure on my family as the case involves significant sums of money. We have always acted with full integrity and honesty."
This article appeared in the South China Morning Post print edition as: police find swindled trainer's millions