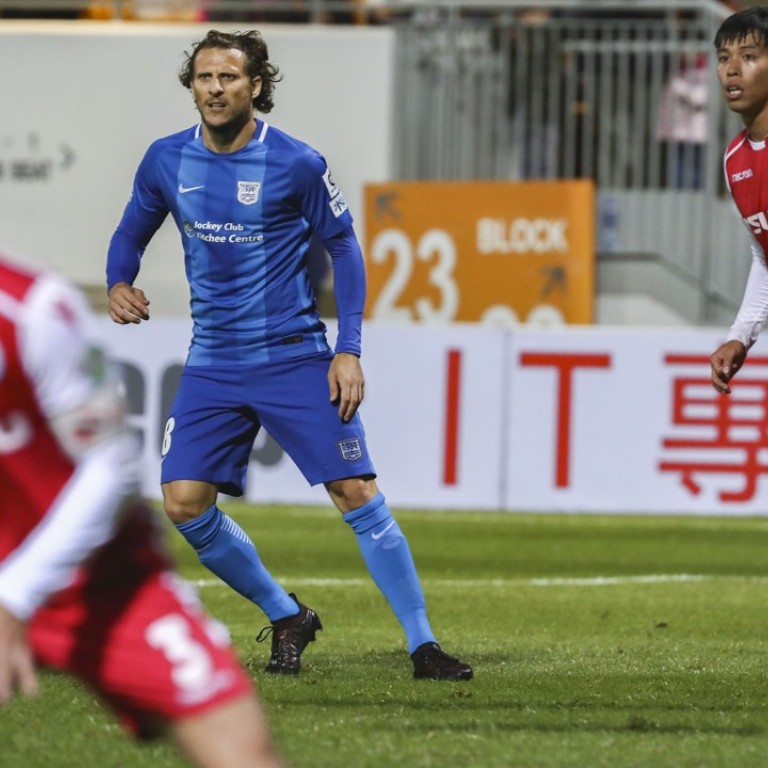 Diego Forlan kicks off Kitchee career with three-minute cameo in thrilling draw against Southern in Hong Kong Premier League
Champions stretch unbeaten run but are made to work for their point in front of increased crowd at Mong Kok Stadium
Diego Forlan made a three-minute debut to please most of the 3,200 fans that came to watch the former Uruguay international as Kitchee escaped with a 2-2 draw against Kwun Chung Southern in the Hong Kong Premier League on Sunday.
Defending champions Kitchee found themselves two goals down in the first half and coach Chu Chi-kwongwaited until the final stages before substituting in Forlan.
Forlan had started warming up at the beginning of the second period and entered to rapturous cheers from supporters.
With the scores tied when he entered the game, the stage was set for a fairy-tale debut but Forlan, who played as an attacking midfielder, was unable to get on the scoresheet.
Although Kitchee increased ticket prices from HK$120 to HK$150 after Forlan's arrival, fans queued up at Mong Kok Stadium three hours before the match in fear of failing to get tickets to watch the World Cup star.
Fans normally buy tickets just before kick-off.
Indeed, Kitchee's last league match at their home ground against Lee Man attracted a crowd of only 1,100.
Forlan shook hands with fans as he went up to the Kitchee supporters as a gesture at the end of the match, but then went back to the changing rooms without giving the awaiting media any comment.
He is likely to stay on the bench when Kitchee meet rivals Eastern in a big league clash on Thursday as coach Chu is still waiting for his man to gain match fitness. Of course the
AFC Champions League
, which kicks off next month will be the main target as Kitchee play in the group stages for the first time.
"He is a very skilful player and coupled with his vast experience in top-class soccer, his arrival will definitely help the team," said coach Chu. "He is not at his best at the moment of course but I don't think it will take very long before he adapts to the new environment and gets ready."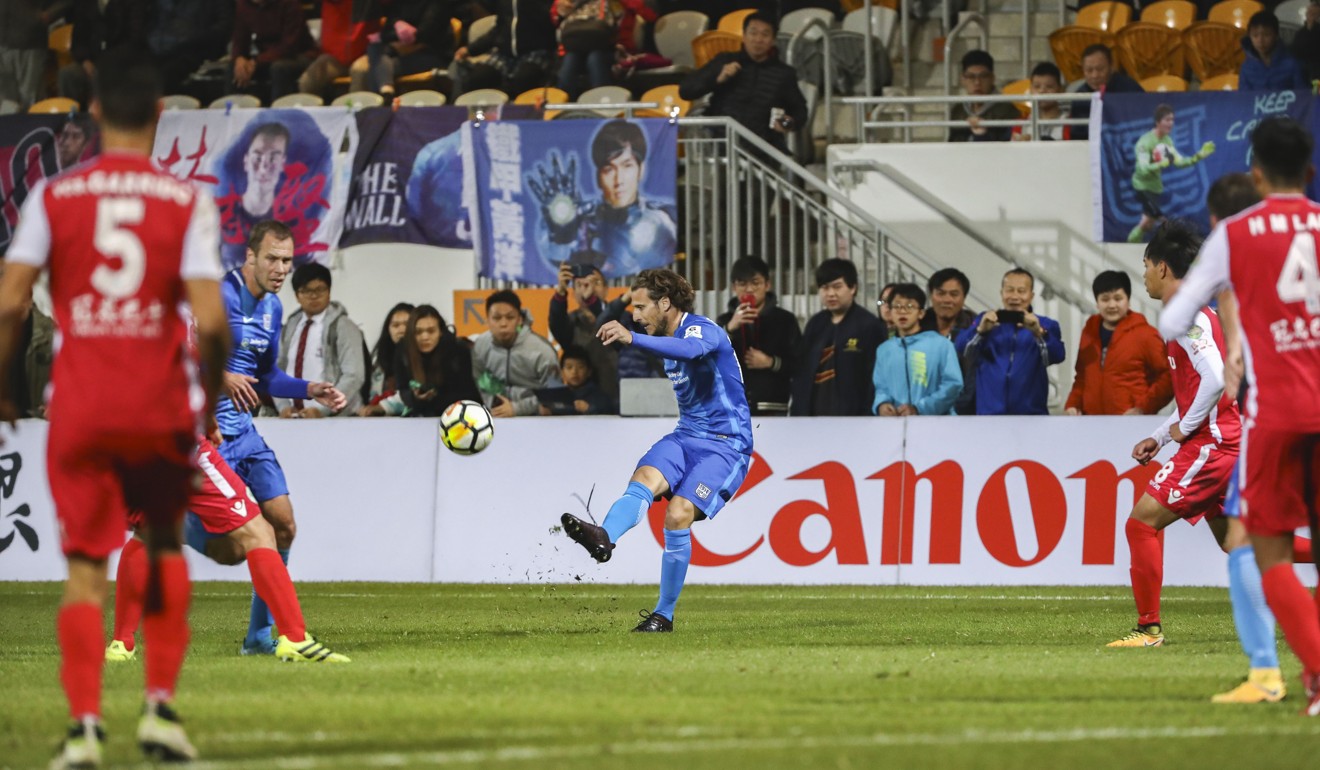 Kitchee fans were not too disappointed in getting just a glimpse of Forlan. Samson, a keen supporter for over a decade, said he did not expect Forlan to play at all after arriving in Hong Kong only a few days ago.
"Maybe he played five minutes [including injury time] but I didn't expect that," he said. "The ticket price has been increased but considering the investment by the club, it is reasonable. I will continue to come and support my team."
Fernando Recio's own goal coupled with Marcos Jimenez's low drive gave Southern a two-goal cushion before the teams went back to the changing rooms at half-time. Kitchee, who had dominated most of the play, saw their hard work pay off with two goals in the second half through Sandro's header and Jared Lum's free kick.
"It was difficult to come back from two goals down although we did control most of the possession," said Chu. "Once we levelled the score, Southern began to break down and lack the stamina to mount any challenge. That's why I decided to bring on Forlan in the latter stages as I had to make sure he would not get injured in his first appearance, and the player can get back his shape step by step."
This article appeared in the South China Morning Post print edition as: Three-minute debut by Forlan good enough for fans