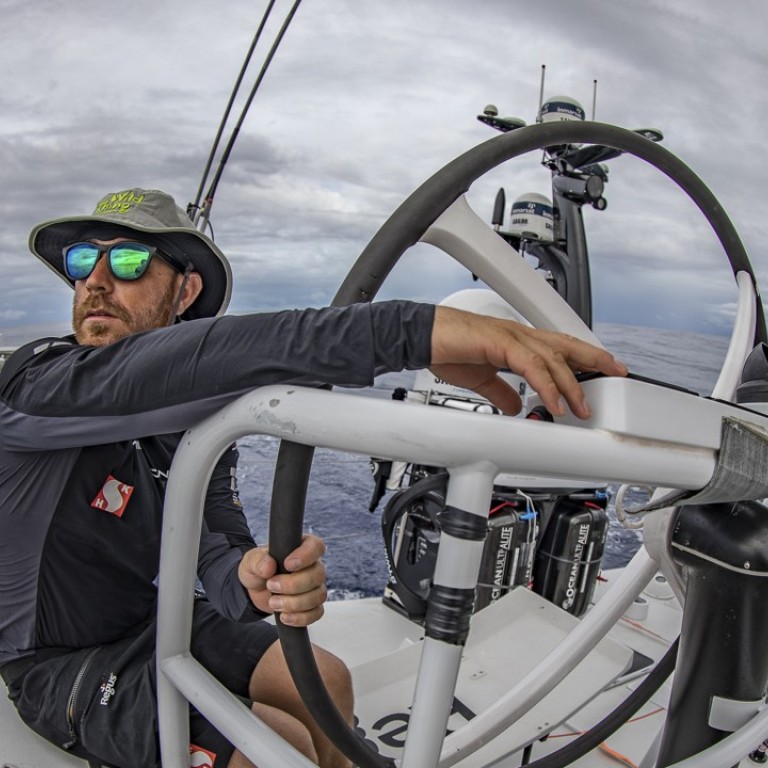 'We're where we want to be' – David Witt optimistic as Scallywag recovers after chaotic doldrums in Volvo Ocean Race
Lead has changed several times over the past 48 hours as boats look for the best winds heading south towards Auckland in leg six
Hong Kong's Sun Hung Kai/Scallywag is back among the leaders in leg six of the Volvo Ocean Race after a chaotic 48 hours in which the lead changed hands several times and David Witt's crew had to make another comeback from last place.
All six boats were heading towards the north-east of the Solomon Islands as of 8pm HK time on their way to Auckland, New Zealand from Hong Kong.
Scallywag had already performed an amazing comeback by cutting the corner to go from last, more than 100 nautical miles behind the fleet, to first.
However, once the fleet hit the doldrums – an area of fickle winds on the equator – navigators opted for various routes by which to ride the strongest winds. It resulted in dozens of gybes by all boats but it was Team AkzoNobel and Scallywag who were the first to find new pressure south of the doldrums and pull away from the fleet.
Scallywag was almost 47 nautical miles behind leader AkzoNobel as of Saturday night with Team Brunel third, 131nm behind the leader.
Witt, the skipper of Scallywag, was happy with the boat's position behind AkzoNobel.
"We're where we want to be relative to the fleet," said Witt as his team approached the light winds.
"Now it's roll the dice time. A bit of luck, a bit of good cloud management. We have to do what we think is right and not worry too much about what the other guys are doing."
Turn the Tide on Plastic (183nm behind the leader), China's Dongfeng Race Team (233nm) and Mapfre (245nm) were trying to catch up to the leaders. However, Dongfeng and Mapfre were the fastest boats, cruising along at around 20 knots while AkzoNobel and Scallywag were among the slower boats.
Scallywag secured a dream victory in the fourth leg from Melbourne to Hong Kong in January, also having had to cut a corner to come back from last place.
Team Vestas, the seventh boat in the race, missed the fifth leg to Guangzhou and sixth leg to Auckland because it was involved in a collision en route to Hong Kong that resulted in the death of a Chinese fisherman.
The boat also incurred significant damage. Witt said there was plenty of miles left for Scallywag and it was too early to think about their position in the fleet.
"[The other boats] seem to be reacting to each other. We're just trying to get our boat as quick as we can to Auckland," said Witt.
"It's a bit early to worry too much about positioning, I think, with more than 2,000 miles to go."
Spanish team Mapfre leads the overall race with 34 points ahead of Dongfeng on 30. Scallywag are fourth on 20 points, three behind Vestas, which is expected to rejoin the race in Auckland.
This article appeared in the South China Morning Post print edition as: Witt happy with Scallywag back among the leaders