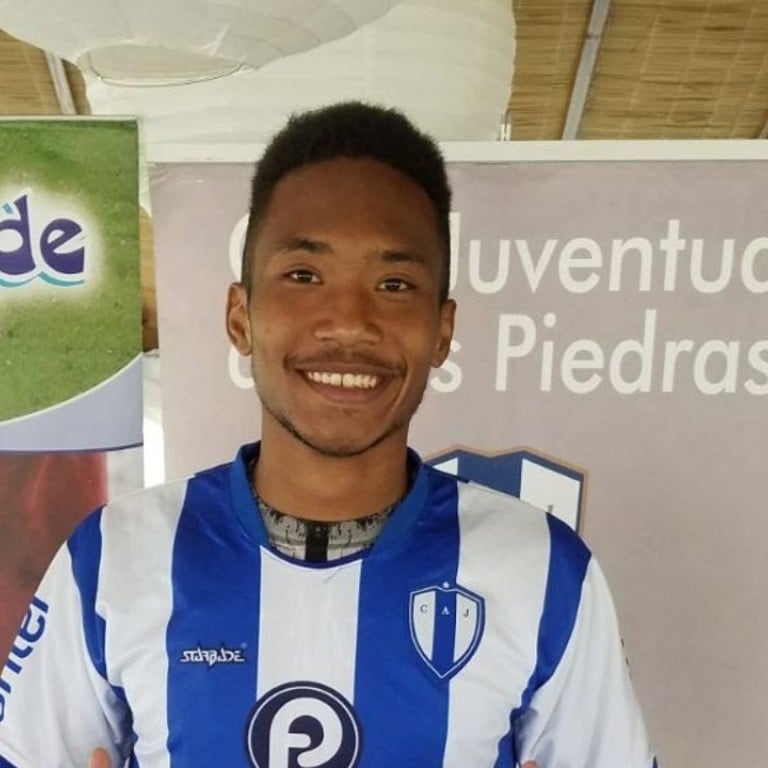 Stakes are high for 'Butcher' Brian Fok but he is relishing meaty challenge of Uruguayan football
Central defender can't wait to get stuck in with Juventud after joining on season-long loan from Shanghai Shenhua
By his own admission, Hong Kong footballer Brian Fok is a risk taker.
From China to Uruguay, via stints in Spain, Romania and Azerbaijan, the 23-year-old has travelled halfway across the globe in service of his nascent professional career. His goal is simple: to develop into a player capable of being a success at the highest level possible
The central defender's latest adventure is taking him from
Chinese Super League
side Shanghai Shenhua to Juventud in Uruguay's second division in a loan deal that has Fok eagerly anticipating the upcoming season.
"I can't wait to get started," he told the Post. "I played on Saturday for 20 minutes in a preseason game. I'm quite fit already because I've been on preseason with Shenhua.
"I've got to adapt to the game here and I speak virtually no Spanish, but everything's going alright. The coach saw what he needed in those 20 minutes and once I start adapting to the culture and get through the jet lag he'll start working with me.
"When it comes to Spanish I know the basics, but I don't know much for football to instruct the players around me. With my style, I'm the leader at the back and I can't communicate properly at the minute so we're going to work on that."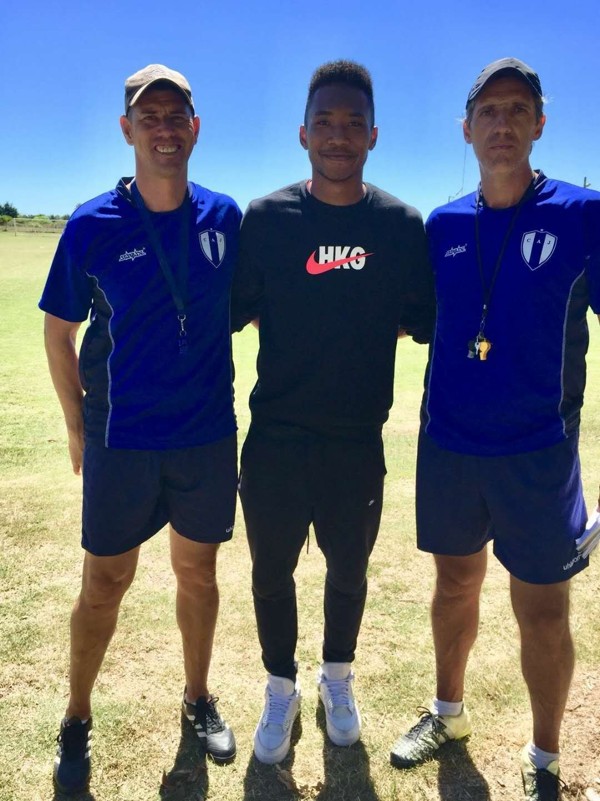 Signed by Shanghai Shenhua at the start of the 2014 season as a 19-year-old from Hong Kong Rangers, Fok has spent all but one of this four seasons on the books of the Chinese Super League side out on loan.
From CF Cracks in Spain to Romania's ACS Berceni and AZAL in Azerbaijan, the Nigeria-born Hong Kong-raised defender has led a nomadic existence for most of his fledgling career. And while the rough and tumble of Uruguayan football – famous for its physicality – holds little fear for Fok, he is quick to praise his parent club for playing a key role in nurturing his talent.
"I chose to come to Uruguay because it's a physical league and it can help me develop technically as a player," he said. "And this club is one of the most famous for developing young players, which is why I chose this club and once I get my position I want to keep playing.
"My strength is being a leader, the warrior of the team. I take nothing from the attackers and leave everything on the pitch. I'm that kind of player. The hard part is how do I keep being that kind of player and also become a technical player.
"I reckon this move is going to help me a lot because I'm quite a physical player, so being here is, like, wow! The training here is good. I'm enjoying it. We all smash each other in training. I'm loving it. But at the same time, they're all really technical, like most South American players.
"So I have to thank Shenhua, because without them I wouldn't be that good technically and I wouldn't fit in here. But since I arrived I feel like I'm already part of the team because I'm not lacking in the technical areas or the tactical areas, I'm up there with everyone else. Now I have to show I'm here to take a position.
"I've learned a lot from Shenhua. When I first joined them I had a nickname: Butcher. To be a football player you have to adapt, and to be a good player you have to adapt quickly. So I adapted to Chinese football, and Shanghainese teams like to play with the ball on the ground, so I had to adapt to that and work on my technical side.
"I might not be good enough technically, still, probably not as I'd be in the Shenhua first team, but I've learned how to hide my weaknesses and show more of my strengths."
While in other leagues Fok would now be expected to be pushing for a place in the starting line-up for his parent club, Chinese football's inherent distrust of young players means that, despite his age, he is still considered to be in the development stage of his career.
Rule changes brought in by the
Chinese Football Association
have attempted to open up pathways into the first team for younger players, but with Fok registered as a Hong Kong player he is left competing with the older Chinese players and the club's highly-paid foreign contingent for a place in the starting 11.
As a result, he is happy to bide his time, to develop more and look further into the future for the opportunity to secure his place in the Shenhua first team squad. And to do that he is prepared to continue to go out on loan even after his stint with Juventud comes to an end.
"I'm a risk taker," he said. "I don't like to stay in one place and I like to perform. I'm relatively young, although in Europe I'm not considered young any more. In Europe I should be playing week in, week out but in China 23 is still seen as the age for development.
"I'm a centre back, so I have until I'm 26 or 27 to go out and gain experience and make my mistakes. When I'm 26 or 27 that's when I need to be stable. Anything before that is about development and improving.
"At the moment, I'm here on a full season loan but we have the option to stop after six months if another team comes in for me. My target is to do well in the next six months and see how it goes.
"At the end of the day, I'm still a Shenhua player and I might end up going back there. But the important thing is I'm here now and I'm going to do my best for this team and I'll do my best to improve as a player."
This article appeared in the South China Morning Post print edition as: 'Butcher' Fok hopes to cut it in Uruguay