Paris 2018 Gay Games: How a Filipino pair wowed judges with Beyoncé cover of 'Proud Mary' to win Hong Kong ballroom gold
Childhood friends win over France immigration authorities, then judges and fans with their competition show-stopper
For their show-stopping, gold medal-winning performance, Niel Enopia and Ezekiel Vargas both channelled their inner Beyoncé. The pair, of Filipino descent, represented Hong Kong at the Gay Games in Paris last month and took first place in the world showdance competition, commonly known as competitive ballroom dancing.
The friends, who both work as dance instructors (Vargas lives in Hong Kong and Enopia in Manila) cut a rug to a Beyoncé cover of
Proud Mary
, a Creedence Clearwater Revival song that originally came out in 1969 and was later covered by Ike and Tina Turner.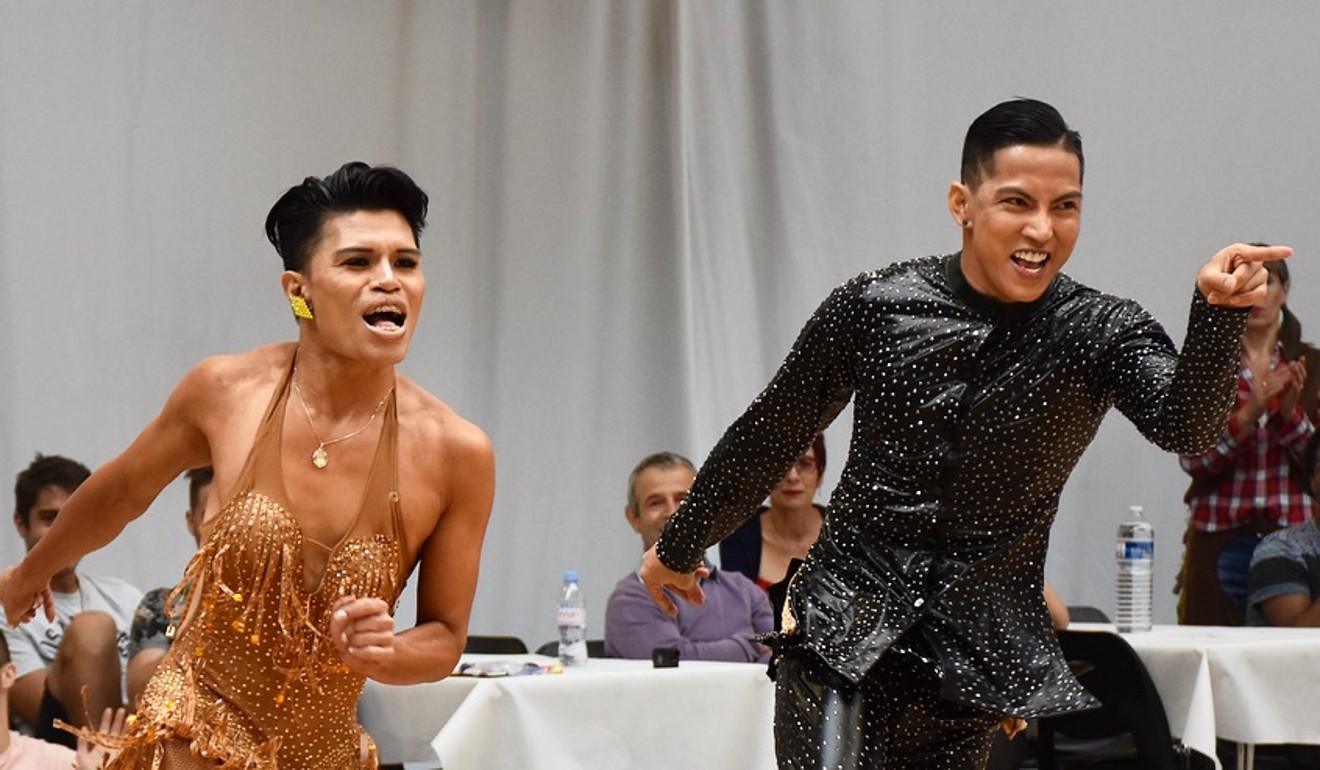 They recently returned from touring Europe and chatted about their memorable performance that beat out 42 other entrants, most of them from Europe and North America.
The uptempo song, which also features singer Jewel, whipped the crowd into a frenzy and Enopia and Vargas walked away with a resounding first place.
Vargas, 27, said when Enopia, 32, played it for him the first time, it did what most good songs do to him.
"I don't know what happens to me, I just hear that funky dance music and my body starts grooving automatically."
Enopia had performed the song multiples times before dressed as Tina Turner and also used it during a taping of Philippines Got Talent where he was a competitor, so he was able to teach it to Vargas in record time.
"So I suggested to him that we just use the same music for our show dance since he knew the routine already," said Vargas. "Honestly, we only had about two practises over two weeks, because he had to visit Hong Kong or I had to visit the Philippines to practise together."
It did not matter, the song blew away the judges. Enopia said he knew the track was infectious and did well in club and bar settings where he would perform it, but wasn't sure it would play over during a formal dance competition.
"To be honest, we did not expect that type of feedback from the audience," he said when the crowd broke out into hoots and hollers during their golden performance. "It was special."
Vargas, dressed in a black suit with diamond sparkles, and Enopia, in a short length beige dress, were also exercising some serious demons during the competition. The pair, who also won silver in the dancesport men's division, almost could not compete in Paris because of visa issues.
Enopia's first visa application to France was denied, French immigration stating they did not believe he had enough funds to travel for the Gay Games, which will come to Hong Kong in 2022 for its next iteration.
The Games started in 1982 and are held every four years, much like the Olympics, and there is no requirement for admission to compete. Vargas said when it came to getting his partner's visa, he thinks there was an element of prejudice at play.
"You know in the Philippines it's a third world country and I think there's still discrimination nowadays," he said. "In Hong Kong, I got my visa really quick, like in two days, but they were asking (Enopia) for so many documents."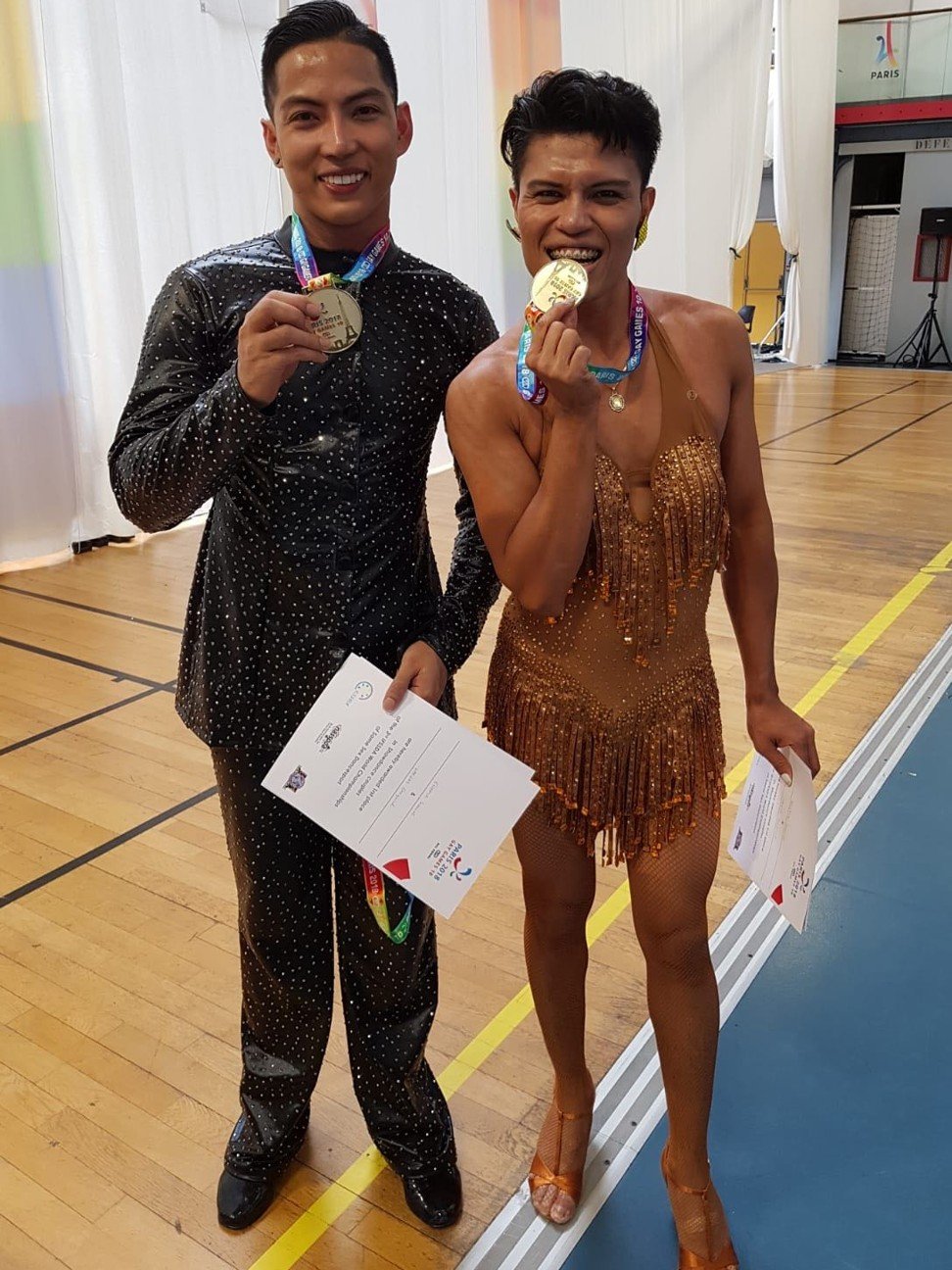 Vargas said he broke down into tears when he found out Enopia's first visa attempt was denied, which meant he would not be able to compete either. However, he wrote a letter stating he could sponsor and support Enopia in France financially, and the second visa was approved one day before their flight to Paris.
"For me, at that point, it felt like we had already won," said Vargas. "So I knew when we went to Paris we had to give them a memorable experience. I'd always dreamed about performing in front of an international crowd, even when I was a child, and so this was a dream come true."
The two friends, who have known each other since childhood, first met in the Philippines. Enopia said their chemistry is one that was instantaneous when they finally partnered up for the Gay Games after years of friendship.
"We had a lot of struggles going to Paris," he said. "So I'm just so happy with the results, we were truly blessed and lucky."
Vargas said he was not sure when the two will be able to pair up again competitively – given they live in different cities and work full time as instructors.
He does know one thing for sure. "Being dancers, we will dance until the music stops."