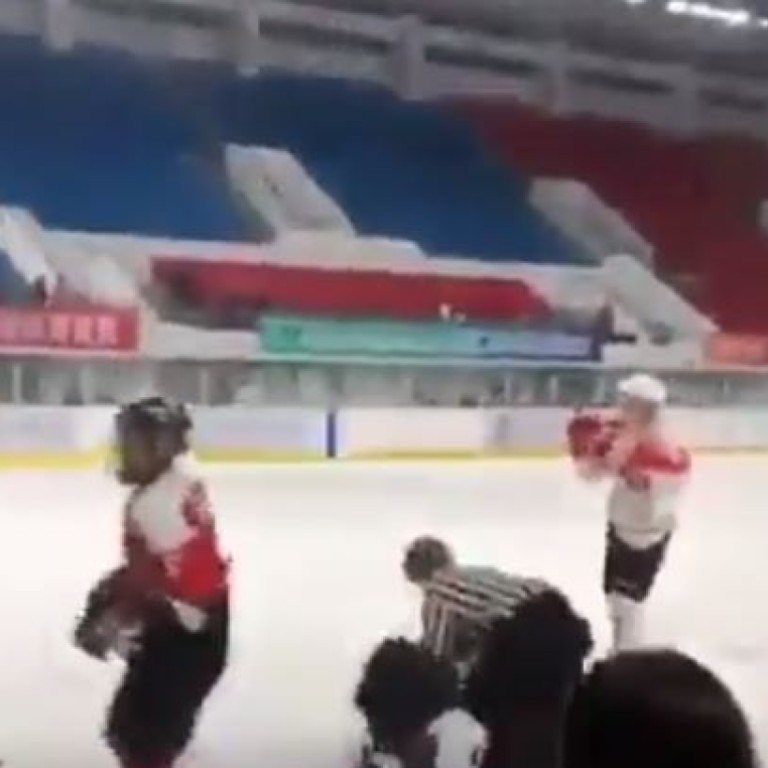 Hong Kong ice hockey players assaulted by Shenzhen opponents at National Youth Games
Hong Kong leading 11-2 in the match before the ugly scenes break out, with video since going viral
The competition is the biggest multi-sport games for athletes under 19
Hong Kong players were beaten up in a multi-pronged on-ice assault by their Shenzhen opponents in a boys' ice hockey clash at the National Youth Games in Chengde, China, on Wednesday.
The ugly scenes broke out with about one minute left in the game when Hong Kong were leading their mainland counterparts 11-2.
Facebook video footage showed Hong Kong number 23 Jonathan Wong being beaten by two Shenzhen players despite the pleas of a woman outside the rink, who repeatedly cried, "stop, stop".
Several other skirmishes involving other players took place at the same time before officials managed to stop them.
The Hong Kong Ice Hockey Association said on Thursday that three Shenzhen players involved in the incident were banned for one year by the organisers.
The Chinese Ice Hockey Association also gave assurances that such an incident would never be repeated.
There were no reports of major injuries to any of the Hong Kong players.
Hong Kong completed all their matches in the Games with three wins and two defeats for fifth place overall.
The National Youth Games is held for young players under 19, with the main events kicking off in Shanxi next week.
Hong Kong is sending a delegation of 620 athletes and has already won three silver and five bronze medals.