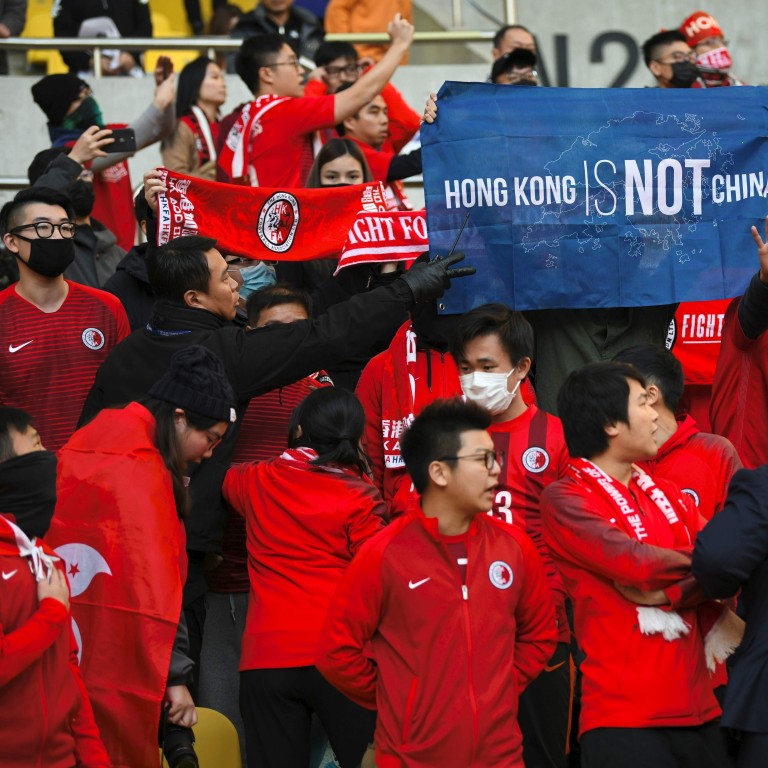 Hong Kong protests in South Korea as fans boo Chinese anthem ahead of loss to China in EAFF Finals
Anthems not shown on TV by mainland or Hong Kong broadcasters ahead of 2-0 win for Li Tie's side
Supporters applauded by players after match that featured banners with anti-government slogans in stands
Hong Kong goalkeeper Yapp Hung-Fai would be forgiven a sense of déjà vu during his side's loss to China at the EAFF Football Tournament in South Korea on Wednesday afternoon.
Yapp and the Hong Kong team's decade ended as it started with a 2-0 loss to China. That was also the result when he was in goal when the teams met in Hong Kong's last appearance in the EAFF Finals in 2010.
Wednesday's meeting at the Asiad Main Stadium in Busan, which was used for the 2002 Fifa World Cup, was a comfortable win for China's B team over Hong Kong's A team.
The lead-up to the game was anything but comfortable given that this was the first meeting between the sides since the ongoing anti-government protests began in June.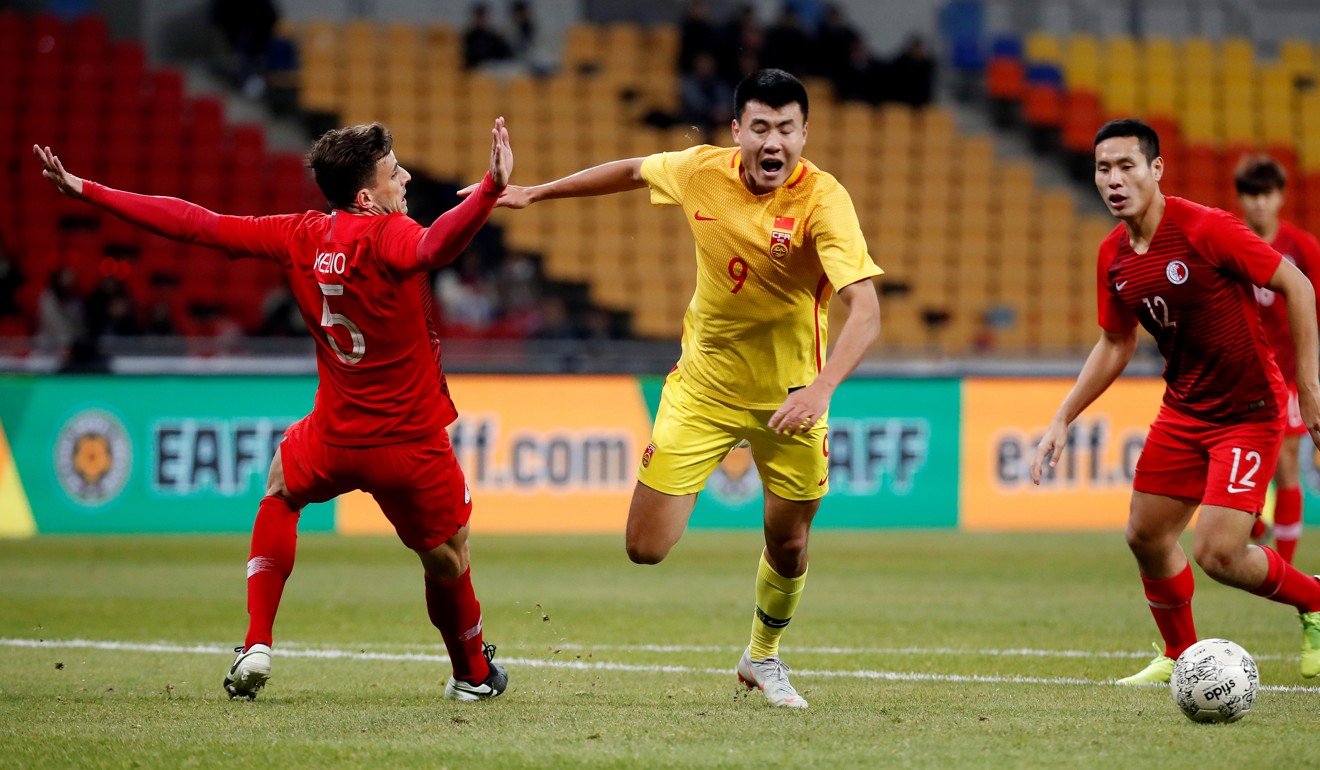 Reports from Busan suggested an increased police presence at the stadium to counter fears of trouble from either set of visiting fans.
Security screening checked banners containing political slogans on their way in to the stadium, which explained why there were fewer protest-related slogans seen at games at Hong Kong Stadium.
Still some, including a black flag bearing the protest slogan "Liberate Hong Kong, revolution of our times" and a colonial flag, made it through. There were also reports of a confrontation between Hong Kong supporters and stadium security.
There were around 20 fans from China and approaching 10 times that number from Hong Kong, the difference in numbers becoming clear during the playing of the Chinese anthem.
Hong Kong fans loudly booed the March of the Volunteers, which was only played once. No one outside the stadium will have known as it was not broadcast by either CCTV in the mainland or Open TV in Hong Kong.
Hong Kong coach Mixu Paatelainen was disappointed his charges conceded two goals against the manlanders but pleased that they fought hard.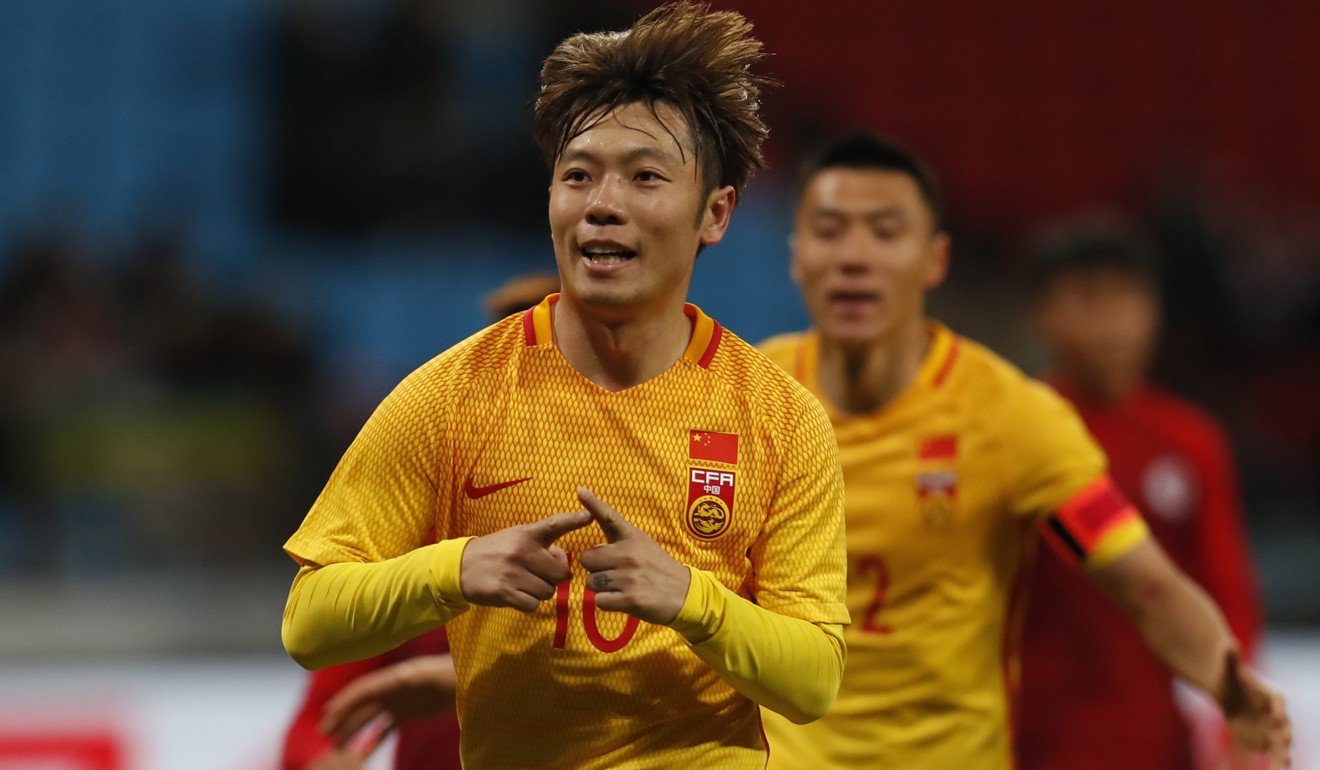 "I thought it was an entertaining match. I thought we had our say in the match, we defended well, we nullified China's chances to a minimum," he said.
"[It's] so disappointing to lose two goals. The first one was a really soft one from the corner kick and second one was a penalty where we don't defend well.
"All in all, the way our players fought against very good Chinese players was excellent. I thought we passed the ball well and caused China problems. We do lack a little bit of quality in certain areas but that's what happens with smaller countries. We're working on these situations and we will get better."
The game itself started quickly with China forcing corners. They scored from one in the eighth minute. Zhang Xizhe whipped the ball in and Hong Kong's lone striker Giovane, back in his own box for the set play, was unable to clear.
The ball bounced up off his chest and China's Ji Xiang headed past a desperate Yapp from close range to the joy of the travelling China fans.
Mixu Paatelainen's side pushed on and Giovane was at the heart of that. Soon after he came close to getting on the end of a cross and then saw a powerful shot from the edge of the box turned on the post by China goalkeeper Liu Dianzuo.
The Guangzhou Evergrande stopper then proved equal to another Giovane effort before the half was up but it ended as it started, with another China corner.
Hong Kong will have been happy with having created the better chances but they looked vulnerable at set plays, as Paatelainen had bemoaned after the losses to South Korea and Japan, and kept giving free kicks away.
The second half saw more of the same pattern, although Hong Kong came close from a dead ball of their own. A deep free kick ended up at Tan Chun-lok's feet but China skipper Yu Dabao stood firm, blocking with his thigh inside the six-yard box.
It was Tan who then brought Yu down as the defender marauded to the edge of Hong Kong's box, with Li Ang forcing a corner from the ensuing free kick. Li went closer with a later free kick, drawing a save from Yapp.
When China's second came it was from another dead ball. This time it was a penalty given after Helio brought down Dong Xuesheng. Zhang sent Yapp the wrong way and the game was over as a contest.
Hong Kong did not stop battling and while the team won the Fair Play Award at their 2010 appearance at the EAFF Finals, that is unlikely to be the case in 2019.
A late tackle by Tsui Wang-kit on Wang Ziming brought a yellow card while Tan's challenge on Wang Shenchao in the closing stages saw the China player leave the field on a stretcher.
The result ensured that Li Tie's China side finished third in the group above Hong Kong, reaching their pre-tournament expectations.
Despite the defeat, the Hong Kong players applauded the travelling fans after the match but Paatelainen was not happy.
"We lost every game. Yes, we defended well against Korea, we defended well against China. We didn't score a goal, today we were close. Against Japan we were close, we hit the bar on both occasions. We need to do more attacking.
"I thought this was a great opportunity for our players to play against high quality teams and individual players. A great learning curve, we'll take loads from this."