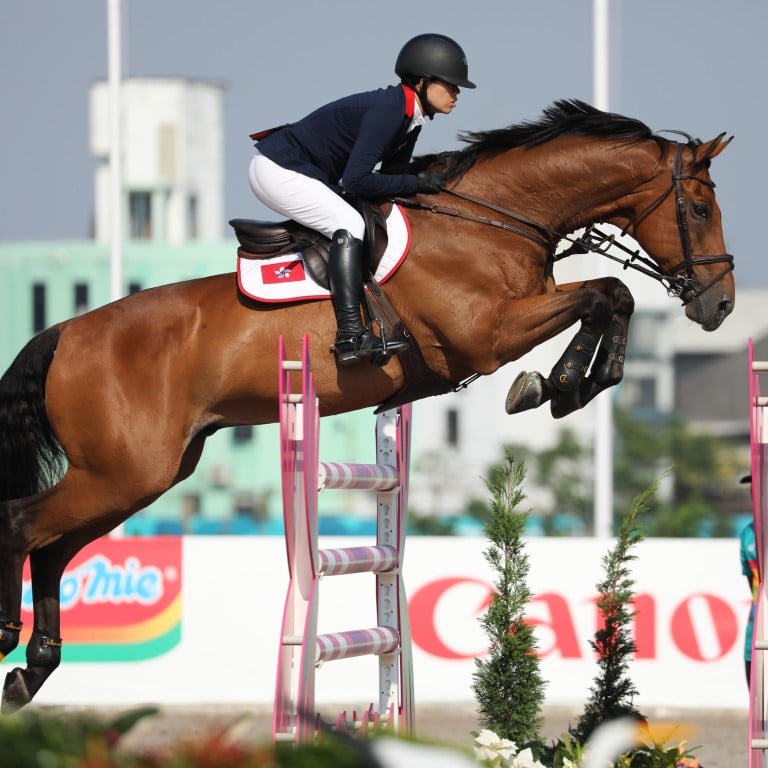 Tokyo 2020: Hong Kong's Raena Leung on her showjumping career and chasing an Olympic spot
The 32-year-old is still in the race to qualify for the rescheduled Tokyo 2020 Olympics
Leung, who got into riding at the age of six, said the sport has taught her many life lessons along the way
Hong Kong show jumper and Tokyo 2020 Olympic hopeful Raena Leung Hou-ling isn't sure where her love of riding came from, but a photo album she unearthed recently offers some clues.
"I found some old photos and in them I would sit on things like a suitcase and I would like to be led around on it," said the 32-year-old with a chuckle. "Or I had a little scooter and I would tie my dog to it and have him pull me. So I don't know where those ideas came from, but looking back on my childhood, it's going to sound weird but I seemed to like sitting on things and being pulled around."
Leung, still in the hunt for one last Hong Kong spot at Tokyo 2020 – pushed to 2021 – said a school fair across the street of a family household in Kowloon piqued her interest in show jumping and equestrianism.
"They had pony rides going on, so my mum thinks that's what inspired me. So I started asking her for lessons."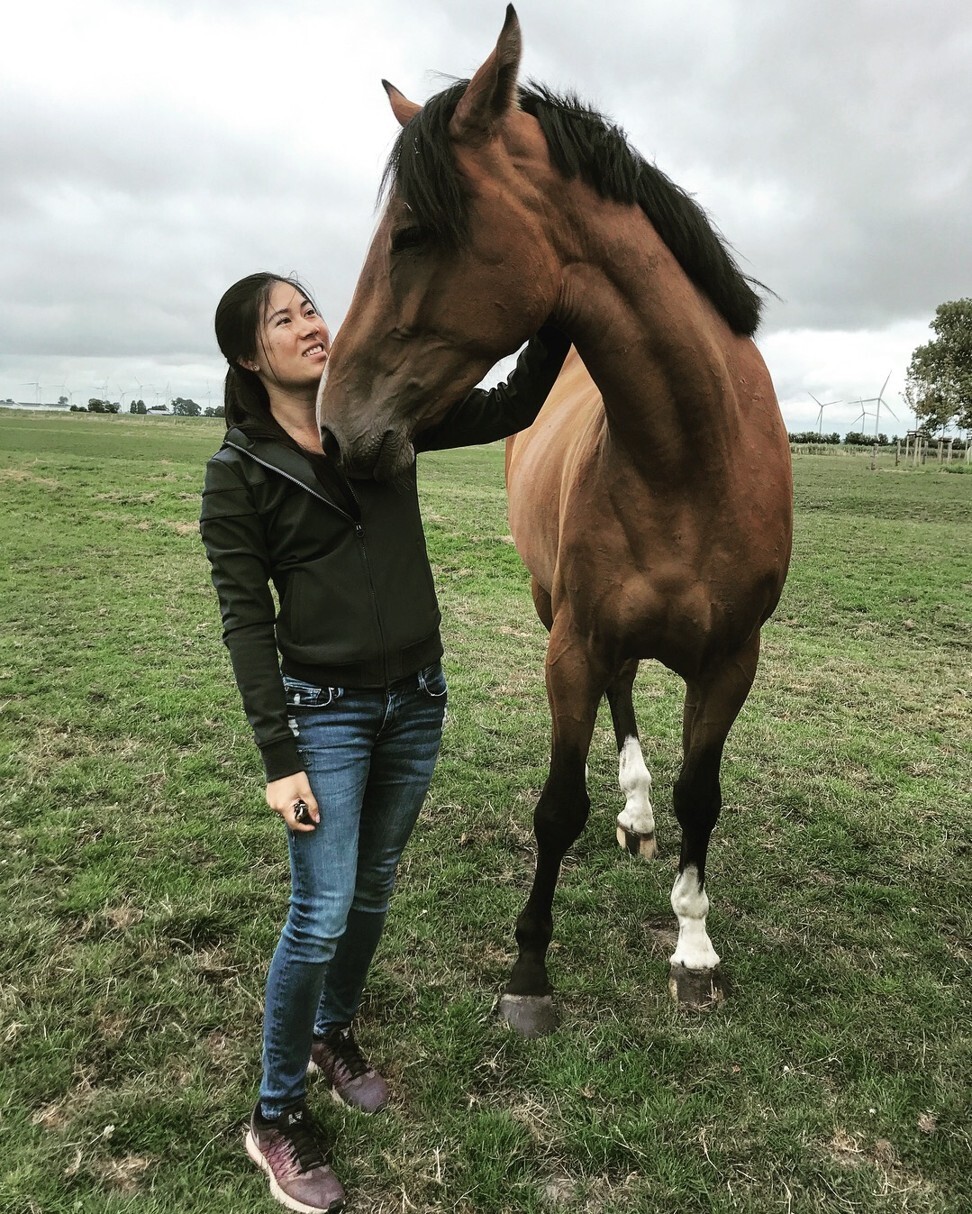 To ride ponies in Hong Kong at that time, however, you had to be either six years old or weigh 27 kilograms. Once Leung met the requirements, she said there was no turning back, even when her first excursion turned out to be a disaster.
"I actually had a terrible experience for my first riding lesson, the pony kept putting its head down, turning around and trying to bite my boot. I was crying, my mum was like 'If you're not going to enjoy this, we're not going to come back'. And so I kind of sucked it up and said, 'No, no, no, I'll be fine' and went pretty much every week and I've been hooked since."
Leung attended Chinese International School and started riding horses via a programme through the Hong Kong Jockey Club that paired retired racehorses with riders. Leung's first horse, Strike Out, got her off on the right foot.
"I think he was actually not a bad racehorse, he definitely had his quirks. He was a really good jumper, but the thing was whenever he landed after a fence, he would buck, so I fell off many times."
Leung has broken her arm twice (2003 and 2005, the second when she got kicked by a horse) and said getting thrown off such a powerful animal is just part of the game.
"You will fall off and I think it teaches you good things. As cliché as it sounds, you have to get back in the saddle. Even though my mum was worried that I would injure myself, she was always happy that I got back on and continued to pursue this as a career and a sport."
Leung finished high school in 2006 and headed off to the UK where she took psychology at the University College London. She was often away on weekends, flying off or getting on trains for competitions all over Europe, cramming in school where she could.
Leung took a gap year after graduation in 2009 to train with Japanese coach and rider Taizo Sugitani, as well as obtaining her master's degree in sports psychology. From there it was to Hamburg, Germany in 2011 and she took the leap from student and amateur rider to full-time professional with big league aspirations.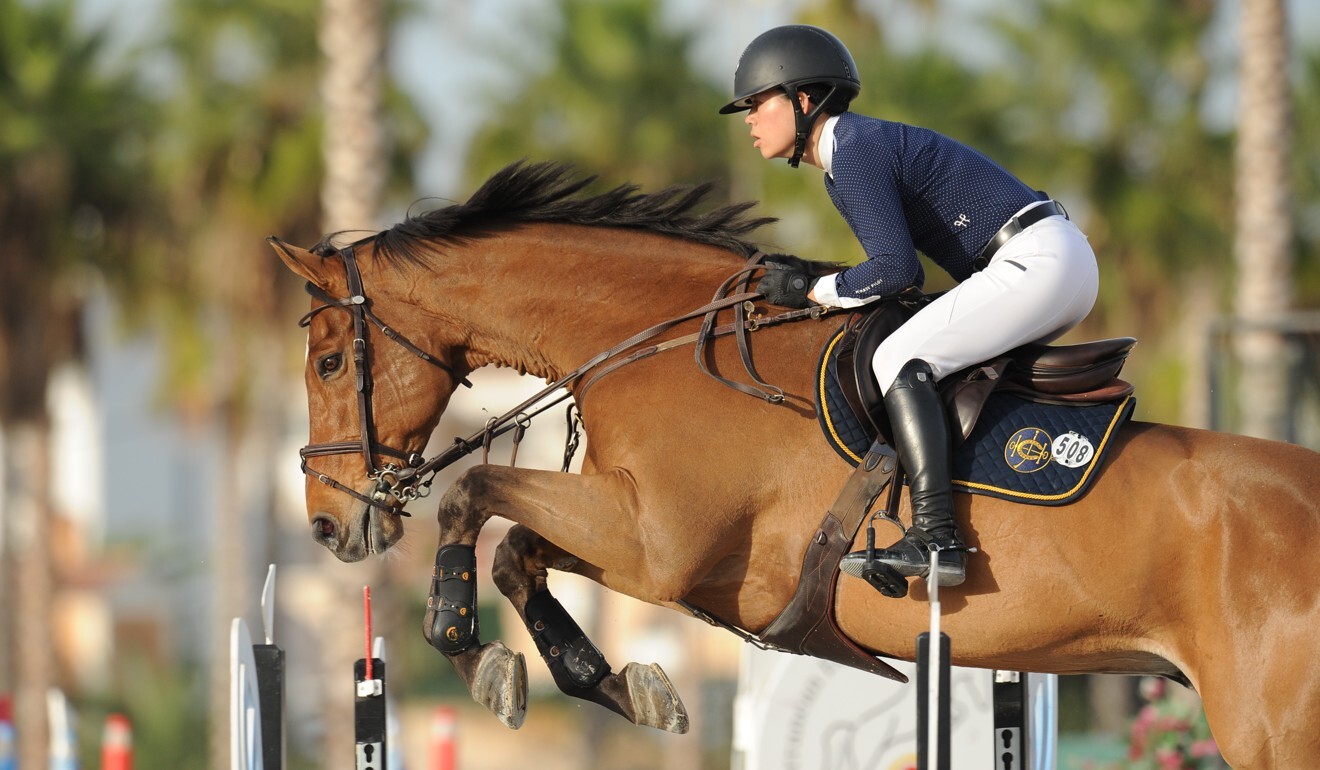 In 2012, Leung won a title at the Federation Equestre Internationale World Cup Jumping China League. A year later, she qualified for the 2013 FEI World Cup Finals in Gothenburg, a first for a Hong Kong rider. Soon the Jockey Club had offered her a sponsorship deal along with five other riders.
"I didn't know I had it in me," said Leung about turning pro. "Talent wise or skill wise. But it was definitely something I wanted to pursue, and I got lucky I guess, getting pretty significant results right out of the gate."
Nicole Pearson, who taught Leung as a child in Hong Kong and is now her teammate via the Jockey Club, said Leung's riding personality is a natural extension of herself, which bodes well during strenuous times.
"There's not an ounce of arrogance in the girl," said Pearson, who has known her since she was eight. "She's just a hard worker, she's very thorough, she likes to be very organised, well prepared and so she puts a lot into her preparation and her training. She knows when she gets to a competition she can fall back on that if she needs."
Leung credits part of her success to knowing what makes a good show jumper.
"You're working with an animal who is your partner in the sport, you have to have a certain degree of feel for the horse. You have to be able to read and communicate well with them, without being able to use words. You have to have really good body control because every signal you give sends a message to the horse."
In 2012, Leung also linked up with her current coach, Mike-Patrick Leichle in Germany, and also the horse she is still planning on taking to Tokyo 2020 if she qualifies. Leichle and Leung saw Orphee Du Granit at a show in Slovenia that year, and Leung said the two clicked instantly when she got on him.
"I really did feel like there was some sort of fate that I was supposed to find him, or he was supposed to find me."
More accolades piled up including an appearance at the World Equestrian Games in France in 2014, trips to the World Cup Finals, Asian Games and she was part of the 2019 FEI Asian Championships team jumping gold medal team that competed in Pattaya, Thailand.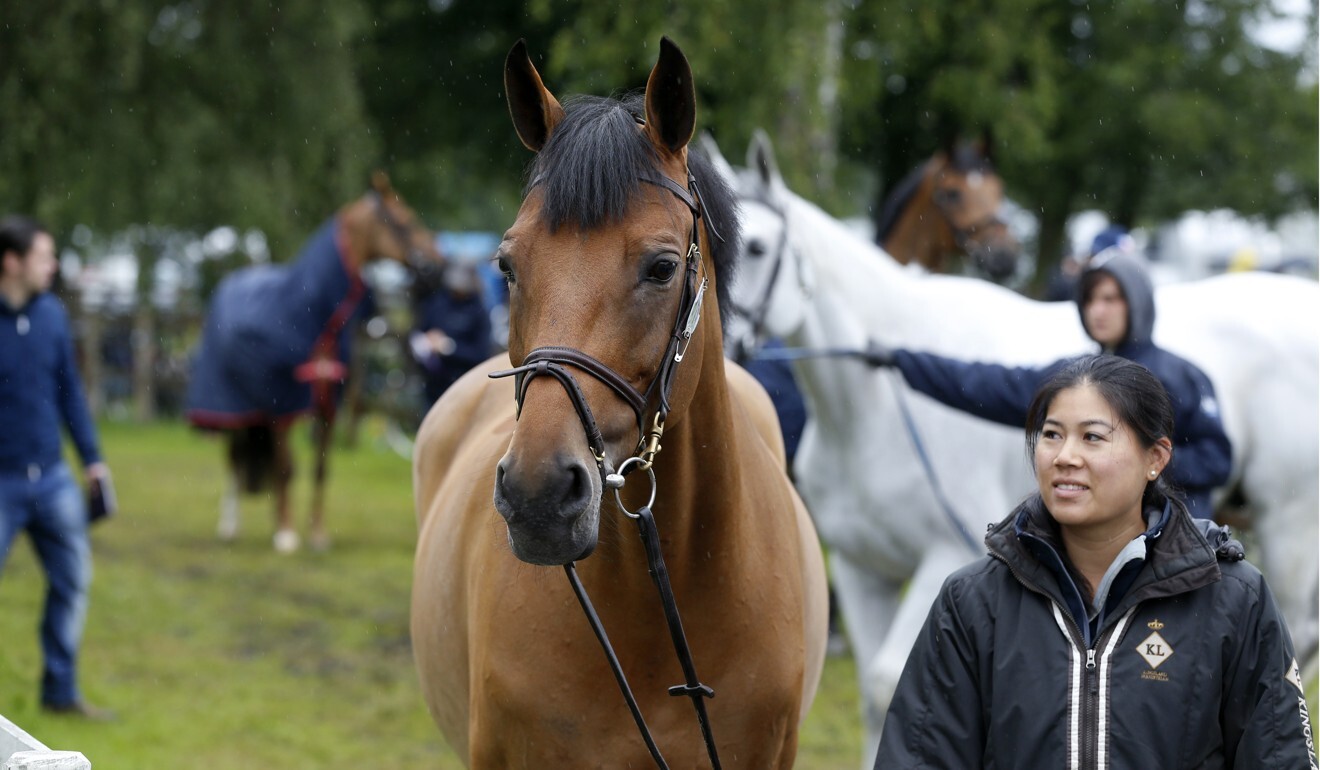 Come 2020 and Leung had her sights set on Tokyo amid an interesting situation with the Hong Kong riding scene.
Thomas Ho has qualified for Tokyo 2020 via eventing, while Leung, when the circuit resumes, will have to compete with teammates Kenneth Cheng Man-kit, Patrick Lam Lap-shun, Jacqueline Lai Jing-man and Clarissa Lyra for the one Hong Kong spot in the Tokyo showjumping competition. Riders look to achieve a "certificate of capability" by competing at sanctioned events around the world in a bid to qualify.
Leung will head to Portugal (which will be her first competition since February) in October as the circuit resumes under restrictions and without fans, looking to grab that spot and her ticket to the Games.
The thought that Tokyo 2020 might still not go off in the summer of 2021 due to new waves of the coronavirus has taken its toll, Leung admitted. But she said moving back to Hong Kong, where she is teaching young riders and rekindling some friendships and spending time with her family, has been a blessing in disguise.
"You identify as an athlete so much that I think sometimes you forget that you are also a friend and a sister and those kinds of elements. So when you start to weigh your value just against your sport, you tend to forget there are lot of other things in life that you can actually do. They are some things I would maybe like to look into after my riding career is over."
Leung said this year has definitely given her some perspective on what is really important, and that horse riding, much like life, can throw you off at times.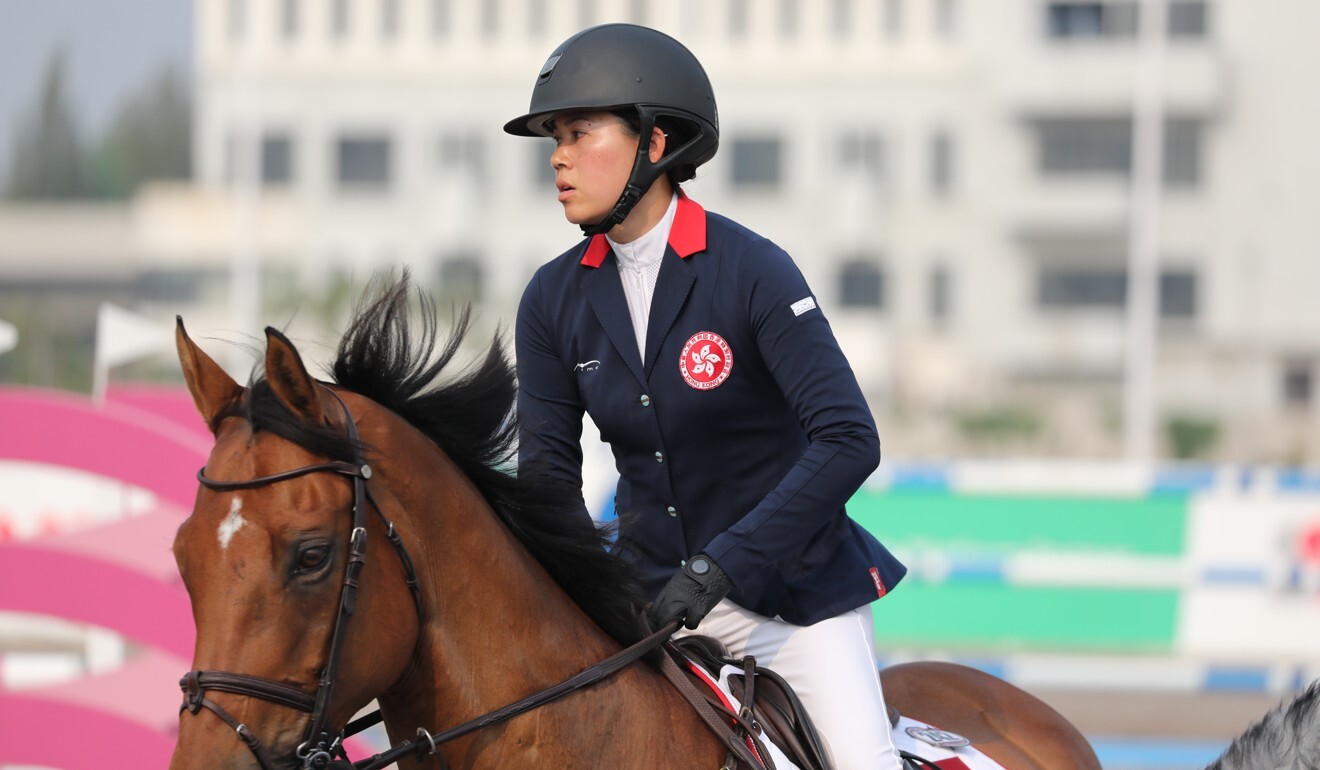 "I think it's good to keep goals in mind but also not to put too much pressure on yourself to be pushing towards it. There has got to be a balance, you have to be able to work towards something but at the same time not overdo it. Obviously, the road to any goal has very unexpected turns."
This article appeared in the South China Morning Post print edition as: Leung hopes to jump into games selection