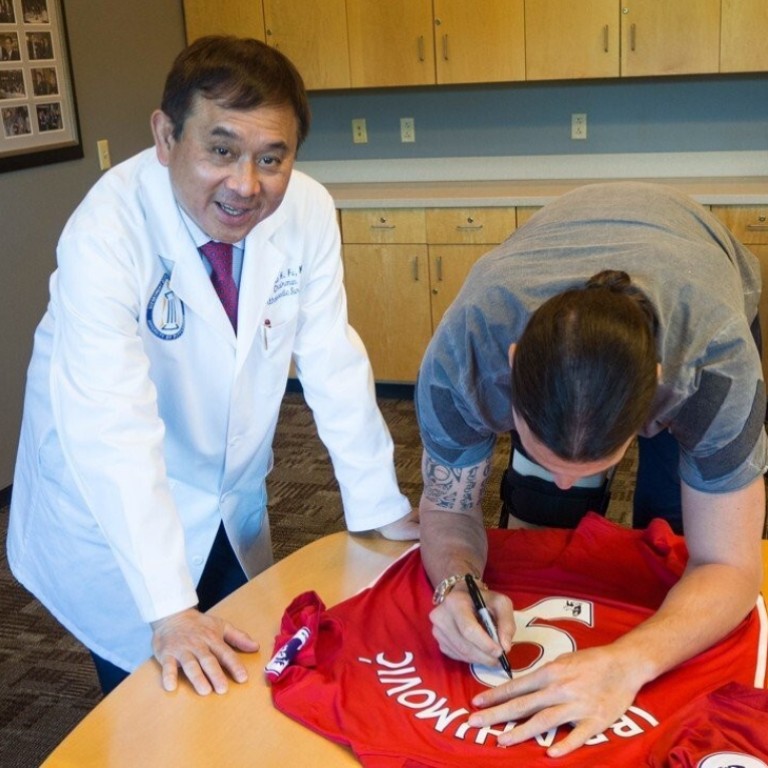 Obituary

|
Dr Freddie Fu, the Hong Kong surgeon who saved Zlatan Ibrahimovic's career, dies aged 71
Fu carried out over 20,000 knee surgeries since his first in 1981, 6,000 of them ACL repairs
Fu was famously credited with saving the career of superstar footballer Zlatan Ibrahimovic
World-renowned Hong Kong surgeon Dr Freddie Fu Ho-keung died at home in Pittsburgh, USA aged 71 on Saturday.
Fu was famously credited with saving the career of superstar footballer Zlatan Ibrahimovic after the Swede suffered a career-threatening knee injury while playing for Manchester United in March 2017.
Ibrahimovic made a near miraculous recovery following Fu's surgery and went on to play for the club again that season, returning for the final of Manchester United's successful Uefa Europa League campaign, Ibrahimovic's first European title.
About to turn 40, Ibrahimovic scored his 503rd career goal earlier this month for his latest club, Italian giants AC Milan.
Fu, a fiercely proud Hongkonger, served as the team physician for Pittburgh's Department of Athletics and the Pittsburgh Ballet Theatre during a storied career. He was also the professor and chair of orthopaedic surgery at the University of Pittsburgh Schools of the Health Sciences.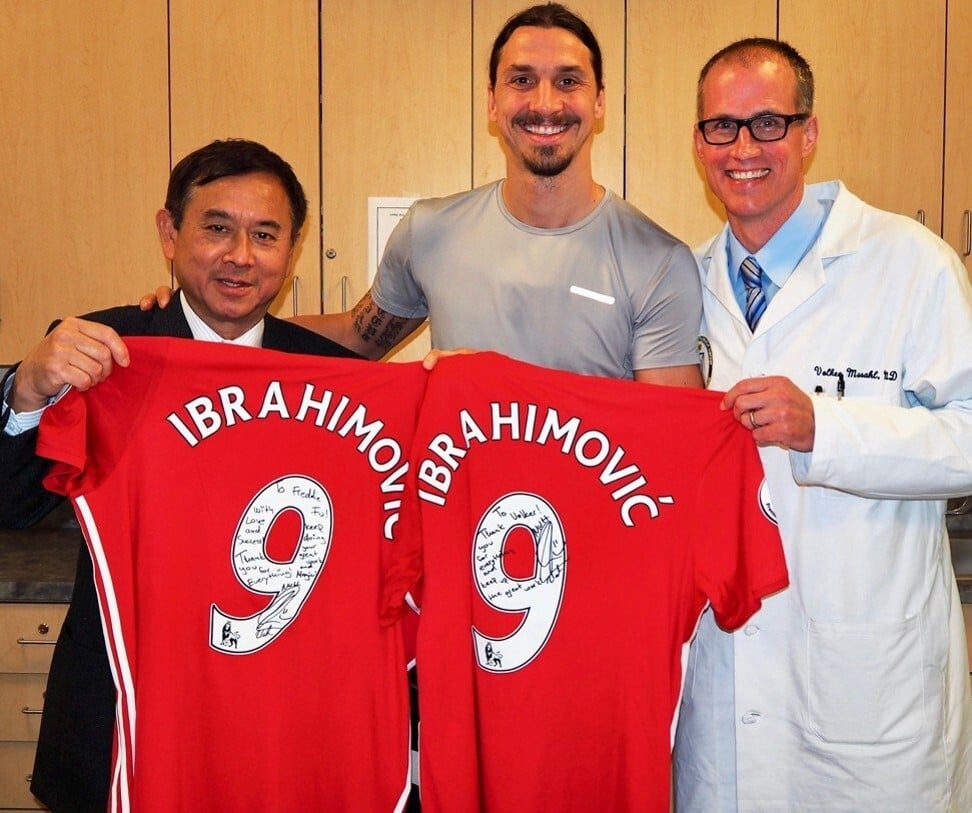 "I belong to Hong Kong, I always belong to Hong Kong, my family's still there and I love Hong Kong," Fu said in a 2017 interview with the Post. "Nothing will take me away from Hong Kong!"
Fu, one of five children, had a comfortable childhood on Bonham Road in the city's Mid-Levels, where his family has lived since ancestors emigrated from Foshan. His great-grandfather started a successful import/export business and his grandfather expanded into property, but when the time came that Fu might get involved, his father – whose own effort to study medicine failed after Japan invaded Hong Kong and HKU was shut down – encouraged him to study abroad.
"I went to St Paul's College and I'm very proud of it," Fu said. "Good teachers, good memories: I played on the basketball team, and we won the championship, beating Lingnan Secondary School – they'd won seven years in a row and we upset them in 1969!"
Fu, who was a pioneer in the field of anatomic ACL reconstruction, became the go-to surgeon for thousands of professional sports men and women who required career-saving surgery.
Fu said he had carried out 20,000 knee surgeries since his first in 1981, 6,000 of them ACL repairs. And that the Pittsburgh Steelers NFL team, the university's Panthers American football team and the Penguins NHL side were regular clients.
Hong Kong born and raised, he studied at St Paul's College before heading to the US in 1969. He received undergraduate and postgraduate degrees at Dartmouth College and Dartmouth Medical School before receiving his medical degree from the University of Pittsburgh in 1977.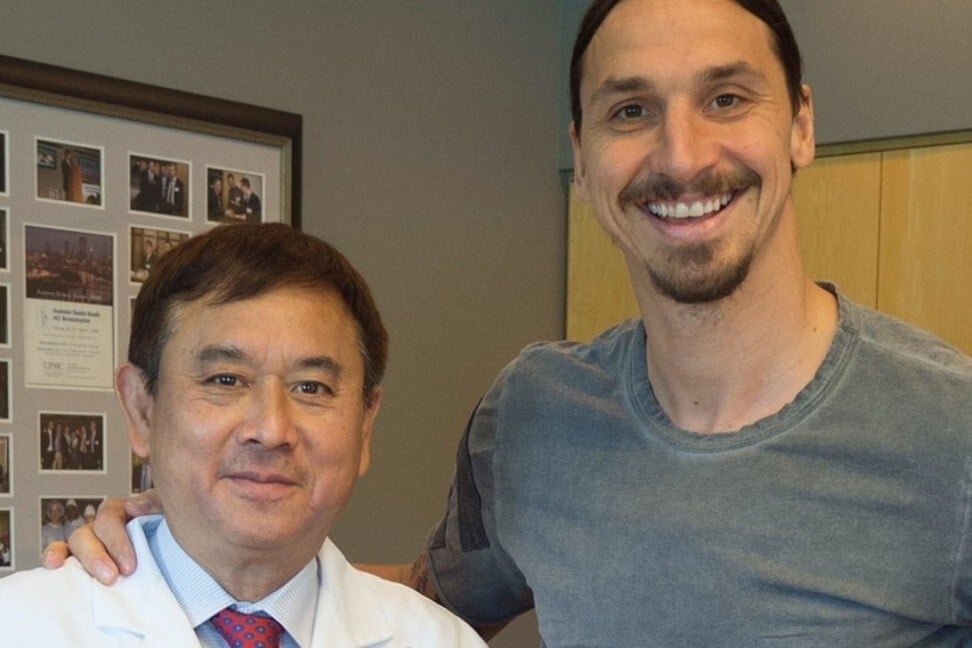 He settled in Pittsburgh and lived in the city for some 50 years, becoming a pillar of his community.
He established a sports and preventive medicine institute at the University of Pittsburgh in 1985, which is now regarded as one of the best in the world.
"I'm fifth generation in Hong Kong. I never knew I was going to stay here, but I fell in love with the city," Fu said in a 2014 interview with Pittsburgh Business Times.
"People don't know Pittsburgh that well in Hong Kong and I never thought about it," Fu said. "I thought I'd go to California or somewhere like that.
He was named one of the 100 most influential Pittsburghers of the 20th century, Person of the Year, and Pittsburgh Man of the Year during his 50 years residing in the city. The city even named September 23, 2016 "Dr Freddie Fu Day" in his honour.
Fu revealed in that interview that his love of sport came from his mother, while his father pushed him towards medicine.
"I learned sports from my mum," he said. "She played basketball in Hong Kong in high school. My mum was so good she was like an all-star, but her father decided that girls shouldn't play. He told her don't play. The coach told her to change her name to play, which worked until they took her picture for the newspaper and her father saw it.
"My father attended medical school for one year, so he never fulfilled his dream. My father said go study in America. Be a professional. That is what's important. Looking back, it was a pretty bold move."
His elder brother Frank Fu, is the Emeritus Professor and honorary consultant at Dr Stephen Hui Research Centre for Physical Recreation and Wellness at Baptist University and has served Hong Kong sports in different capacities including as chairman of the Hong Kong Coaching Committee.
Fu died at home surrounded by his family. He is survived by his wife of 47 years, Hilda Pang Fu, and his son, Gordon, and daughter Joyce.
This article appeared in the South China Morning Post print edition as: Renowned Hong Kong surgeon Fu dies at 71