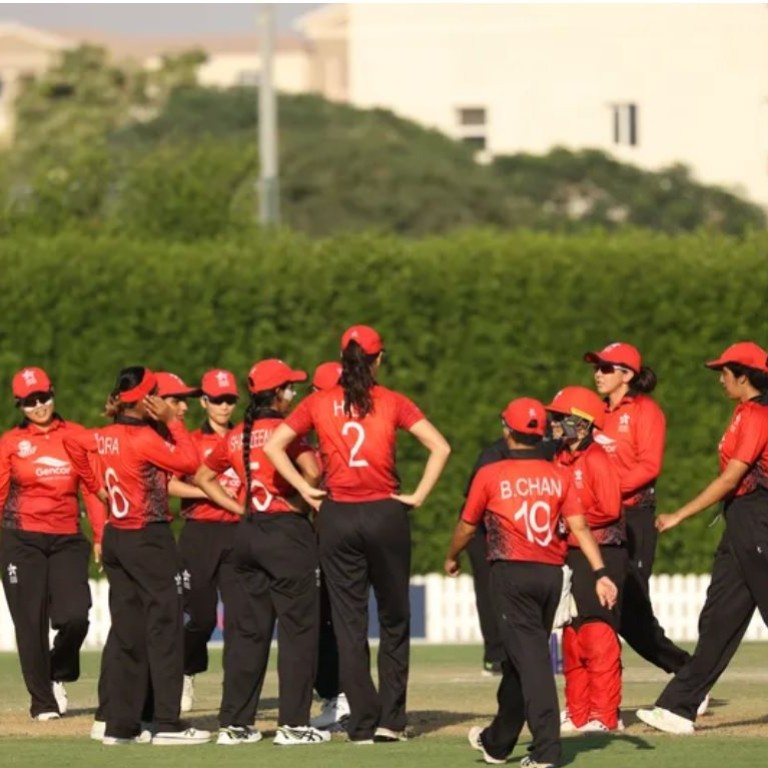 T20 World Cup qualifier: Hong Kong women face uphill task to reach cricket finals despite cruising past Bhutan
Hong Kong score a 20-run win over the Asian minnows but UAE remain favourites to reach the next round of qualifying after thrashing Kuwait
Even if Nepal beat UAE in their match, Hong Kong's run rate is unlikely to be good enough to overhaul their rivals and seal the single qualifying spot available
Hong Kong eased to a convincing 20-run win over Bhutan in Dubai on Friday, but their hopes of moving on to the next stage of T20 World Cup qualifying appear all but over.
With United Arab Emirates cruising to their fourth win of the tournament with a crushing seven-wicket win over Kuwait, and Nepal making short work of Malaysia, Chris Pickett's side would need a minor miracle to progress.
Nepal play the hosts tomorrow in the final round of matches, and even if they win, and Hong Kong dispatch Kuwait, the three sides would finish level on points. Hong Kong's net run rate is not good enough for them to overhaul the other two sides.
Still, ending their tournament with only one defeat would be a significant achievement, and while they were not at their best against Bhutan, they were more than good enough.
Put into bat after skipper Kary Chan lost the toss for the first time, Hong Kong started slowly and lost Shanzeen Shahzad in the first over when she played and missed a straight one and was bowled by Anju Gurung.
Mariko Hill followed soon after as Hong Kong were reduced to 13 for two in the fourth over. Hill, like Shahzad, contributed to her own downfall, and was bowled by Tashi Cheki trying to cut a fuller length delivery.
Natasha Miles and Kary Chan then set about building a decent score, putting on 69 for the third wicket before Miles holed out to Karma Samten for 34.
Chan was on 28 at that stage and added another 15 to her total before departing with the score on exactly 100, and her side five down following the loss of Emma Lai, who was stumped by Sonam Paldon off the bowling of Tshering Zangmo for just two.
Hong Kong's runs by that stage had been all hard-earned, with Bhutan only conceding three boundaries in the entire innings. Ultimately though they paid the price for a costly spell from Dechen Wangmo, who conceded 29 from her three overs, with Miles' scalp scant consolation.
A flurry of wickets towards the end gave Gurung healthy figures of three for 10, as Hong Kong finished on 109 for eight.
The clumsiness that cost Hong Kong their early wickets when batting manifested itself in the field at the start of the Bhutan innings, with a succession of missed run outs as Paldon and Ngawang Choden set about chasing down the 110 they needed to win.
Even when Paldon dragged the ball on to her stumps to give Ruchitha Venkatesh the breakthrough Hong Kong sought, Bhutan were still in the game at 14 for one.
But as the Hong Kong bowlers kept things tight, the run rate climbed, and the loss of Wangmo (4) and Choden, who was run out for 22, in the 10th over with their side on 36, largely ended the game as a contest.
While Bhutan's bowlers had been costly in the middle overs, Hong Kong's gave up just 31 runs in the next nine as their opponents crawled to 67 for four. They finished on 89 for seven thanks to a 14-run partnership at the end between Gurung (11) and Yeshey Wangmo (7).
"I think although we had the early hiccup when we batted, we demonstrated our improved ability to absorb pressure and rebuild," Chris Pickett, the Hong Kong coach, said. "With the ball we looked in control and we just applied continuous pressure to drive up the required run rate.
"To be fair, I think a lot of credit should go to Bhutan for making us have to fight for the win. They are a developing squad and have moved forward since the last time we played each other."