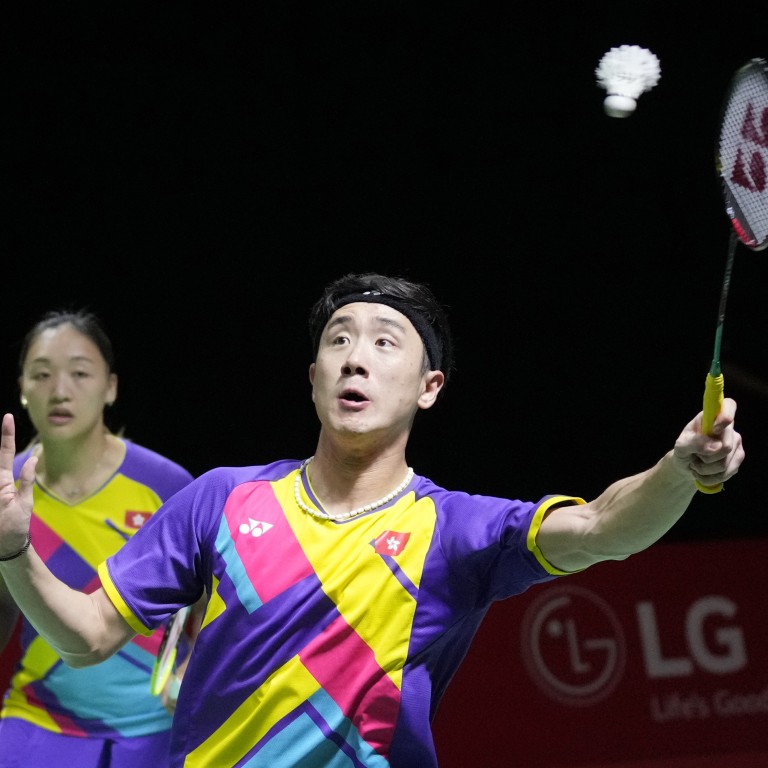 BWF World Tour Finals: Hong Kong's Tang Chun-man and Tse Ying-suet storm into semi-finals in Bali
The mixed doubles pair beat Indonesian rivals Melati Daeva Oktavianti and Parveen Jordan to finish second in their group
To reach final, they must overcome the same Japanese pair whom they lost to in the bronze medal match at the Tokyo Olympics
Hong Kong mixed doubles pair Tang Chun-man and Tse Ying-suet sauntered into the semi-finals of the HSBC World Tour Finals in Bali on Friday after a clinical victory over their Indonesian rivals.
With Thai duo Dechapol Puavaranukroh and Sapsiree Taerattanachai topping Group B with three wins, Friday's match between Indonesia's Melati Daeva Oktavianti-Parveen Jordan combination and Hong Kong was to decide second place in the group.
And Tang and Tse won handsomely in straight games with a 21-15, 21-11 victory that took only 30 minutes and gave them a last-four place in the lucrative US$1.5 million tournament.
Badminton head coach Tim He Yiming was full of praise for his two players, saying the pair showed strong determination to win despite fatigue from playing non-stop on the tour since October.
"It was their sixth tournament in a row since October and in the end whoever has a strong mental state to win will emerge triumphant," said the coach. "All the players are tired as you can tell from their movement and they need a high degree of mental strength to hang in there. Once you collapse, you cannot get back up.
"The two pairs were still in contention for the first six or seven points in the first game but then their men's player started losing power and Tang and Tse could easily wrap it up. There was no change in the second game as Hong Kong had already got the upper hand with a strong determination to win."
After the group stage, the Hong Kong pair will face another daunting task as they take on winners of Group A, Japanese pair Yuta Watanabe and Arisa Higashino, On Saturday.
The Japanese combination won the Olympic bronze medal this summer after beating the Hong Kong team in their play-off in Tokyo. Tang and Tse then held the upper hand two weeks ago in the Indonesia Masters ago before losing to the Japanese in last week's Indonesia Open.
"The two sides are very close and whoever has the stronger determination to win will succeed," said the coach. "Tang and Tse reached the final in their 2017 world tour finals debut and I hope they can do it again this time. They are playing really well."