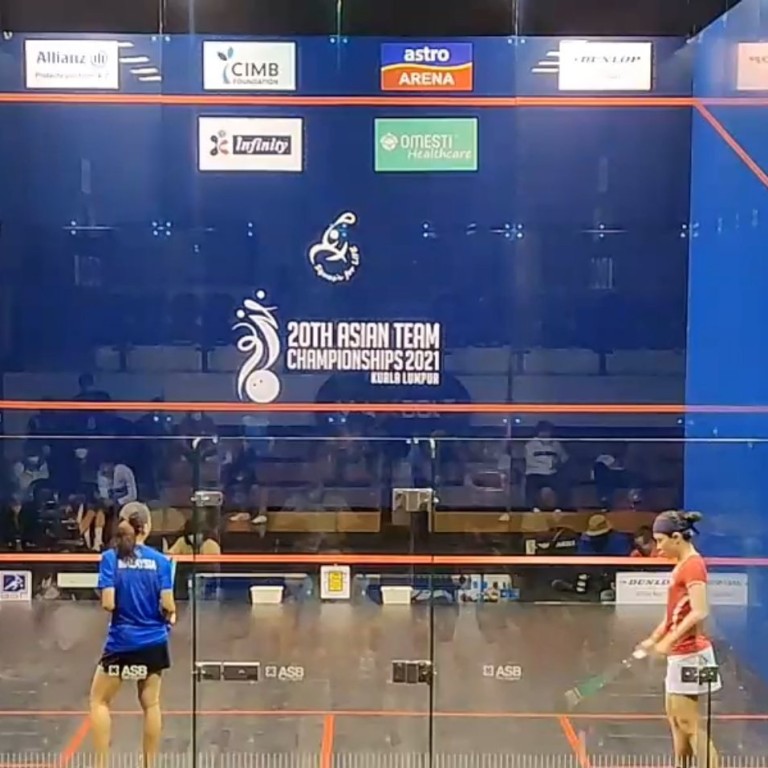 Hong Kong target Hangzhou 2022 medals after women fall to Malaysia in Asian Squash Championships final
Tong Tsz-wing wins her rubber but Liu Tsz-ling and Ho Tze-lok lose their matches to give the hosts a 2-1 triumph in the final
Coach Peter Genever says the tournament has helped him assess Hong Kong's level compared to Asia's best as they set a course for Hangzhou next year
The Hong Kong women's team maintained their status as one of the best in the region despite falling short of defending their title at the Asian Championships in Kuala Lumpur on Saturday.
The squad of Liu Tsz-ling, Tong Tsz-wing and Tomato Ho Tze-lok went down 2-1 to hosts Malaysia in the final at the National Sports Centre after a gruelling week that included a tough 2-1 semi-final victory over India on Friday.
Second in Asia is still not a bad effort against a strong Malaysian outfit, with Liu and Ho losing to their opponents while Tong picked up Hong Kong's sole victory.
Rachel Arnold gave Malaysia the lead with a 3-1 (11-6, 8-11, 11-7, 11-2) win over Liu before Tong levelled the match by beating Ainaa Amani 3-1 (11-8, 11-6, 6-11, 11-9). It was left to the final match between Ho and in-form Aifa Azman and the local player proved too strong by sweeping to victory 3-0 (11-4, 11-3, 11-6) in 23 minutes.
"Obviously, our priority was to make the final," said Hong Kong coach Peter Genever. "Today was tough, we always knew the Malaysia squad was very strong even though they were missing a player. They are a strong side and it came down to a deciding match.
"Aifa is in really good form and she recently won the Malaysian Open, beating a top 10 player on that court so we knew she had really good preparation. She played very well and Tomato couldn't get into the game."
Hong Kong entered the competition as defending champions in the men's and women's events, with the men losing to India in the semi-finals.
The Hong Kong women went one better but are still rebuilding after the retirement of their top two players, Annie Au Wing-chi and Joey Chan Ho-ling. Reaching the final is a major effort and a measure of the depth of talent in the city.
The men were also without Asian Games champion Leo Au Chun-ming, Annie's brother who has also retired from the sport. Genever said the main target was success at next year's Asian Games in Hangzhou, China.
"This week we wanted to see where we were in terms of our level against the best sides in Asia and this has given us a pretty good idea of what we need to work on," said Genever, who became head squash coach at the Hong Kong Sports Institute in March last year.
"There is plenty of improvement needed and this is a good starting point. Of course, we are one of the top four sides in the region and I wanted to see how the players would react in a team competition, which is a little bit different to playing in individual events; different dynamics.
"The other teams are a bit more established and have maybe been playing longer together. We've lost one or two of our better players so the current squad are having to take different roles and responsibilities and that's interesting to see how they've done that.
"It's my first tournament and gives me a chance to look at all the areas; communications and how coaches are working with players. The Asian Games is our big target and we want to make sure we do everything as right as we can."
The squad will train in Malaysia for a week before travelling to Pakistan for the Asian Championships individual competition starting on December 15.