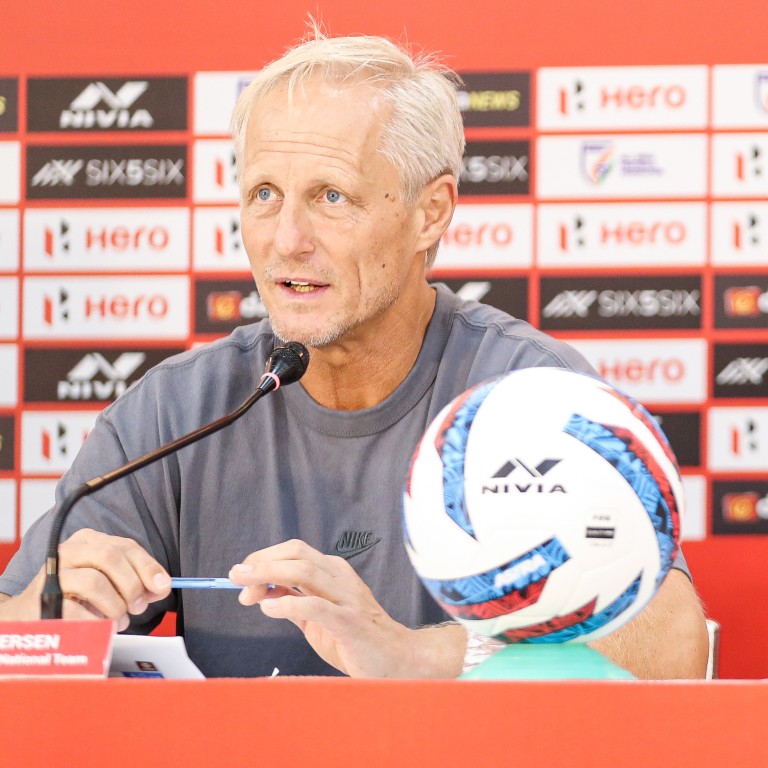 2023 Asian Cup qualifiers: Hong Kong boss refuses to play it safe despite draw being enough against India
Hong Kong lead India by goal difference as both have six points going into last group match on Tuesday night
But Hong Kong may have qualified before the match if earlier results go in their favour
Hong Kong will not change their aggressive style of play under new coach Jorn Andersen, despite only needing a draw against India to qualify for the 2023 Asian Cup for the first time for more than 50 years.
Heading into the last Group D match against the hosts in Kolkata on Tuesday night (kick-off 11pm HKT), Hong Kong lead India on goal difference with both sides having beaten Afghanistan and Cambodia in their previous games.
Victory or a draw will guarantee that Hong Kong finish top of the group and qualify, but they may still reach next year's finals even if they lose, with the five best second-placed teams also progressing.
Andersen's side could already have secured their spot in the finals by the time they kick-off, with the Philippines, who have four points, needing to beat Palestine in Group B to pass either Hong Kong or India's total of six points.
The region's top 13 teams have already made it through to the 2023 cup tournament, leaving 11 spots for the qualifiers.
Despite only needing a draw, Andersen, who replaced Mixu Paatelainen as Hong Kong coach in December, has insisted his team will not be playing it safe.
"There will be no change of the game plan even though one point is good enough," he said. "We will find a game plan which we believe we can beat them. We will focus on our way, try to attack India, try to touch them because they don't like that.
"No team likes to play against an aggressive team who attacks them, who presses high, who defends high. No teams like that and that's our strength for tomorrow."
The Hong Kong coach insisted the hosts were favourites to win, pointing out that according to the Fifa rankings there were the strongest team and would also have thousands of fans roaring them on.
"It will be the first time we play in front of a big crowd and I hope it will become a strong motivation for our players," he said. "Also, it will be our first match to start in the evening after two games in the afternoon, which should help us with [the temperature] three to four degrees Celsius lower."
Indian coach Igor Stimac said while Hong Kong were "deservedly leading the group", his side knew what they had to do to win the game.
"As you can see they are a well-organised side, a disciplined side with enough quality to defend and attack but we studied them, all their main strengths and weaknesses and we know what we need to do to win this game," he said.
While Stimac said there was "less pressure but not less motivation" because of the points the two sides already have, the importance of the game could come down to nothing more than pride.
The Philippines have to beat Palestine in Group B and it is a similar scenario in Group E, where hosts Malaysia are in second place with three points and must beat Bangladesh by a big margin to overtake leaders Bahrain, who have six points.
Bahrain face a tough match against Turkmenistan, and both games will finish before Hong Kong and India get under way.
Despite facing a lot of difficulties before arriving in Kolkata, Andersen is extremely pleased with the performance of his players as his side get ready to wrap up a successful qualifying campaign.
"The players have reached my expectations," he said. "The team has improved a lot over the last four weeks as the players now see they can compete in international football, can create goal chances … everything can give us confidence which will be good to take the game tomorrow."
Additional reporting by Michael Church