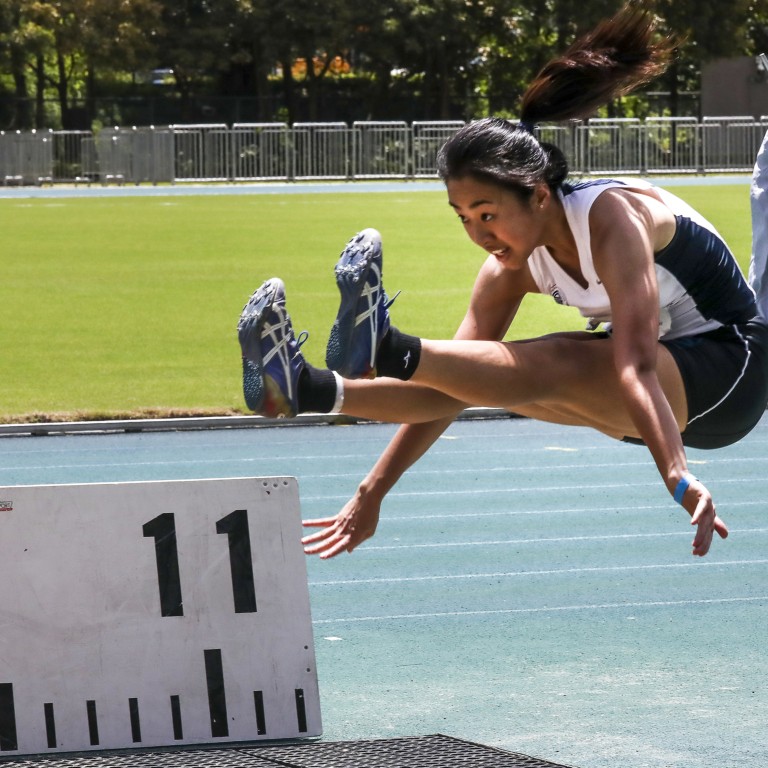 Double mission for triple-jumper Shannon Chan after winning Hong Kong Championships
Chan clears 12.73 metres to win title at Tseung Kwan O, weeks after breaking the Hong Kong record
The 24-year-old wants to see more people taking up her discipline
Triple-jumper Shannon Chan not only wants results to boost her career but also believes she has a mission to promote her discipline, which is quite uncommon in Hong Kong, especially among women athletes.
Chan on Sunday went close to her own city record at the Hong Kong Championships when she leapt 12.73 metres in her final jump at Tseung Kwan O Sports Ground.
It was shy of the 12.87m she had set in Hong Kong Athletics Series 3 a month ago, but she felt it was quite satisfactory in the conditions.
"The wind has been very strong throughout the competition, making it a bit difficult to adjust my rhythm," the 24-year-old Baptist University student said. "The last jump was the only one made under the allowed wind speed, so it is a good result. It is already my second-best performance."
Introduced to triple jump by her coach Tse Mang-chi, who held the Hong Kong record from 2016 until it was broken by her student last month, Chan has taken great interest in the discipline.
"Triple jump is a challenging event which requires great skills if you want to do well," Chan said. "I have been doing this for more than six years and still keep working on it.
"Perhaps the fact that triple jump is not a competition discipline for schools and universities in Hong Kong hinders its development. I hope more young athletes can try and enjoy triple jump."
Chan has set herself a target of making it to one of the major sporting games. If she manages it, she may also do her bit to help make triple jump more popular in Hong Kong.
Her recent Hong Kong record surpassed the minimum standard set by World Athletics to compete at the Asian Games, but that will have to wait after the postponement of the 2022 Games in Hangzhou because of China's Covid-19 outbreak.
"Now that the Games have been postponed, we'll have to see whether there are any new requirements," Chan said. "But taking part in more overseas competitions is definitely my target."
To improve her chances of doing so, Chan also hopes to qualify for the scholarship programme at the Hong Kong Sports Institute, to receive more comprehensive support.
"I need to jump 13 metres to qualify, so this is also one of my targets," Chan said. "The next domestic competition will not start until October, so I will use the time until then to try to sharpen my skills."