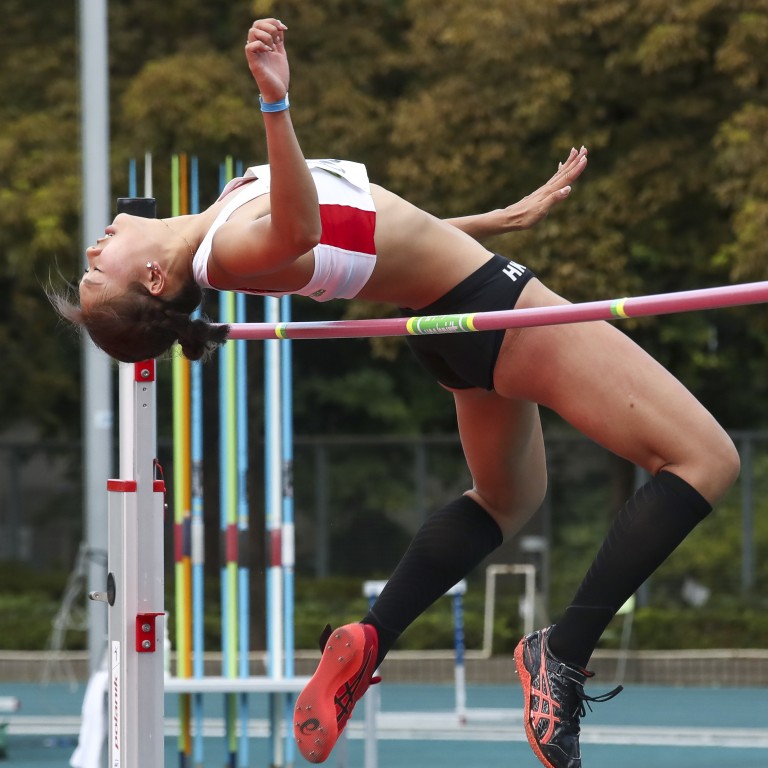 Hong Kong Athletics Championships: 'intense agony' for injured Cecilia Yeung, but quarantine videos help Tiffany Tang
Yeung pulls out of high jump during warm-up after popping noise in her problem knee, and leaves the meet in tears
Personal best for winner Phoebe Chung, while Tang is second only 3 days after leaving quarantine, where she had to prepare by watching training footage
Phoebe Chung Wai-yan took advantage of a last-minute withdrawal by favourite Cecilia Yeung Man-wai to win the high jump at the Hong Kong Athletics Championships on Sunday.
Chung took first place at Tseung Kwan O Sports Ground with a personal best of 1.77 metres, while Tiffany Tang Yi-ching, who left hotel quarantine only three days earlier, came second with 1.75m.
Yeung was forced out of Sunday's competition after an old knee injury flared up again during the warm-up.
Under fierce sun on Sunday, Chung was successful at 1.64, 1.68 and 1.71, all cleared with one jump, then with her second attempts at 1.73 and 1.75. She went on to clear 1.77 with a single jump before falling short at 1.79.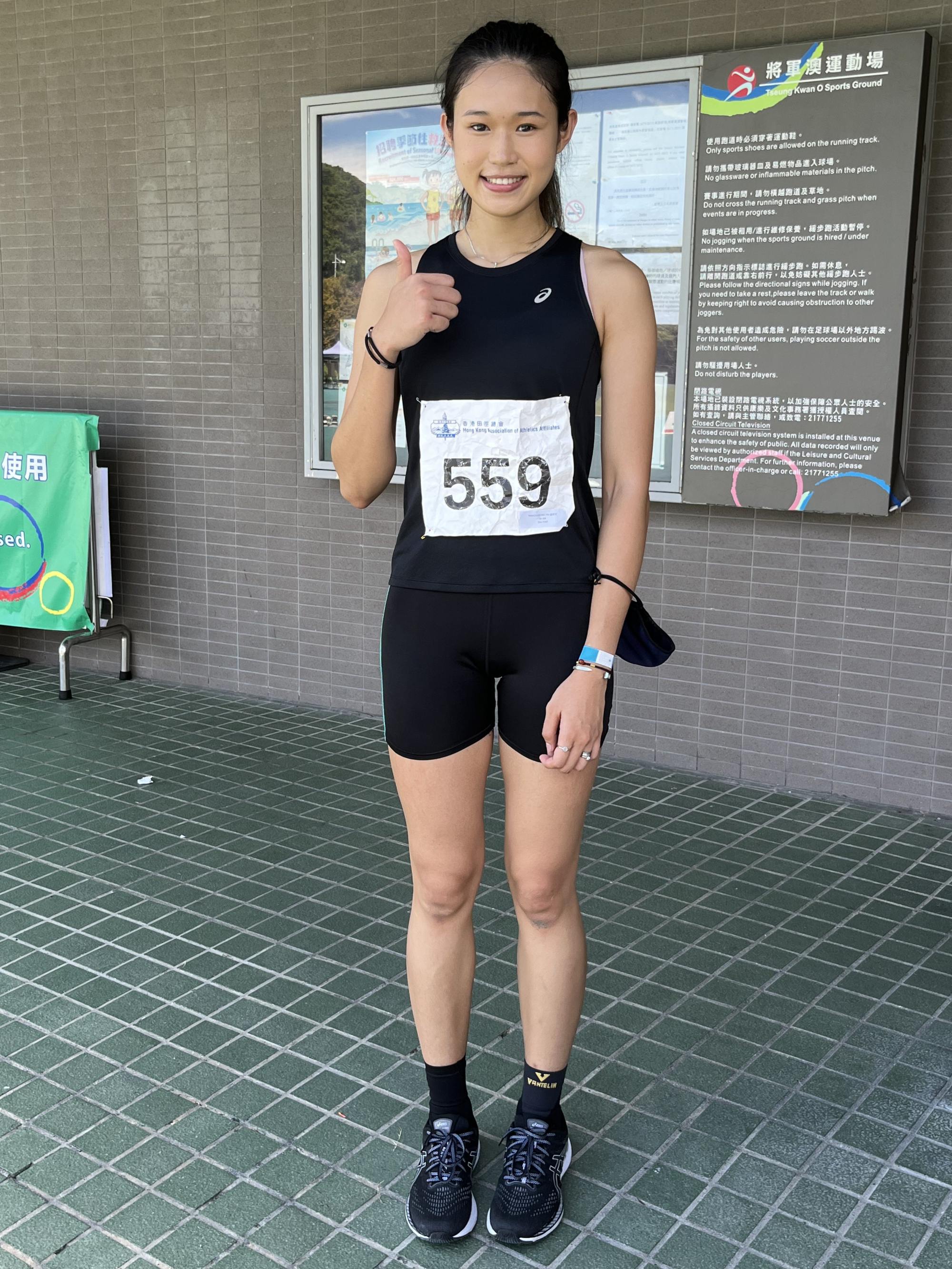 "The weather is quite challenging, and I was a little worried about my performance in the first few attempts," Chung said. "It wasn't until 1.75m that I found my rhythm."
The 23-year-old, whose previous best of 1.75m was achieved at the same championships last summer, joined the Hong Kong Sports Institute last year as a full-time scholarship athlete.
"Now that I'm a full-time athlete, my aim at every meeting is to beat my personal best," she said. "I'm glad to achieve it here.
"I always think that because I am 1.79m tall, I should hope to jump at least 1.80. I'll see if I can make it in October at Hong Kong Athletics Series 4. I plan to improve on my leaping in these next few months."
Asked about the Hong Kong record of 1.88, set by Yeung in 2017, Chung admitted that it was still "a long way" off.
"The best approach for me, to reach a higher level, is to have the opportunity to train abroad and participate in as many major meets as I can," she said.
Yeung had just returned to Hong Kong after two months of training in Portugal under new jumps coach Rolf Ohman, but had an ice pack on her left knee – her jumping leg – as she exited the arena in tears.
"This is the last meet [until Series 4 in October], and my aim was to jump 1.76m, then focus on dealing with my knee in the next few months," Yeung said.
"I took painkillers before the competition, but when I tried to leap during the warm-up, my knee made a loud popping noise, and I immediately felt intense agony. I feel that my knee might be dislocated, so I need to get checked out right now."
She said she had been experiencing pain when jumping for the past year.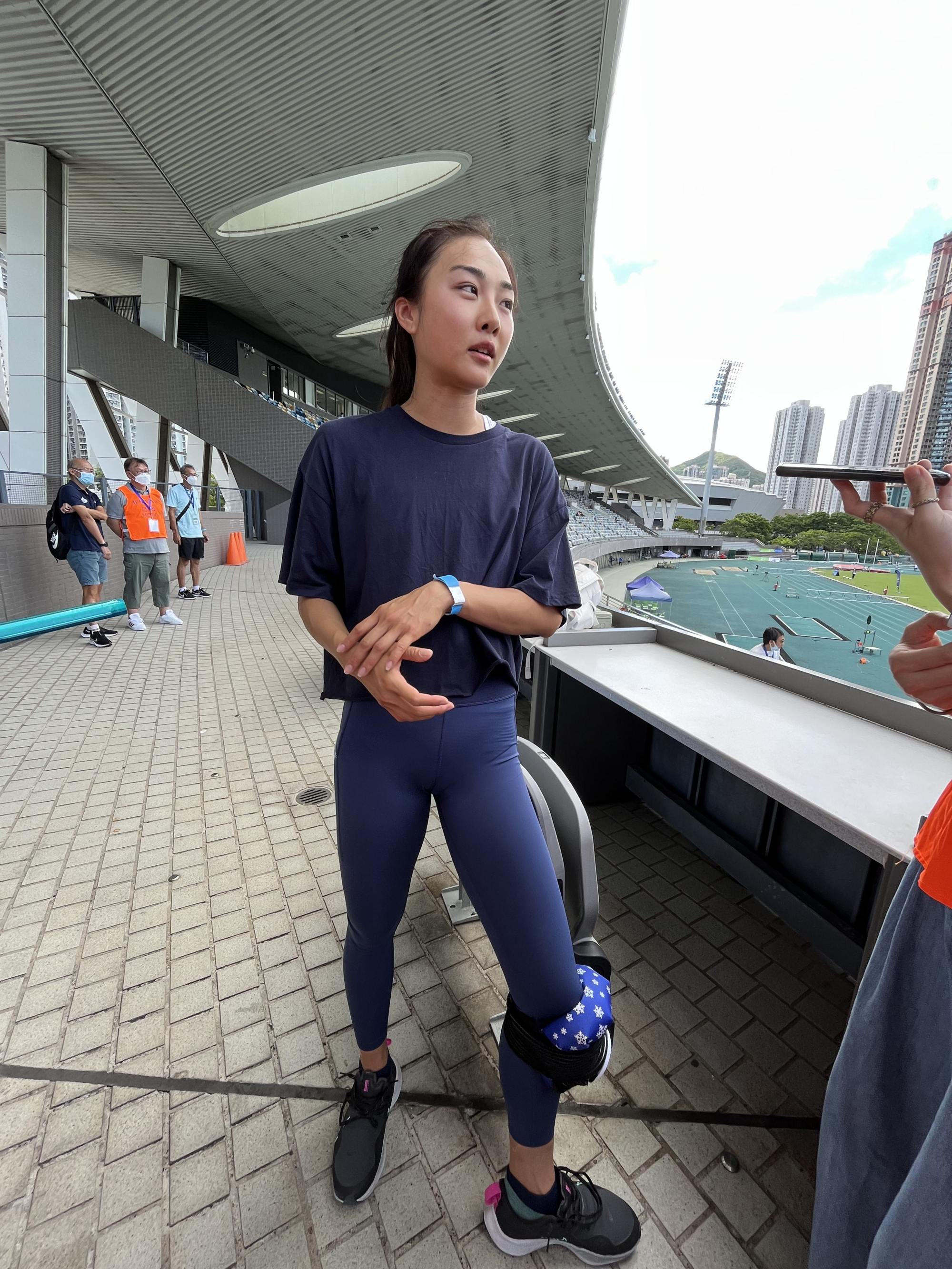 Runner-up Tang had successful first attempts at 1.64, 1.68, 1.71, 1.73 and 1.75 before failing at 1.77. She, too, has been training in Portugal, and said her run-up was much improved.
"Having checked out of my quarantine hotel on Thursday, my result has surprised me," Tang said. "[For preparation] I had mainly just watched training tapes at the hotel."
Sunday was the last day on which athletes could qualify for the World Championships in Oregon next month.
None of the Hong Kong contingent have so far joined marathon runner Christy Yiu Kit-ching, who had already qualified by world ranking. Long-jumper Ko Ho-long was still set to compete in Europe later on Sunday.