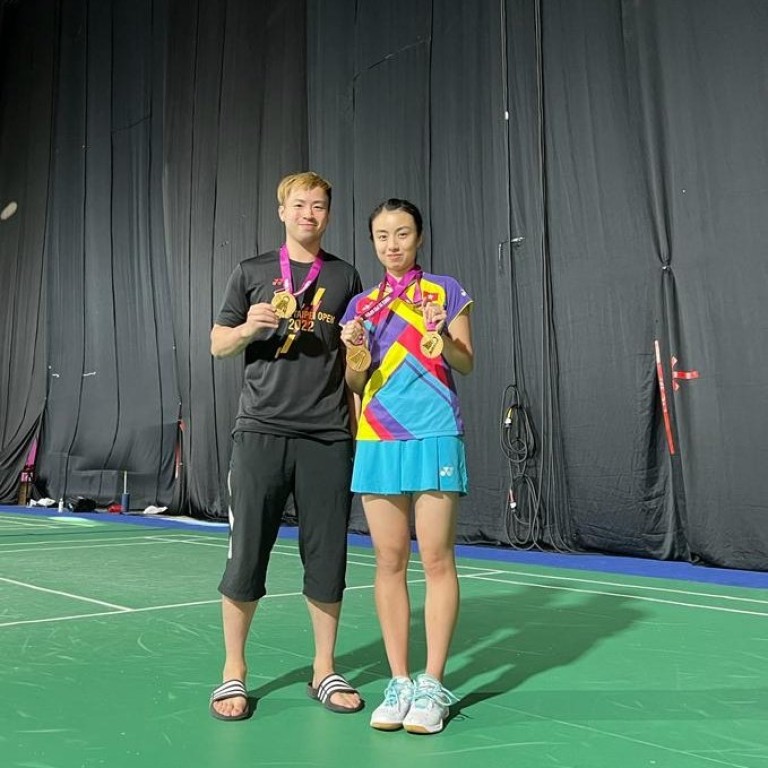 Doubles delight for Yoyo Ng at Taipei Open, as Hong Kong badminton player takes mixed and women's titles
Ng partners with Reginald Lee to win mixed doubles title, hours later she and Tsang Hiu-yan take women's title
Lee hails partner's performance and says Super 300 win is just the beginning for the pair
Mixed doubles Reginald Lee Chun-hei and Yoyo Ng Tsz-yau won their maiden Super 300 badminton title on Sunday at the Taipei Open, with Lee believing it was just the beginning for their new partnership.
Chun, who was previously ranked sixth in the world with the now-retired Cathy Chau Hoi-wah, said Ng deserved high marks for her performance.
It was a good day all around for Ng, who also won in the women's doubles alongside Tsang Hiu-yan.
"I did well today, but it was Yoyo who provided her finest performance in the game, whether it was serving, attacking, or defending; she did a good job today," Lee said.
Lee and Ng dominated their opponents, Ruttanapak Oupthong and Chasinee Korepap of Thailand, winning 21-8, 21-9 in a match that was over in 30 minutes.
"I heard someone in the court saying 'add oil, Hong Kong squad' in Cantonese, and some praising us with unending clapping, and I want to thank them for their support in Taipei," Lee said.
Lee was part of Hong Kong's most successful pairs with Chau, and the duo set several benchmarks for Hong Kong mixed doubles badminton between 2012 and 2018, including being Asian champions in 2014, bronze medallists at the 2015 BWF Super Series Finals and 2017 World Championships.
Lee has been away from the tour for the past three years because of a shoulder injury, the change in partners, and the coronavirus pandemic, and it wasn't until last November that he linked-up with Ng in the lower-tier international series, where they finished first twice, prompting them to join the Super series this month.
"I've already put the past results behind; this gold medal showed that I'm on the right route, and I'm confident that if we keep progressing, we'll be able to participate in the major tournaments in the near future," Lee said.
There was a closer contest in the women's doubles, where Ng and Tsang just edged out Japan's Yuna Kato and Rui Hirokami 21-15, 18-21, 21-19.
"It means a lot to me because it is only my second super series event and I can stand on the podium. I know I still have a lot of work to do, but this first prize definitely gives me motivation to push myself forward," Tsang said.
Taiwan No 1 Chou Tien-Chen and Tai Tzu-Ying won the men's and women's singles finals respectively, beating Japan's Kodai Naraoka 14-21, 21-10, 21-6 and Saena Kawakami 21-17, 21-16.