Fencing
Get more with myNEWS
A personalised news feed of stories that matter to you
Learn more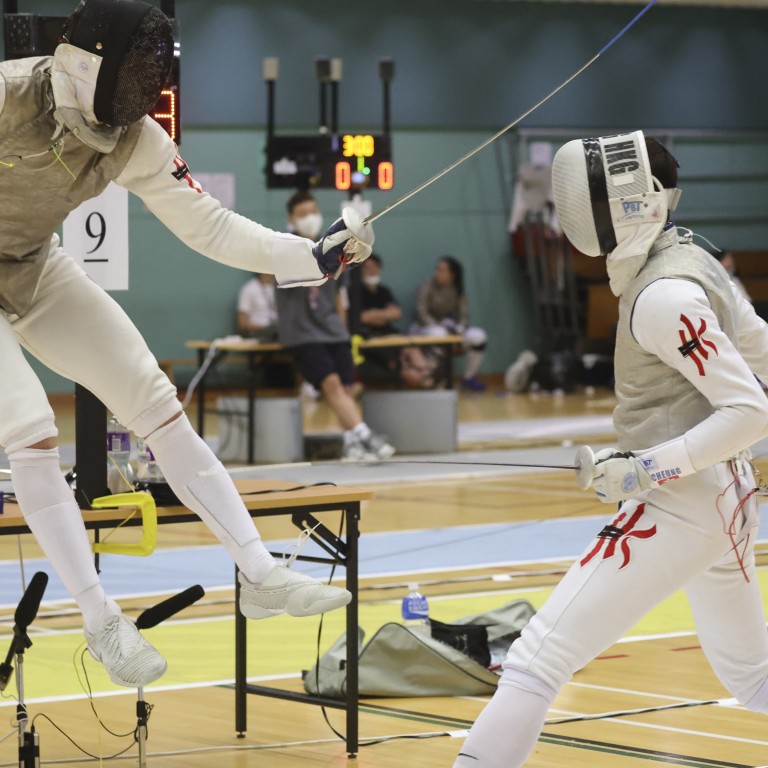 Olympic champion Cheung Ka-long seeking world title, after winning LCSD Open Fencing Championships
Cheung beats Ryan Choi in final after coming from behind by channelling spirit that helped him win gold in Tokyo
Janelle Leung Ya-lei wins women's foil title at Hong Kong Park Sports Centre
Cheung Ka-long channelled his "Olympic spirit" to win the LCSD Open Fencing Championships on Sunday, and then immediately set his sights on winning a world title.
The Tokyo Games gold medallist beat fellow Olympian Ryan Choi Chun-yin in a thrilling final bout at Hong Kong Park Sports Centre, coming from 14-12 down to win 15-14.
In a stacked tournament featuring several of the men's best fencers, Cheung claimed his third LCSD title, having won previously in 2018 and 2019.
"For the last few points, my mindset is like in the Tokyo Olympics, never give up even when I'm behind, and I just go with some variation and try some new tricks to see if it works," Cheung said.
The Olympian has enjoyed a successful year after winning gold in Japan, and claimed his first world cup title in Paris in January, and became world No 1 in April, although he subsequently slipped to second behind Italy's Tommaso Marini.
And for Cheung, reclaiming top spot from a man he has never beaten is less important than winning the world title.
"I found that I am not the same person I used to be," Cheung said. "I am less impulsive when competing, and I hope to find the best of both rationality and impulsiveness. Sometimes we need the drive to take some risky and aggressive shots.
"I just think I'm happy to have been at the top of the world ranking before [from April to July], I won't set a target to get back to world No 1, to be honest, I prefer beating Marini, he is 22 and beat me every time I met him."
Marini overtook Cheung in the rankings after beating him at the World Championships in July. The Italian subsequently went on to take silver, and the Hongkonger won bronze.
"I don't want to push myself too hard in the new season to get something from the tournament, but I really want to win gold at the World Championships," Cheung said.
Also on Sunday, Janelle Leung Ya-lei won the women's foil final 15-12 over Christelle Joy Ko, while Low Ho-tin and Laren Leung Lok-man won the men's and women's sabre titles, respectively.
Separately, men's foil coach Gregory Koenig, who helped Cheung earn that gold medal in Tokyo, was awarded coach of the year for the first time in the senior athletes - individual sport category.