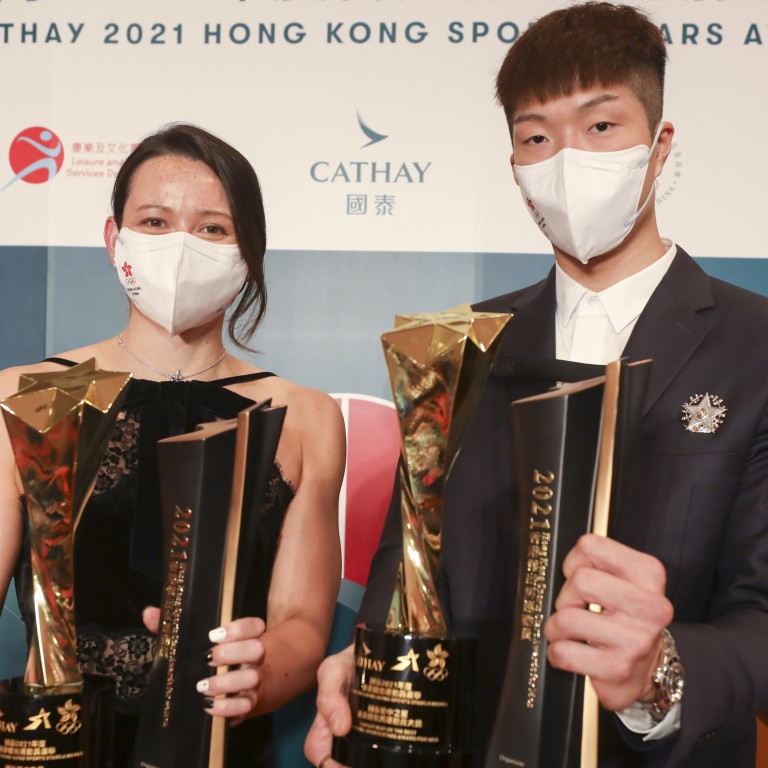 Siobhan Haughey, Edgar Cheung Ka-long named 'Best of the Best' at Cathay Hong Kong Sports Stars Awards
Double Olympic silver medallist Haughey vows to be role model for Hong Kong's next generation of athletes after winning women's category
Tokyo fencing gold medalist Cheung Ka-long tells his fans to 'never give up' after being named the men's winner at ceremony in Wan Chai
Double Olympic silver medallist Siobhan Haughey vowed to become a role model for Hong Kong youngsters after she won her first Cathay Pacific Best of the Best Sports Stars award on Wednesday.
Haughey took the most votes among the five top female sports stars of 2021, a list that comprised the 24-year-old swimmer, track cyclist Sarah Lee Wai-sze, fencer Vivian Kong Man-wai, table tennis player Doo Hoi-kem and karate exponent Grace Lau Mo-sheung.
Tokyo foil champion Cheung Ka-long – Hong Kong's first male Olympic gold medallist – also won his first Best of the Best award at the Hong Kong Convention and Exhibition Centre in Wan Chai.
Fencer Cheung came first among the five men's sports stars of the year, beating table tennis player Wong Chun-ting, gymnast Shek Wai-hung, karate athlete Lau Chi-ming – the elder brother of Grace Lau – and para-badminton athlete Chu Man-kai, a silver medallist at the Tokyo Paralympics in the men's SH6 singles.
Nominations for the four awards categories – which also included team events, and team-only sports – were made by 33 Hong Kong sports associations. The winners were decided by a judging panel – which had 50 per cent of the vote – as well as the media and the public, who had 20 and 30 per cent of the vote respectively.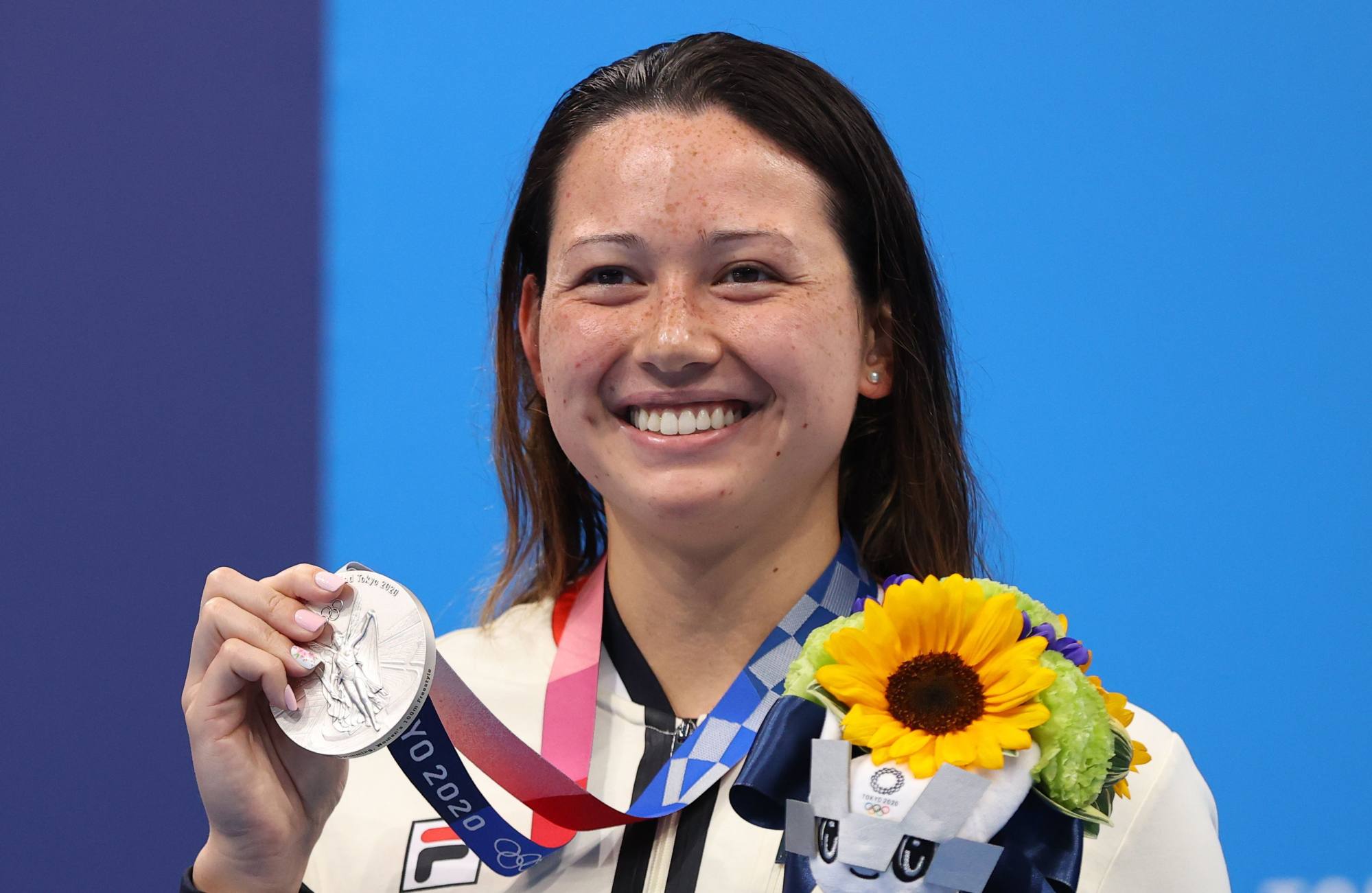 "When I read the messages and saw the video footage of Hong Kong people watching my race in Tokyo, I felt so emotional," said Haughey, who clinched the 100m and 200m freestyle silver medals at the 2020 Olympic Games.
Haughey rounded out her incredible year by winning two gold medals and one bronze at the 2021 short course World Championships in the United Arabia Emirates, with a world record in the 200m freestyle.
"I have never thought sports can foster such a sense of social solidarity and make great influence in society," she added. "I want to become a role model for them, to continue to become the inspiration of many others and bring Hong Kong people more honours.
"My role is not just as a swimmer, but a bit like a role model for young kids. Hopefully I can inspire them to swim or get into any sport, because sport is very beneficial, both physically and mentally.
"I think kids living in Hong Kong are a bit more academic focused, but with the results achieved in the Tokyo Games, we can recruit more young kids to learn whatever sports they want to do."
This year was the first occasion the Best of the Best awards had been split into male and female categories and Haughey – who will turn 25 next month – felt honoured to be named as the inaugural women's winner.
"We have so many amazing female athletes in Hong Kong and in the past it's always a female to win the overall award," she said. "I feel so honoured to win the award in such a competitive environment."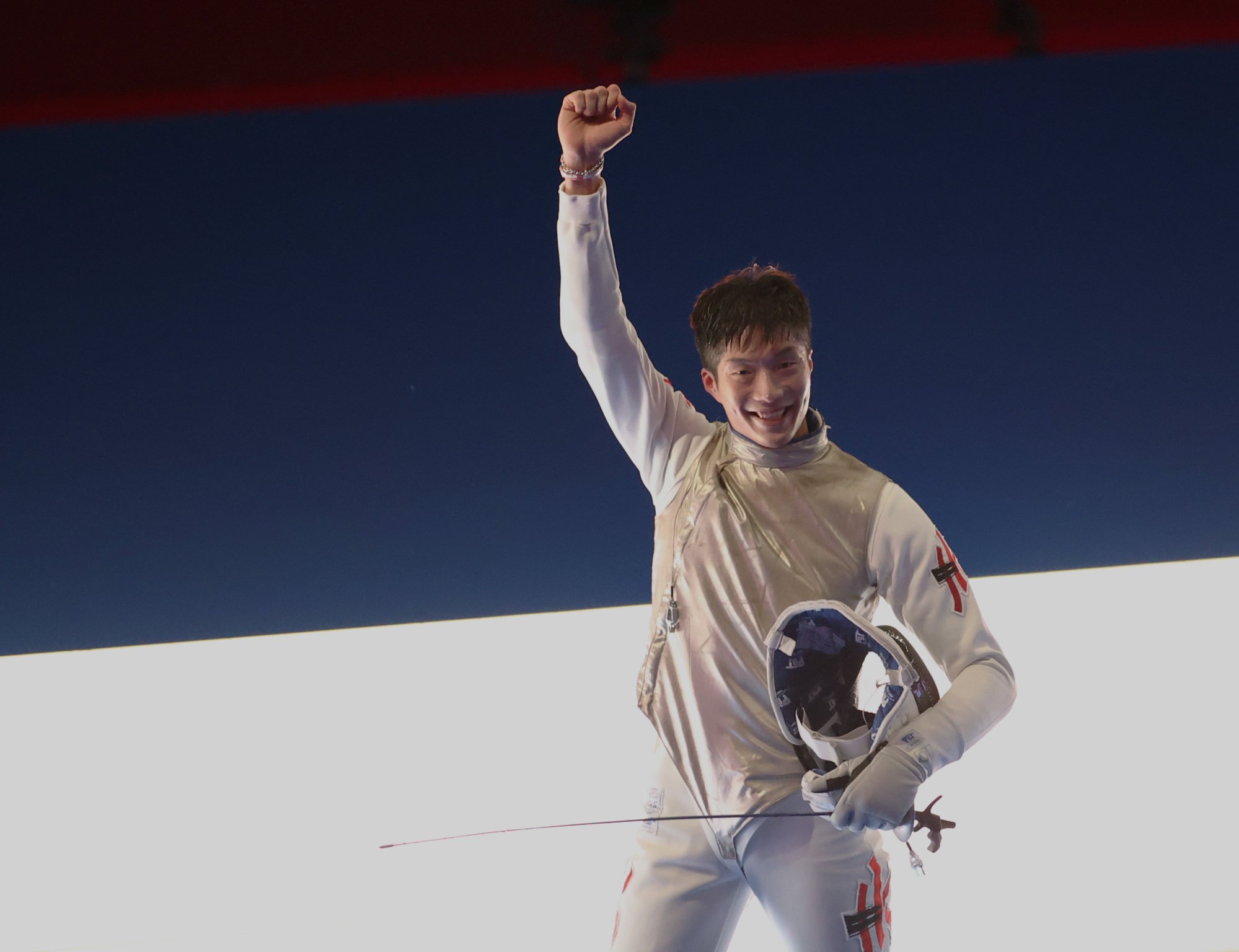 Men's winner Cheung thanked Hong Kong people for their support, after they watched him come back from the brink of defeat at 14-9 down in his Tokyo quarter-final, only to take the gold medal.
"Never, never give up until the last moment," he said. "I suffered some low moments before the Olympics, but then I hung in there and delivered in Tokyo.
"The award is a small review of my career over the past two years and my next target is a medal at the Asian Games in Hangzhou, and an Olympic berth at the 2024 Paris Games."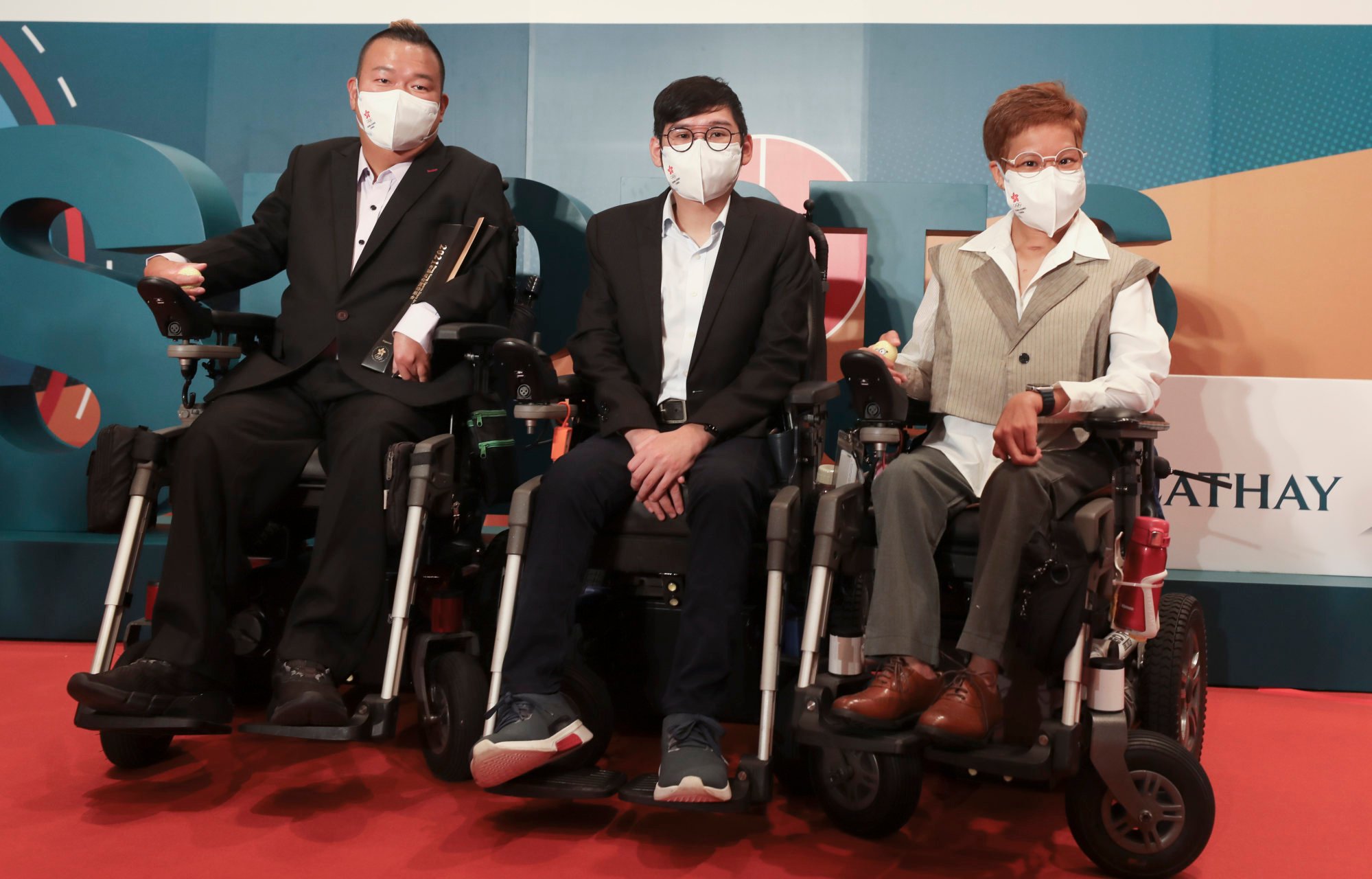 Badminton mixed doubles pair Tang Chun-man and Tse Ying-suet were named as one of the three best teams of the year, following their fourth-placed finish in Tokyo, and a bronze medal at the World Championships.
The duo were joined by the women's Olympic table tennis team comprising Minnie Soo Wai-yam, Doo Hoi-kem and Lee Ho-ching that won bronze, and boccia bowlers Vivian Lau Wai-yan, Leung Yuk-wing and Wong Kwan-hang, who were silver medallists in the mixed pairs BC4 at the Paralympics.
The men's rugby sevens team, who were crowned champions at the 2021 Asia Series, won the award for team only sport. It was their 10th win in the category.