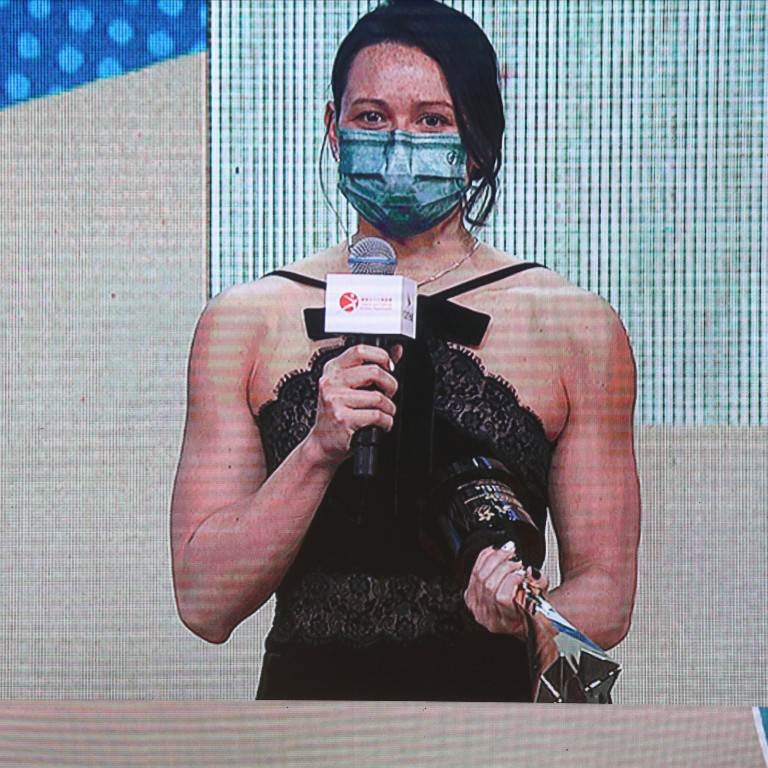 Covid-19 and Hong Kong's cancelled sports events: Siobhan Haughey, Cheung Ka-long and other stars discuss
Post puts the big issues to swimmer Siobhan Haughey, cyclist Sarah Lee, fencers Cheung Ka-long and Vivian Kong, and table tennis player Doo Hoi-kem
We asked about their future plans, how the pandemic has changed them, the importance of staging events in Hong Kong – and the impact of cancelling them
Giving their thoughts were the city's very finest: world champion swimmer and double Tokyo Olympic silver medallist Siobhan Haughey; Olympic champion Cheung Ka-long; his fellow fencer and world bronze medallist Vivian Kong Man-wai; the two-time Olympic bronze medal-winning cyclist Sarah Lee Wai-sze; and table tennis player Doo Hoi-kem, from Hong Kong's bronze-winning women's team at the Tokyo Games.
All were recognised among the top five women's and men's sporting stars at the Hong Kong Convention and Exhibition Centre, with Haughey and Cheung being voted Best of the Best by a judging panel, the media and the public.
And here, they open up about the past, present and future.
1) Where did these awards rank in your achievements, and what is left for you, given sporting careers are short?
Haughey: It's an honour. And as far as I recall, for many years it was always won by female athletes, so it is even more special for me. I have to thank the team who have supported me – without them, I would not be here.
I see this honour as a halfway point: I've worked hard up to now, and it's being recognised, but I can't dwell on the past too much. I need to keep moving forward. I wish to continue working hard and using my accomplishments and actions as a role model to help create more socially uniting moments, and continue to be an inspiration and bring more glory to Hong Kong people.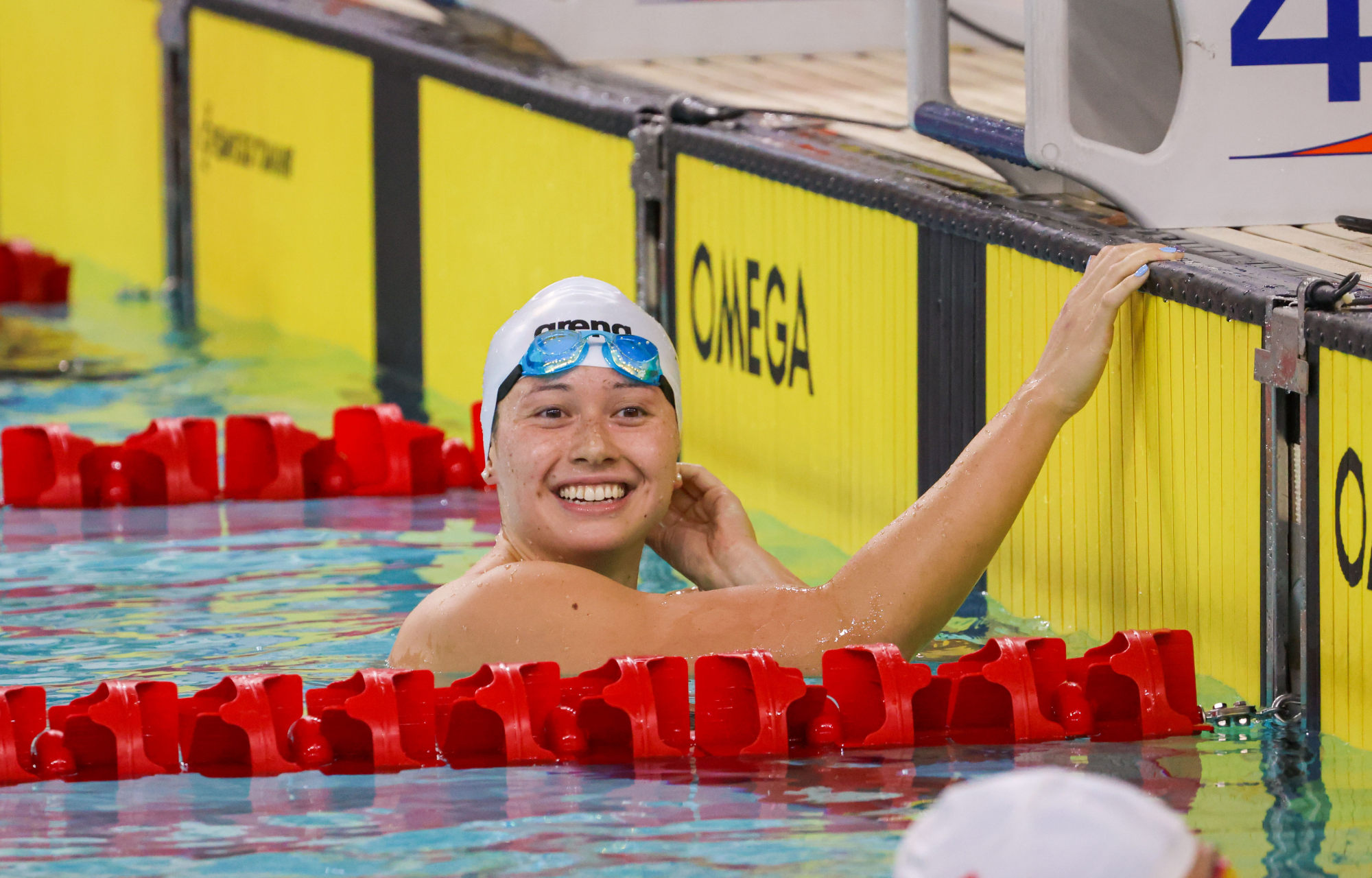 Cheung: It's great recognition for me to win the Best of the Best prize for the first time, and I'm overjoyed to have received it. This is a reflection of all the competitions from the Olympics onwards. It's like a school report, and I'm pleased to get high marks.
I will continue to work hard. I don't want to be satisfied by this award, and I will keep doing what I've been doing. It was unfortunate that I did not win the title at the World Championships in July, but overall my results are extremely pleasing.
The Asian Games [in Hangzhou, China, postponed from this month to next year] are the next big one for me. I won't think too much about defending my Olympic title until I get selected. One step at a time.
Lee: This was my ninth consecutive time to get a Sports Star award, but I felt a bit different from the previous times – a bit more relaxed. It's really a long time ago to look back to 2021 [because the awards were delayed by Hong Kong's Covid-19 outbreak early in the year]. The same goes for the Olympics.
First and foremost, the Hangzhou Games are my aim. Whether I go to the Paris Olympics depends on how I feel. If I can accumulate enough points to qualify for the Olympics [qualifying starts next year], I believe I will continue to compete.
I've been asked when I'll retire, and I'll say it again: please don't ask any more. I have no plans to retire at the moment.
Kong: After receiving this award for the third time in a row, I'll aim to achieve even better results – to bring good news to Hongkongers by improving in every tournament, starting by applying what I've learned this summer when the season starts in November.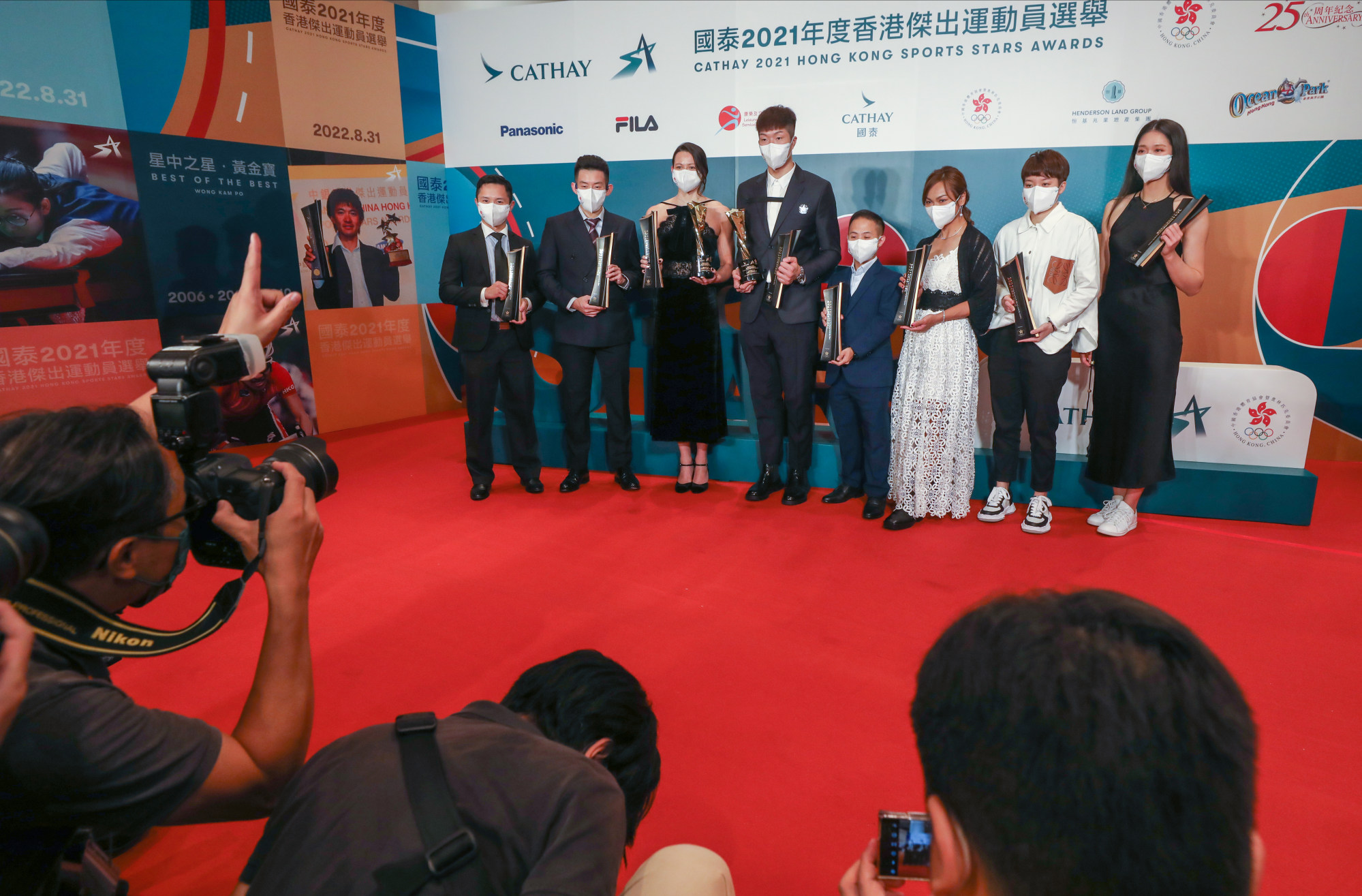 Doo: I didn't expect to win an individual prize, because I've been nominated several times and always come home empty-handed. [Doo and colleagues Lee Ho-ching and Minnie Soo Wai-yam also received the award for best team of the year.]
It's a culmination of previous results, but looking forward, we have the World Team Championships this month and I expect to do well there. Then I will work hard to get enough points to qualify for the Paris Olympics.
2) How has Covid-19 affected you in Hong Kong – held you back or caused unexpected gains? Has it made you reflect on life outside sport and plan for life after sport?
Haughey: When the pandemic occurred, I thought it was unfortunate that so many things happened, but now I believe it also aided me, because if there had not been the pandemic, I would have continued doing what I was doing before.
It has broadened my horizons and made me more creative, and I now see how to think outside the box.
I've tried a lot of different things recently, including television commercials. And I believe that you need to have a life balance. You can't only focus on your work, and I don't want my life to revolve only around swimming.
Swimming is a very important part of my life, but I want to try to do other things to balance my life. I think I have a good balance now – I invest a lot of effort into swimming, but I can do a few other things in my spare time, and I believe that only with this balance can I be a successful athlete.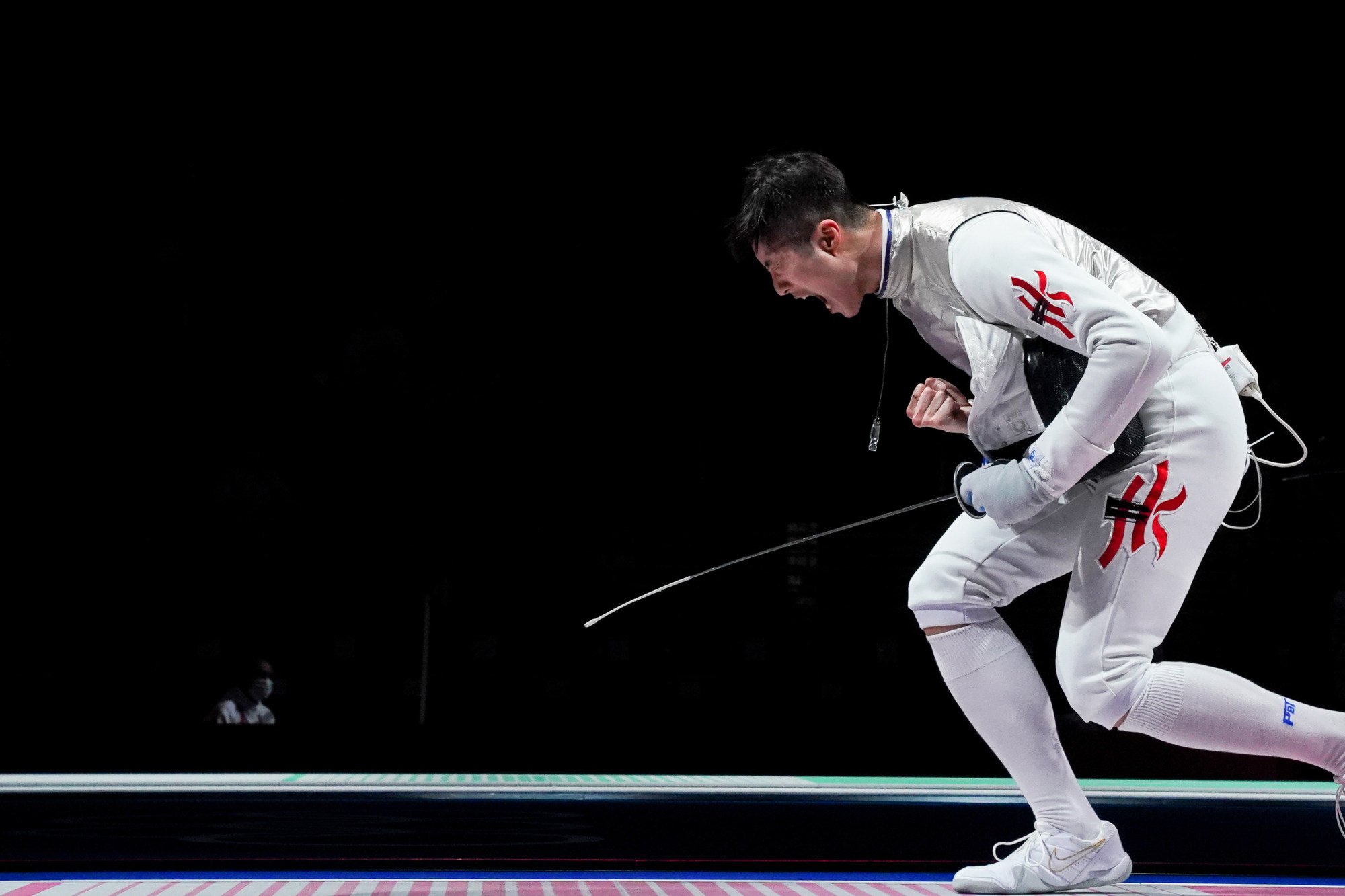 Cheung: It was pretty difficult at first, because we stopped competing, all competitions were paused, and we had no idea how to cope. For me, I had a drop in my results before the Olympics, so the pandemic helped bring me extra time to calm down about that.
I've spent the past few months overseas practising, and [rather than wait in Hong Kong] have been fortunate to work with some tough opponents from the French squad. I really valued this.
I am returning to school, studying sport, physical education and health at Baptist University, because I am 25 years old and need to start planning for the future. My parents suggested that I try to study, and the university is ideal because it allows me to work around my fencing schedule. It is a good idea to give it a try.
I've just started. I hadn't been to school in years, and I'm a little nervous. It will be difficult, so let's see how it goes.
Lee: A pandemic is tough to deal with. I persuaded myself that I had already dealt with several difficulties before, so why couldn't I deal with this one?
I think I will complete my studies [in Creative and Professional Writing, also at Baptist University] by the end of this year. But I still like riding my bike, so I will continue racing. If I can, I'll go to Paris, and I feel I'm still strong enough to do so. If not, it's not the end of the world.
Kong: I still want to devote more time to fencing, so I will not rush to complete my studies [a PhD in law at Chinese University]. I like both fencing and studying. I've always been interested in law. I appreciate how the law relates to people.
Doo: So many people lost their jobs during this difficult time, so we as athletes in Hong Kong are very fortunate to have Hong Kong Sports Institute support. I cherish all of the training and competition, so I will keep it up, spend some time studying [health education at Education University] and the majority of my time playing table tennis."
3) How vital is it to stage top-class sport in Hong Kong, for local athletes and to grow your sport and inspire kids?
Haughey: I hope that in the future, Hong Kong will host some international events. I remember when I was still training in Hong Kong, I went to one of the World Cups at Victoria Park swimming pool, and I saw so many young swimmers buying tickets to watch the competition.
Some of the swimmers who competed are now my teammates. They always talked about how happy they were to come to race in Hong Kong, how delicious the food is here.
If we can organise such events again in Hong Kong, more young people here will be able to watch more international swimmers competing.
Cheung: It's beneficial to young fencers if they are given an opportunity to watch a world-class competition in person, to give them some inspiration and the feel of a big event before they enter that world themselves.
Of course I hope that Hong Kong can host more major events. I've heard that the Kai Tak Sports Park is going to have a super-large [50,000-capacity] stadium and other great facilities. I hope that will help to draw more world-class fencers and let them see how Hong Kong is.
Doo: I absolutely hope that another international tournament can be held in Hong Kong, because we previously played the Hong Kong Open at Queen Elizabeth Stadium and the atmosphere was so great that we were able to perform better.
4) Now events here are affected by Covid-19 rules, such as the cancelled 10K Championships. Are you worried this will happen to other events?
Haughey:
It's unfortunate that we had to
cancel the recent athletics 10K Championships
just a few days before the race. It takes a long time to prepare for events like that, and the public may have been looking forward to attending them for a long time.
Now they won't be able to participate, which is disappointing. I hope that each party will consider a safe location for these races.
Lee: The international cycling federation has previously stated that if we still have quarantine and bubbles, they will not allow us to host the Track Cycling Nations Cup. We were supposed to host an event next year, but it was turned down by the governing body because of pandemic restrictions in Hong Kong.
I believe Hong Kong lags behind other nations in terms of pandemic restrictions. [After the 10K cancellation] I hope the government takes this into account, and ensures that all athletes visiting Hong Kong are not subject to quarantine or bubbles – otherwise, no one will come.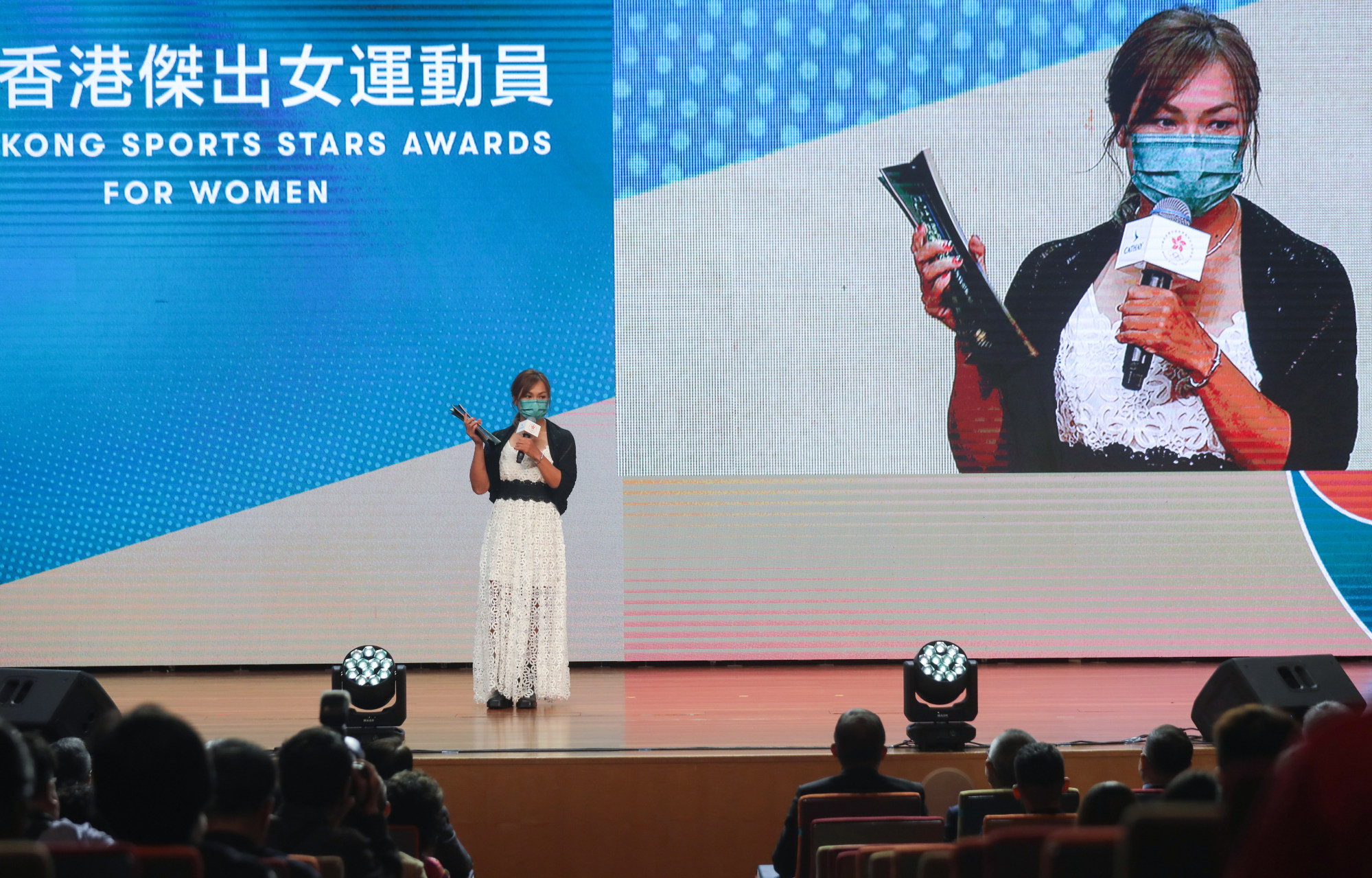 I understand that the association plans to organise an event in 2024, which would form part of the Paris Olympics qualifying rankings. Let's see how the government relaxes the measures before then.
Kong: As athletes, we always look forward to big sporting events, but I also recognise the uncertainties, risks and obligations that come with them. Having been to so many places for competitions since Covid-19 arrived, I think it depends on what our priorities are.
Doo: I'm not sure about the decision that was taken about the 10K Championships, because I don't know enough about it. But with the pandemic currently, there's nothing we can do about it. Whether it's the organisers or the athletes, they all want to do a good job and hope that Covid-19 is over soon.