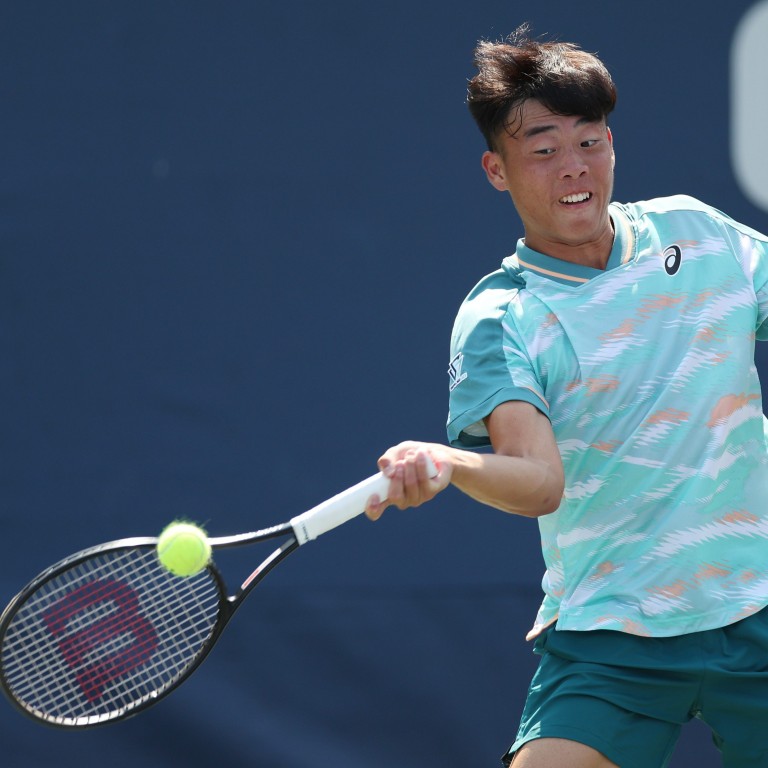 Davis Cup: Coleman Wong conjures a shock to give Hong Kong glimpse of upset
City's team stun Taiwanese in World Group II as Wong wins singles match against Jason Jung, before their opponents level the tie at 1-1
Wong will play twice more, in doubles and singles, as Hong Kong look to turn the tables having lost 4-0 the last time the teams met in 2019
Hong Kong will go into Sunday's Davis Cup action with hope of causing a major upset in their
tie against Taiwan
, after
Coleman Wong Chak-lam
gave them a shock lead by beating a man ranked 601 places above him.
The teenager beat Jason Jung 1-6, 6-4, 7-6 (10-8) in the opening singles match, turning the global rankings on their head to give Hong Kong a flying start in the World Group II first round.
Ranked No 1,032 in singles to Jung's 431, Wong acknowledged that it showed how far he had come since losing twice to Jung, now 33, in the teams' last meeting three years ago.
And if the Hong Kong quartet are to complete a stunning aggregate victory in the second day's remaining doubles and singles clashes, it will again be largely down to Wong – only days after the 18-year-old moved up to the men's tour from the junior circuit.
He will play again in singles as well as partnering Kevin Wong Chun-hun in the doubles as they bid to turn the tables on opponents who beat Hong Kong 4-0 in that 2019 tie.
They will resume at 1-1 after Jack Wong Hong-kit was beaten 6-2, 6-2 by Wu Tung-lin in Saturday's second match of the tie. The Hongkonger faced an even bigger rankings deficit – No 1,207 against Wu's 185 – that Coleman Wong must overcome on Sunday.
However, Hong Kong's hero of the hour insisted he was happy to shoulder more responsibility.
"I don't think it is a burden," Coleman Wong said. "I can handle it, and I am good at handling it."
The difference from the last time he took on Jung in national colours was clear, he said.
"Compared with the one three years ago in Hong Kong, I am more mature," Wong said. "The way I play is more solid. I was only 15 years old then, and now my game has improved a lot."
Twice a grand-slam tournament winner in boys' doubles, Wong has had a strong summer in junior singles, reaching the quarter-finals at Wimbledon and the
semi-finals of the US Open
.
He said he felt the benefit of that experience – but loved the camaraderie of the team environment.
"It was a perfect match, mainly because I have my teammates battling with me," he said. "It is unlike the normal solo games – playing in a team makes it more rewarding.
"With my experience in the junior grand-slams, I can play calmly. I needed some time today to get into the game, though, mainly because I was the first one in action and it took time to get used to the court. I was very nervous towards the end."
He came through it, with Hong Kong's non-playing captain Yu Hiu-tung expressing hope that the talisman could maintain his performance levels into the doubles.
"I believe we surprised Chinese Taipei since they thought they could easily beat us," he said. "But with Coleman's win, all of our team are in great spirits to continue shocking our opponents tomorrow."
The Davis Cup uses "Chinese Taipei" in reference to Taiwan.
Hong Kong tennis chief Philip Mok Kwan-yat hailed the team's encouraging start.
"We knew it was going to be a big challenge because the opponents are ranked much higher than us, but the team travelled to Taipei in great spirits and are determined to give everything they have," Mak said.
"It's a good first day, but there is still a huge mountain to climb. The team have the full support of everyone back in Hong Kong."
Coleman Wong will be straight back into action on Sunday morning in the doubles, in which he and Kevin Wong face Ray Ho and Hsu Yu-hsiou, before featuring again in the day's second match, in singles against Wu.
The final singles match, if the tie is not yet decided, will pit Jack Wong against Jung.